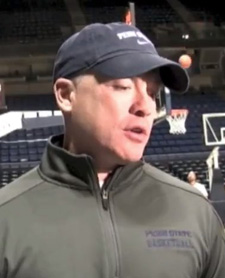 Big Ten teams are rarely excited to play on the road. But when you've beaten a team 17 straight times and that same team is 0-7 in the conference this season, you may actually look forward to an out of town trip from time to time.
That's where Ohio State finds itself.
After Tuesday night, though, the Buckeyes can't afford to go into Saturday's game overconfident. Leading Iowa by 24 midway through the second half, Ohio State nearly frittered away the lead. The Hawkeyes got it all the way down to four until the Buckeyes closed out the win.
"I don't know what it is," said head coach Thad Matta, about the Buckeyes' success over Penn State. "I do like the way we've come out of there in the times we've gone, though."
The Buckeyes are 1-3 on the road this season, with losses at Duke, Illinois and Michigan State. The Bryce Jordan Center won't bring quite the same level of intimidation as the home venues for the three aforementioned schools.
A theme of this season's team has been the level at which they practice. Multiple players, and even Matta, have commented on the team's dedication level inside the practice gym at Value City Arena. That same intensity was apparent in the aftermath of Tuesday's near debacle.
"It's real competitive," senior forward Evan Ravenel said. "Guys really want to prove themselves this year. Guys want to show Coach that they can play, and I don't think last year some of the younger guys took it as serious."
Said Matta: "If you don't come to practice ready to play, you're going to look really bad. I think guys have caught on to that."
Recently, Matta has instituted his version of two-a-days. It's consisted of one tough practice and a second that includes shooting, ball-handling and other fundamentals.
"We're at that stage I keep telling the guys, this team has a lot of room to get better," he said.
Eighteen games in the season, Ohio State is still searching for a rock-solid identity. The offense has been stagnant behind Big Ten leading-scorer Deshaun Thomas. A second threat still hasn't emerged and likely won't as the season unfolds. Still, Ravenel sees reason to be encouraged.
"I feel as though guys are finding themselves offensively," he said. "In the beginning of the season, we struggled at putting the ball in the hole at times. I think now, we're coming to a point, OK, this guy can do this with the ball, that guy can do that with the ball. Now let's get these guys in the situations to perform."
| # | Name | YR | HT/WT | PTS | REB | ASST | P | # | Name | YR | HT/WT | PTS | REB | ASST |
| --- | --- | --- | --- | --- | --- | --- | --- | --- | --- | --- | --- | --- | --- | --- |
| 4 | A. Craft | JR | 6-2/190 | 8.9 | 3.2 | 4.7 | G | 2 | D. Newbill | SO | 6-4/205 | 15.5 | 6.0 | 3.9 |
| 32 | L. Smith Jr. | JR | 6-4/205 | 10.2 | 5.7 | 1.8 | G | 11 | J. Marshall | JR | 6-4/205 | 15.0 | 4.6 | 2.2 |
| 12 | S. Thompson | SO | 6-7/190 | 7.1 | 3.4 | 1.1 | F | 43 | R. Travis | SO | 6-6/225 | 7.1 | 7.1 | 0.4 |
| 1 | D. Thomas | JR | 6-7/225 | 20.5 | 6.7 | 1.5 | F | 21 | S. Borovnjak | JR | 6-9/240 | 5.5 | 3.4 | 0.4 |
| 23 | A. Williams | SO | 6-11/250 | 4.3 | 3.8 | 0.2 | C | 10 | B. Taylor | FR | 6-7/235 | 6.4 | 3.8 | 0.3 |
Opponent
Penn State would have struggled with Tim Frazier. When Frazier, the Nittany Lions' leading scorer, suffered a season-ending injury, any hope Penn State had at an upstart season was washed away. If you think Ohio State's offense has problems, chances are you haven't watched Penn State yet.
The Buckeyes aren't taking the home team lightly, though. Matta has reminded his team about the Nittany Lions' ability to beat elite teams.
"The greatest lesson we have, and we've talked about it every day since it happened, but the Illinois game. I don't know what happened in terms of where we were," Matta said. "Penn State knocks off a Top 25 team every year at home. They've done it notoriously for a long time."
But that was in the past. This season's Penn State squad hardly looks capable of such an upset. That's about the time teams rise up, though.
"Penn State, they play hard," Thomas said. "They're a scrappy team. They're known for knocking off a ranked team at home once a year and we ain't gonna try to let it be us."
The Nittany Lions have not won a home game since Dec. 29, and if it breaks that streak Saturday, point guard DJ Newbill will play a leading role. Newbill, who began his college career at a different school as a wing, is not a court general in the nation's toughest conference.
His stats are an indication at just how well Newbill has transitioned. He's averaging 15.5 points, six rebounds and four assists per game. That has all been done without dealing with Ohio State's man of steal, Aaron Craft.
"He's done a great job progressing into the point guard role," Penn State coach Patrick Chambers said of Newbill. "It's a very difficult switch. It's a huge change. It's one of the most difficult things to do. It's like driving a car without a steering wheel. This is his first year, so really he's a freshman, and he's playing the point. That's a huge change."
Buckeye Breakdown
Ohio State may have squeaked out a win Tuesday against Iowa, but the coaches and players understand that in the Big Ten simply winning is all that matters. With February approaching, Matta believes his team has all the necessary tools to compete for yet another conference title.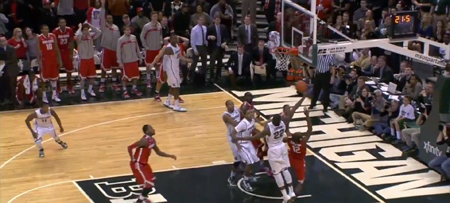 "I like the progress we're making," he said. "Our identity would definitely start with the defensive end of the floor. When we're locked in and engaged defensively, we're pretty good. With that said, we know that if we're not executing at the level we need to execute offensively, we struggle."
To put it mildly, the final 12 minutes versus Iowa was a struggle. Some may say it was the norm for this season's Buckeyes. So far, it's been an unimpressive group, but they're still a threat to beat any team in the country. To do so consistently, Ohio State must fix several areas of its overall game.
Rebounding took a major hit in the past week. Michigan State and Iowa both had a high level of success grabbing the basketball. It was Iowa's offensive rebound numbers that were especially glaring, though. The Hawkeyes had 19 offensive boards, which contributed to more than 20 second-chance points. Incredibly, Amir Williams had zero rebounds.
Just as surprising were Craft's six turnovers, half of which came in the final minutes after Iowa slapped on a full-court press. Ohio State was not prepared and looked like a team that had never seen a press.
"We did not get to finish the game the way we wanted to," Craft said.
Iowa's run actually coincided with Thomas leaving the game with a gash over his right eye. Question Ohio State's offense all you want, but don't ask about toughness. Thomas received six stitches and returned to the contest less than four minutes after suffering his injury. 
"In high school people barely touched me," he said. "Now, the Big Ten is physical."
Taking Thomas out of the game – literally – is the only antidote opponents have.
Etc
Ohio State has won 17 straight games over Penn State and six consecutive in State College. 
The Buckeyes have a 28-12 advantage in the series history with Penn State. 

Bob Wichusen and Dan Dakich have the call.