Big Ten schools have long received the largest shares of conference and NCAA revenue per school than any conference in the country.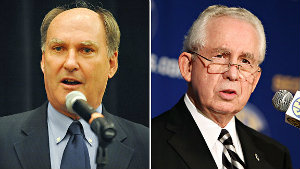 Big Ten schools take in an average of $1 million to $4 million per year more than schools from the Southeastern Conference, totaling to around $23 to $25 million. 
This is largely due to the money-printing Big Ten Network, along with a good crop of automatic bowl bids (when Big Ten teams are able to fill all of them). 
While the SEC might be the dominant conference in college football for now, at least the Big Ten could claim to be the richest conference.
However, that is due to change shortly, as the SEC begins to renegotiate its TV contracts because of the additions of Missouri and Texas A&M.
Individual SEC schools are set to receive an additional 50% increase in revenue – potentially up to $34 million – from long-term network rights with ESPN and CBS. 
But why do we care? 
You don't see us chanting, "B1G, B1G, B1G!" every chance we get, do you? Big Ten school fans have long considered themselves above conference rooting interests, except for those situations that directly impact the well-being of Ohio State, for instance. 
Further, why does conference television revenue have to be a zero-sum game? If you're like me, you will watch pretty much any and every college sports game televised; more access and wider TV rights can mean absolute gains for each conference member school without concern for inter-conference politics. 
Well, USA Today doesn't see it that way, at least: 
The additional revenue will further separate the SEC schools from others in terms of overall revenue and expense, including the compensation paid to football coaches. In turn, this seems likely to increase the pressure on other schools to keep up.
Steve Berkowitz at USA Today is keying in on a sometimes underappreciated truth in college sports – those with the most money often win the most.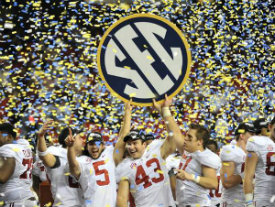 Obviously it is not a 1-to-1 translation of dollar bills to digits in the "W" column, but schools may gain many indirect advantages by raising their bottom lines.
School athletic departments' sources of revenue vary, but generally come from football ticket sales, conference TV contracts, private donors, NCAA money and bowl winnings, and school athletic department subsidies. 
For the best football schools, football ticket sales can ensure the entire athletic department's financial viability – the biggest and best college football teams can often pay for every other non-revenue sport.
However, athletic departments with small football programs and that belong to poorer conferences often must rely upon subsidies from the university at large, taking money from students who might or might not care about the sports they pay for.
As Johnny recently wrote in his analysis of student fees (I promise we will spare you from a series on college athletic finances), Ohio State has one of the few athletic departments that does not need to draw from university coffers. 
Not relying upon university subsidies and staying in the black allow schools like Ohio State to use extra money for things that directly and indirectly contribute to making their athletic programs more successful – like hiring the best head and assistant coaches.
From USA Today:
During the 2012 football season, the SEC had four of the eight highest-paid head coaches, four of the six highest-paid assistants and five of the 15 highest-paid assistant-coaching staffs.

In terms of overall revenue and expense, the SEC had nine of the 19 highest-revenue athletics programs in 2010-11, the most recent year for which national figures are available (and Texas A&M, which was not yet in the SEC was 15th). It also had nine of the 20 highest-spending programs.
Not only can these programs spend more on elite coaches and upgrade their facilities, but they may also hire a recruiting coordinator who is not a full-time head or assistant coach due to recent changes in NCAA recruiting rules. 
All of these factors – differences between conference television contracts, athletic department subsidies, and recruiting coordinators – increase disparities between the "haves" and "have-nots" in college sports.
This is one reason why conference expansion is beneficial for member schools. If you're able to ignore the cultural fit arguments about Rutgers and Maryland, it's easy to see Delany's motive in conference expansion. While we may not care about Indiana-Maryland games, increased conference revenue will at least give athletic departments the capability to be more self-sufficient. 
When viewed through the lens of conference revenue and athletic department finances, the conference wars, particularly the Big Ten-SEC rivalry, make sense: schools compete for money and expansion targets, with the losers at a competitive disadvantage both on the field and in the accounting books. 
Ohio State is a "have" rather than a "have-not" in this story – because new NCAA policies won't do much to level the playing field.