Deshaun Thomas was an absolute beast, scoring 28 points but it wasn't enough as the Buckeyes fell to Michigan State, 59-56, this afternoon in the Breslin Center.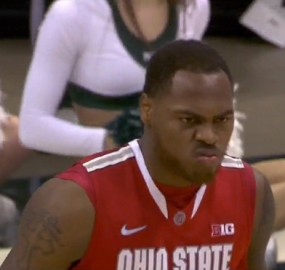 His performance was Player of the Year caliber as no other Buckeye scored more than six points. 
The Buckeyes had a chance, trailing 55-53 with :25 left but Aaron Craft missed a triple from the buzzer and with everyone crashing the glass, Keith Appling leaked out for a breakaway dunk to take a 57-53 lead. 
Lenzelle Smith Jr. drained a triple on the ensuing possession cutting the deficit to 57-56 with 10.8 left but with OSU forced to foul, Appling hit a pair of free throws with 7.9 to play making it 59-56 bad guys. 
Out of a timeout, Shannon Scott decided to run up the left sideline and launch a running three that had no chance. Game over. 
Ohio State fell into a 13-2 hole early but responded with a 15-0 burst to take a 17-13 lead before eventually trailing 30-26 at the break. 
The Buckeyes shot 40% from the floor and just 62% from the stripe (8/13) while committing 14 turnovers.
It's a tribute to Thomas that the game was even close as the Buckeyes continue to look for someone to step up offensively.
The loss drops Ohio State to 13-4 overall and 3-2 in conference.