When we first unearthed Urban's now-classic endorsement of Simply Orange (potassium rules), we had no idea how many "great" head football coaching commercials the resulting thread would produce.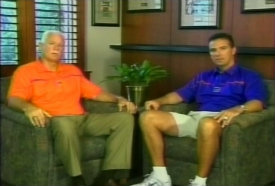 We learned that Urban Meyer is many things, but award-winning actor isn't one of them. If he were being recruited as an actor, the 247 composite might not give him more than three stars. In fact, Year2 recognized Urban's lack of acting skills way back in 2007. 
I'd like to change that. 
In the spirit of awards season, I have a few awards to hand out to the best TV commercials featuring college football coaches. 
Best Use of Smiling Robots 
The Village Jeweler Celebrate Life has a lot to offer the Gainesville, Florida, community – Urban playing a Gator guitar, custom Gator jewelry, the Hearts of Fire collection, and a pair of smiling, silent robots that eerily stand behind Urban. 
We can only hope that they have good intentions, unlike other robotic couples.
Urban's TV spot wasn't the only jewelry commercial featuring college football coaches in Florida, but Jimbo's unfortunately had higher production values. Bonus: Look at Jimbo's face at :14 – "I'm actually going to have to buy this ring for my wife now." *Sigh*
Best Singing
Rivaling only Aaron Craft, Tom Osborne's pipes are almost unmatched.
Interesting, this won't be Burger King's last appearance on this list. While BK is known for their Whoppers and creepy king commercials, they have a formidable college football advertising heritage. 
Most Scumbag Coach
Bobby Bowden was a great coach and seems like he was a good guy overall as well, but Burger King makes him out to be nothing more than a Hamburglar. Here we have him snatching some poor sap's extra hamburger.
Turns out that Bowden was no stranger to the camera, with notable spots for both Discover and Coke. 
Cheapest Looking (Food) 
Father + son + local convenience store food = great success why did this ever happen? 
I guess we'll just have to conclude that "Stop In Food Store" is probably the hottest restaurant around Blacksburg, Virginia. 
Most Excessive Kinetic Typography
Kinetic typography can actually be pretty cool and this isn't a terrible commercial, but if you live in Georgia then you've probably seen this commercial 10,000 times by now:  
Lessons learned: The South is apparently built around "family, football, and our truck", junkyard bulldogs are more friendly-looking than menacing, and Mark Richt rocks pleated pants like a boss. The South might be single-handedly supporting Ford, as the F-series is the top-selling truck series in the country. 
Ford has gone back to other Southern coaches as well, with Nick Saban doing his part. 
Most Effective Use of Outside Zone
This is easily my favorite commercial on the list, with UPS effectively making a boring thing like logistics sound cool. 
Pfffff, like Oregon actually has a playbook. You mean to tell me that Nike founder Phil Knight doesn't ensure iPads get passed around to all incoming Ducks? 
Bonus points for calling a speed option from the six-yard line. 
Best Use of Former B1G Coaches
How could this commercial not be on the list?
I considered John Cooper's noble attempt at helping people face their dental fears (by the way, what fears do college football players have?), but the above commercial is too poignant given that only three of the coaches featured survived the apparent coaching purge following 2008. Nice work, Fitzgerald, Ferentz, and Dantonio (2/3 of these guys won their bowl games this year too – coincidence?). 
Honorable Mention
Conclusion
We've learned a couple of things from this compilation:
Outside of Bobby Bowden, coaches don't make great actors. 
Midwesterners love their Burger King and Southerners love their Ford F-150s. 
Ed Orgeron's voice is not suited for commercials.
Urban really needs a commercial in Ohio State gear. Come on, Columbus businesses!
CLICK-CLACK
I just had the space to cover college football coaches, but there's a sporting world worth of great commercials out there – feel free to post your favorites below.