As any Ohio State fan with a pulse is painfully aware, yesterday's disappointing 19-point loss at Illinois dropped the basketball Buckeyes to 0-3 against the only legitimate competition they've faced through 14 games overall.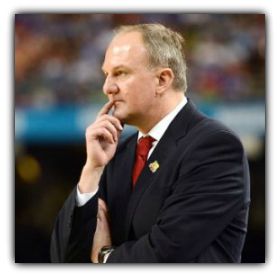 Making matters worse – although admittedly against a small sample size – the Buckeyes appear to be regressing when it comes to showing up against top-flight opponents.
Two particular factors have plagued the losses, specifically, the lack of a consistent 2nd scorer and an inability to get key stops.
Unfortunately, those items have now been supplemented by an increased turnover rate in each of the three losses and now, after the debacle in Champaign, an incredibly slow and seemingly disinterested start to each half.
All four factors combined should force many, including myself, to ponder if the Buckeyes are truly regressing, or is the sample size too small, or could be watching a combination of both?
Regardless of your opinion on the question, there's no getting around the fact Ohio State's performances in their only three real tests have gone from bad to worse. And that should definitely be of concern to both fans and the team alike. 
Against Duke, the Buckeyes had their strongest showing in a big game, losing by five to an impressive Blue Devil squad in an arena where nearly a hundred consecutive non-conference foes had shown up and lost.
The Buckeyes, naturally, were hurt by the lack of a 2nd scorer as Craft and Lenzelle shot a combined 7/27 while the team combined to shoot 34% overall in support of Deshaun's 16 points against constant double teams.
They did hold Duke to 30% shooting in the 1st half, committed just seven turnovers in a hostile environment and LaQuinton Ross teased us with nine points in 11 minutes, though he also foreshadowed some very loose handles. So, despite the loss, there were still some positives worth clinging to.
Three weeks later, Ohio State welcomed Kansas to the Schott with a chance to measure their improvement against another high-caliber opponent.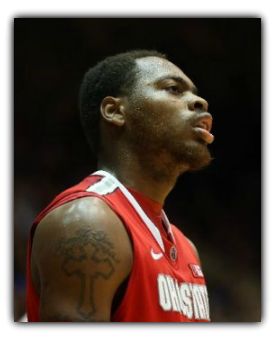 Ultimately, there wasn't much to measure as the same flaws were exposed in an eight-point loss at home.
No consistent sidekick for Deshaun's 16 points again bubbled to the surface, though Shannon Scott did have a career-high 15 points in only 25 minutes of action. That said, everyone knew he wasn't a long-term solution to the issue and the two biggest candidates to fill the scoring void, Craft and Smith, again combined to clank it up, shooting a combined 5/22 with Smith missing 10 of 13 shots.
Ross was also ineffective. He scored four points on 1/5, his minutes were cut to nine and Thad yanked him a few times for mental errors at both ends of the floor.
Ross wasn't alone in that category, however, as Ohio State turned it over 13 times, six more than at Duke. 
The recurring theme of inconsistent defense was also a dagger as Kansas shot a blistering 51% for the game and 45% from deep. The most concerning aspect of letting Kansas shoot such a high percentage was that Ohio State simply couldn't match up with the Jayhawks athletically on the wing or down low. Their two post players each had 10 boards and their wings proved more physical and still consistently beat Buckeyes off the bounce.
Now, with one more chance to measure their big game growth after two weeks of trying to work out the kinks, the Buckeyes were not only victimized by the same three problems – no dependable 2nd scorer, loose handles, and spotty defense – but they added the new wrinkle of a ridiculously slow start to each half, looking absolutely unprepared for the intensity.
With those four factors at play, the Buckeyes got blown out by 19 on the road to a team that while very impressive, is still a cut below both Duke and Kansas.
The 2nd scorer problem was again at the forefront as Deshaun scored 24 points with no help. Craft did have his best performance against a good team with 11 points on 4/10 shooting along with four steals, a vast improvement over his combined 5/24 brickfest against Duke and Kansas with only one steal.
Already hurt by the turnover bug against Kansas, the Buckeyes kicked it up a notch in Champaign, coughing it up 16 times, nine more than they committed against Duke and thee more than in the Kansas game.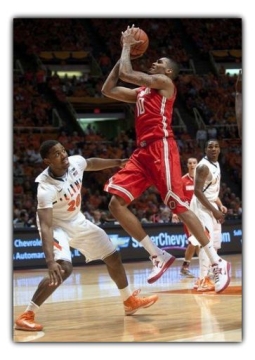 The defense was again awful, though they specialized in allowing the two-point field goal as Illinois shot 14/19 from inside the arc (74%) in the 1st half and 65% for the game. At times, the Buckeyes were overwhelmed by athleticism, causing the high shooting percentage and a -11 result on the glass.
These three issues contributed to the slow starts to each half that gave OSU no chance to win.
The Buckeyes allowed a 25-11 run in the first 9:50 of the game, shooting 4/15 with six turnovers, missing 3/4 from the line and turning it over on their first two and last two possessions during the run. Basically, 75% of their possessions were empty.
Inexcusably, the Buckeyes, already trailing 37-25 at the break, came out flat to start the 2nd half, allowing eight straight points while shooting 0/3 with a turnover. The 8-0 run became part of what morphed into a 19-6 knockout punch, giving Illinois a 56-31 lead with 10:43 left in regulation.
Ohio State shot a dismal 2/12 during the spurt with Deshaun hitting 2/3 for four points while his teammates combined to miss all nine of their shots with four turnovers. The lone non-Deshaun points came from two Ross free throws.
Defensively, the Buckeyes let Illinois shoot 6/13 during the run, which isn't awful but the fact they let them drain 3/4 from distance wasn't pretty.
So now, with Ohio State just beginning the B1G gauntlet – which this week alone features a trip to West Lafayette to take on a Purdue team that just beat Illinois before facing Michigan at home Sunday – the team appears to be at a bit of a crossroads.
It's put up or shut up in the B1G and with the same issues killing the Buckeyes against good teams, we're going to find out a lot about them in the coming weeks. It's going to take significant strides from everyone in the rotation not named Deshaun and so far, we've seen a lack of both personal development and acceptable growth into larger roles have a negative impact on the lack of offensive efficiency, no 2nd scorer emergence and continued spotty defense. 
Can they patch up the holes making it impossible to beat good teams and allow them to challenge for a fourth straight regular season conference crown, or will the 2012-13 Buckeyes look more like the 2008-09 bunch that finished 5th in the conference, going 22-11 overall with a first-round exit in the Dance?
Right now, it's looking more and more like the latter. But luckily for Thad and company, there are still a minimum of 17 more games to develop and work on solutions to the recurring themes costing them victories.
Ready. Set. Hope.