The Big Ten, following a rather forgettable season that saw Iowa lose to Central Michigan, Ball State top Indiana, Illinois annihilated by Louisiana Tech, and countless other embarrassments leading to what was once considered unheard of: conference teams nowhere to be found in the initial BCS rankings, has rebounded a little bit through two bowl games.
Minnesota, losers of six league games, hobbled into a Meineke Car Care Bowl matchup with Texas Tech Friday as 12½-point underdogs and led by a touchdown in the final 90 seconds before doing what the Gophers do best in bowl games, self destructing.
Still, Jerry Kill's team showed much better than expected, which is great because who doesn't pull for Jerry Kill?
Saturday night, Michigan State met TCU as two-point dogs in the Buffalo Wild Wings Bowl and emerged with a one-point victory. So what if the Spartans became the only FBS school to punt 11 or more times in one game and still win, Jim Delany got his swag back.
NFL GMs apparently have taken note and have decided to get themselves a little bit of that B1G action.
Friend of the site, Albert Breer of the NFL Network, reported early Sunday that Chiefs general manager Scott Pioli may make a move to bring Iowa's Kirk Ferentz to Kansas City:
If Pioli gets another chance in KC, it could be w/the coach he wanted all along - Kirk Ferentz. Again, nothing completely certain there yet.

— Albert Breer (@AlbertBreer) December 30, 2012
Ferentz and Pioli go back to their days together with the Browns in the 90s and Kansas City also happens to be the home of former Hawkeye (and alpha patriot) Ricky Stanzi, so there's that.
Later, Sports Illustrated's Peter King appeared on Football Night in America Sunday night and shot down the rumor, leaving Iowa fans dejected.
Penn State's Bill O'Brien is another Big Ten coach that will get looked at for openings in the NFL, according to ESPN's Chris Mortensen. O'Brien, who captured the Big Ten's Coach of the Year award in his first season at Penn State, may be on the short lists of the Cleveland Browns and the Philadelphia Eagles.
O'Brien does have a massive buyout thought to be $9.2 million, but it's not known if it pertains to an NFL opportunity. Why would O'Brien consider making the jump?
However, sources say teams that have gauged his interest have been informed by a third party representative that when O'Brien accepted the task of being the late Joe Paterno's successor, he was told by school officials that the Jerry Sandusky scandal was a criminal matter, not an NCAA concern. That proved to be bad information as Penn State was dealt a four-year bowl ban and scholarship reductions as part of its penalties.
Selfishly, I hope the Nitts hang on to O'Brien for a while. He's a great coach with a lot of confidence and the league needs a few more guys like him, quite frankly.
We can't say the same for Ferentz.
TPEEZY SHOWS UP FOR HIS FIRST NFL START. Terrelle Pryor earned his first start for the Oakland Raiders Sunday and... played well.
Sure, there were a few wobblers and his 13-28 passing performance won't be mistaken for a Tom Brady statline anytime soon, but the second-year quarterback accounted for three touchdowns, two through the air and one on the ground, in a 24-21 season-ending loss to the San Diego Chargers.
Raider beat guy Monte Poole came away impressed with Pryor's leadership ability:
The 23-year-old showed himself to be a sturdy and elusive runner, as expected (49 yards on nine carries). He flashed leadership ability, which could not have been presumed. And his competitive desire, a key component for the growth of any quarterback, was unmistakable.

Pryor's aptitude for leadership and thirst for victory were on display early in the second quarter. During a second-and-14 play from the San Diego 17, Raiders running back Mike Goodson engaged in a scuffle with Chargers linebacker Takeo Spikes, which led to teammates coming to the aid of each. Pryor physically yanked Goodson away from the scrum, flinging his teammate to the turf.

It was an impressive show of strength for a quarterback, even one who stands 6-foot-4 and weighs 233 pounds. Moreover, it was a startling exhibition of leadership from someone who practically is a rookie.
You could say Raiders coach Dennis Allen was cautiously optimistic:
"I think he earned the chance for us to evaluate him some more. That was a good first step in that direction. He needs to improve. There's still a lot of room for improvement, but there were some positive things that he did in the game that he needs to learn from and try to enhance."
As for Pryor, he's already assuring RaiderNation that they'll be great:
Sorry RaiderNation I assure you that we will be great. Sorry for the loss !!

— Terrelle Pryor(@TerrellePryor) December 31, 2012
He left the program in flames, but it's hard not to pull for this guy.
THE POLICE WERE CALLED TO MAURICE CLARETT'S PLACE. And this time, Mo didn't do anything wrong.
WBNS 10TV reported late last night that a warrant was out for Clarett's girlfriend and the mother of his daughter, Ashley Evans.
On Saturday, Franklin county sherriff's deputies were called to their home. Police say Clarett claimed Evans punched and bit him. She then reportedly got in her car and drove away.

Police charged her with domestic violence and assault, both misdemeanor crimes.
Hats off to Maurice for handling the situation the right way and we hope they get this sorted out.
BEAUTIFUL FOOTBALL, BROUGHT TO YOU BY THE PINSTRIPE BOWL. So it snowed a little in New York Saturday...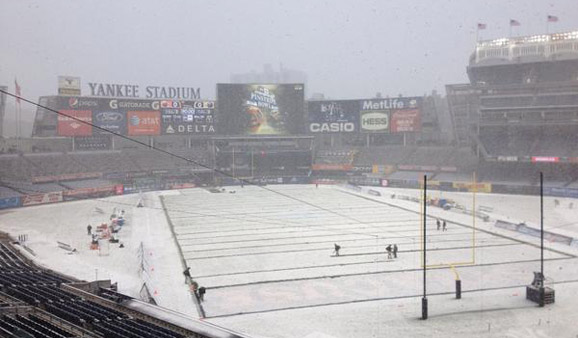 And since it snowed, you already know what happened. As is the case whenever the weather for a neutral field matchup drops below 40°, the northernmost program throttled the other team.
Syracuse handed West Virginia a 38-14 beating behind a season-high 369 yards on the ground and the Mountaineers lost a bowel in the process.
OHIO STATE IS RECRUITING THE STATE OF GEORGIA HARD. How hard?
2014 WR Demarre Kitt told me that #OhioState has been the most talked about school among recruits at Georgia's Rising Seniors Bowl.

— Miles 11W (@Miles11W) December 30, 2012
ETC. Sneaky QB is sneaky... Clintonville made Craigslist's Best of 2012 in the most Clintonville way possible... Campus as a winter wonderland... South Bend has a 58,000-square-foot building for sale.