In early December, Ohio State defensive tackle Johnathan Hankins announced that he would forego his senior season as a Buckeye and enter the NFL Draft. Life went on in Columbus without much reaction, because Hankins' decision didn't surprise many. The 6-foot-3, 322-pound tour de force was a wrecking ball for three seasons, his NFL career inevitable.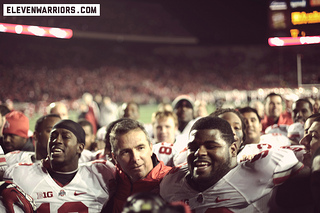 Hankins, a first-team All-Big Ten selection and second-team All-American, leaves Ohio State with a legacy that cannot be fully quantified by the stat sheet. He had 138 career tackles, five sacks and 21 tackles for loss. In 2012, Hankins was fifth on the team with 55 tackles and only one involved the quarterback behind the line of scrimmage. But one should not let that fact diminish Hankins' value to the team.
John Simon may have been the defense's inspirational leader, but Hankins anchored the line, offering a reassuring presence to the unit. 'Big Hank,' as he was known to teammates, was a low-key personality that didn't seek attention with flashy antics. Instead, he manhandled whomever lined up across from him, made a tackle and walked back to the huddle intent on quietly doing his job on the next snap.
Now there is a giant void left on the defensive line, both literally and figuratively. But Urban Meyer has been stocking up on defensive linemen since he arrived at Ohio State in November 2011. Four D-linemen were a part of Meyer's inaugural recruiting class and six more are expected to arrive on National Signing Day in February. 
Simon, Garrett Goebel and Nathan Williams also leave the line, which was an area of strength on the nation's 13th-ranked rush defense. So Meyer's recruiting strategy was not without merit. He's of the old-school ilk that points to the offensive and defensive lines as being the most important aspects on either side of the ball. The success of his teams lends credence to their makeup.
The six true freshmen invading Columbus this fall might not be called upon so quickly. But candidates to replace Hankins are emerging from the four-man class Meyer ushered in this past February. At the top of the list is Adolphus Washington.
"Adolphus is a big kid," defensive line coach Mike Vrabel said. "He's a big, athletic kid. For us right now, our need was to have him play inside. He'd play wherever we needed him to, he's that type of kid, but he's big and athletic, and that's a good combination."
Serving an apprenticeship in 2012, Washington finished with nine tackles, one-third of which were sacks. When weight is considered, his stay at Ohio State has been the opposite of Hankins'. When Big Hank arrived and weighed in at 355, losing weight became a priority. Washington, on the other hand, weighed less than 250 pounds, not an ideal mass for a defensive lineman in the Big Ten.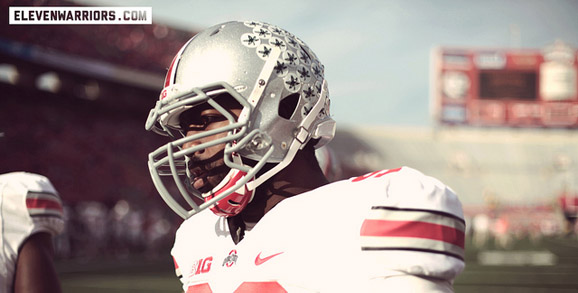 That's why he gained more than 50 pounds during his first few months on campus. He gave new meaning to the term 'Freshman 15.' Eventually, Washington settled on the number 289 for his playing weight. That has given him the ability to be versatile, a favorite word of coaches worldwide.
"What allows me to play outside is my speed," Washington said. "For me to be 289, I have a lot of speed, and I have a lot of power. So you combine those two, you can be very deadly coming from the outside.
"Playing inside, my power helps me a lot and my length affects me. But it kind of helps me at the same time. I just got to keep working on the inside thing, and I think one day I can dominate like Johnathan Hankins."
It's no coincidence that Hankins served as Washington's big brother during fall camp. The two were paired so Washington could learn from the best. And learn he did.
One of the most important skills Hankins passed on to Washington was the art of shedding double-teams. It became a regular part of Hankins' game day activities his final two seasons. Washington doesn't necessarily have to be the leading tackler – he just needs to attract the attention of opposing lines.
When Hankins was doubled in 2012, it presented a risky proposition to opponents because of the depth on the rest of the line. But Simon, Goebel and Williams' absence next season frees up that worry. Their replacements will be names like Noah Spence, Tommy Schutt, Michael Bennett, Joel Hale and Se'Von Pittman.
"Sometimes you recruit guys that are overrated," Meyer said. "The names you just mentioned are not overrated. They're going to be great players here. They're going to be great players here, and I appreciate the effort. On top of it, wonderful people."
Spence and Schutt both played in critical moments this year as true freshmen, while Bennett and Hale, both rising juniors, have been contributors their first two seasons. Meyer hopes that progression continues and that Michael Hill, Donovan Munger and rest of the 2013 signees can perform as well as their forerunners.
With the volume of highly regarded defensive linemen littering the Buckeyes' roster, Meyer's chances of hooking another Big Hank are upright.