Merry Christmas Eve to all those who celebrate. I'm sure you and your children, if you have any, are all looking forward to the next 48 hours as you spend time with family and friends, and — everyone's favorite part — get to give and receive presents.
While children are hoping for the new iPad mini, a flat screen television, a new laptop computer, and more (kid these days, right?), we adults are left looking for something more than the dress shirts, sweaters, etc. that we'll be receiving. That's where Urban Meyer comes in.
Old Saint Urbz is working on finishing off a great recruiting class of 2013, but the best part about him versus Santa Claus is that Urban is already working on presents for next year, as he and the staff are in heavy pursuit of big-time 2014 prospects that could make up the most talented group in the country.
In addition to presents, it's always nice to reminisce around this time of year, and that's just what I started doing on the subject of recruiting as we enter the new year.
I took a look back at a post of mine around this time last year titled "A Look Ahead: Class of 2013", where I broke down some of the potential targets on offense and defense in the next recruiting class. Of course Meyer was only on the job a month so he's had more time to recruit ahead this year compared to last year, but it was still interesting to look at the post and see where I hit and missed.
I hit on Shelton Gibson, as he looks to be a Buckeye if his grades check out. I also was correct on Evan Lisle, Jalin Marshall, Billy Price, Cam Burrows, and Eli Apple (formerly Woodard). I also said the Bucks would go after a punter, which was spot on, as Johnny Townsend will be a Buckeye come Signing Day.
The misses far outweighed the hits though, as I didn't have JT Barrett or Ezekiel Elliott on my radar at the time, and I also called Derrick Green, Robert Foster, and Jaylon Smith to be Buckeyes, when of course none of them will be.
With this year being a bit more developed in terms of who OSU is looking into at this time, I figured it was as good of time as any to start breaking down the big board, position by position, like we did last year in our "Forecasting 2013" series.
In the first installment of the "Forecasting 2014" series, we start with quarterbacks to see which prospects could join JT Barrett in competition to be the successor to Braxton Miller. 
Tier 1
When is comes to quarterbacks in the class of 2014, early word is that while two players would be ideal in the class, right now the plan is to take just one signal caller. Numbers are expected to be tight due to both a low number of players graduating after next season and the NCAA sanctions reducing overall scholarships from 85 to 82 for the final season.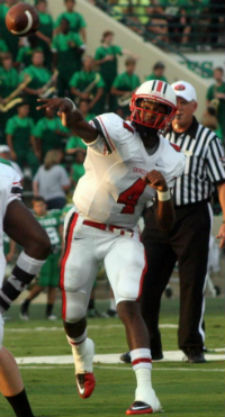 The top player on the Buckeyes' board to take this spot is Gainesville (GA) star Deshaun Watson. Watson is currently committed to Clemson, but it looks like the Bucks are next on his list if he chooses to waver. He has obviously shown enough interest that Meyer is pursuing him hard, and the staff was just down south to see him a couple of weeks ago in the state championship game. 
I think right now Clemson is safe for Watson, but Meyer will pursue him until he signs a letter of intent. With Tigers offensive coordinator Chad Morris likely being in position to land a head coaching gig, Watson's pledge could be in jeopardy, leaving Urbz & Co. to swoop in and get the four-star recruit to flip.
After Watson would be Jerrod Heard of Denton (TX) Guyer. Heard will be a tougher recruitment to get into because he is firmly committed to Texas, and early signs are he wants to stay close to home. With Mack Brown on the hot seat in Austin, anything is possibly, but at this point it looks like the staff could be wasting their time in the Lone Star State digging for a quarterback for next year's class.
The final player in Tier 1 is Hebron (KY) Conner QB Drew Barker. While many would put Barker at the top of Tier 2, we put him in this group with Watson and Heard having both reviewed his film and seen him in person. We would be 100% comfortable with the staff offering him today and accepting his commitment.
At 6-4/210, Barker has great size and also moves very well for a quarterback. He threw for over 2,000 yards this past season with 22 touchdowns against 7 interceptions, while also running for over 1,450 yards with 18 scores. It is our belief that he would prefer to play for Meyer and the Buckeyes, which shouldn't be hard to tell as he has been to campus many times over the past nine months.
Right now OSU has not offered the four-star prospect, so South Carolina is currently the team to beat. We think if/when a Buckeye offer comes that Barker would quickly accept, but the staff better not wait too long as it could be too late.
Fans need to trust Meyer is situations like this, but it would be a shame if the program lost out on a tremendous player in the Kentucky native if the time comes when they don't snag their top target, Watson.
Tier 2
It's no secret that the coaches prefer a quarterback that can move around in and outside the pocket, which makes Will Ulmer out of St. John's College High School in Washington, D.C., the top name when it comes to Tier 2 targets for Ohio State.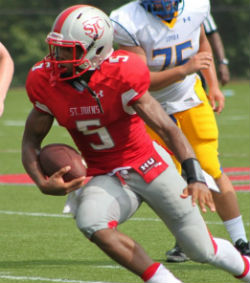 At 6-1/180 and claiming a 4.38 40-yard dash time, the Buckeye coaches have compared Ulmer to current quarterback Braxton Miller. This past season the four-star prospect put up "Miller-esque" numbers, with 1,245 passing yards and 10 touchdowns, while also running for 1,412 yards and 15 scores on the ground.
The native of the nation's capital has legitimate interest in the Buckeyes, and even visited for The Game, but it will ultimately be up to to Meyer and Tom Herman to decide his fate. Ulmer thinks an offer will eventually be coming, but he is in no rush, as he plans to visit Columbus again this spring or summer and told us he has no worries waiting until Signing Day 2014 to make a college decision.
While not as mobile as some of the players listed above, Scottsdale (AZ) Desert Mountain's Kyle Allen may have the best arm of all the prospects on OSU's initial board. This past season Allen threw for 3,200 yards with 36 touchdowns against just 7 interceptions, further showing the aerial attack skills he displayed at the Buckeyes' camp last summer.
Allen can move around pretty well both inside and outside the pockets and is a favorite of Tom Herman's, so don't count him out of the race just yet. I don't think he'll land an offer due to the style preference of the staff, but he is a very good prospect who could vault to the top of the list should the Bucks miss on some players early.
Caleb Henderson is a player many are lobbying for Meyer to offer, but as of now it appears the Alexandria (VA) Lake Braddock product will be playing against Ohio State in the future rather than for them.
Like Barker, Henderson is a pocket passer with dual-threat ability, but this four-star prospect has not been pursued as intensely as some other players on this list. As hinted, it looks like Henderson could end up in the Big Ten eventually, playing for Michigan State as the Spartans currently lead.
Baltimore (MD) Dubar's William Crest thought he had an OSU offer early on, but it appears it was of the uncommittable variety and the four-star prospect will have to work to change that to a committable one over the next few months.
Crest has everything the Bucks are looking for and they got to see him up close and personal on his visit for the UAB game, but the 6-3/170 signal caller still doesn't hold an offer. That is awfully telling that he is a clear Tier 2 player in the coaches' minds, but that could of course change with review of his junior film and a great camp showing this summer.
Keep an eye on Crest as he is an intriguing prospect with the skill set the Bucks are looking for, and has legitimate interest in the program, holding OSU and West Virginia on top despite only the Mountaineers offering at this time.
The final prospect in Tier 2 is Toledo (OH) Central Catholic's DeShone Kizer. Kizer is vying to be the top quarterback in the state of Ohio for the class of 2014 and is someone the staff is very familiar with, as he's been in touch often and has visited Columbus many times.
It was thought that it would be an early battle between the Buckeyes and Michigan for Kizer's services, and it still could be, but right now neither school has offered the state champion quarterback. Kizer does hold offers from Michigan State, Penn State, Boston College, Kentucky, Louisville, Nebraska, Syracuse, and others, but his top two choices are continuing to evaluate his skill set and I think that could be the case for a while.
A 6-5/210 quarterback who can run and throw is hard to find these days, but unfortunately, unless they can take two in the 2014 class, it doesn't appear at this moment that Kizer's college ball will be played in scarlet and gray.
Tier 3
Tier 1 includes the very top prospects the Buckeyes are going after. Tier 2 includes players the program is in hot pursuit of, but are next in the pecking order if the Tier 1 prospects all go elsewhere. Tier 3 includes some under-the-radar players who could work their way into the mix, but as of now are backup options upon further evaluation.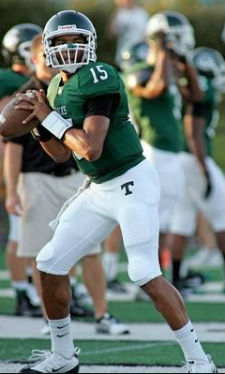 We start this list off with Louisville (OH) QB Joey Duckworth, who had an outstanding camp season last summer and a nice junior season this fall. Duckworth currently has offers from Buffalo, Akron, Bowling Green, and Toledo, but with another strong showing this offseason, will certainly have BCS level offers from a number of schools.
The only thing working against the 6-3/215 Duckworth when it comes to Ohio State is his lack of mobility, but the coaches liked him a lot when they had him working out on campus and he is someone to look at if they can take two quarterbacks in the class.
Unlike Duckworth, Youngstown (OH) Ursuline's Chris Durkin does have mobility and is a likelier option for the Bucks to end up in their 2014 class. Rated as an early three-star prospect, Durkin also had a good camp showing last year and was one of a handful of prospects brought in to a select workout by Urban Meyer during his time at camp.
Illinois and Toledo have already offered, but programs like Penn State, West Virginia, Florida, Cincinnati, Northwestern, and Virginia have also shown interest. If all schools offered, the Gators could be the biggest competition for the Buckeyes, as Durkin is a cousin of Florida's linebackers coach, DJ Durkin.
Rounding out the Tier 3 prospects is Louisville (KY) Trinity's Reggie Bonnafon. The 6-2/195 Bonnafon is just heating up when it comes to recruiting and has pulled in offers from the hometown Cardinals and Illinois already.
Charlie Strong's team is the early front-runner to land his services, but as he takes visits this winter and spring, and hits the camp circuit next summer, I could see him blowing up big time. He is one of my sleeper prospects to look out for and OSU's interest could be turned up if teammate James Quick selects the Buckeyes at the US Army All-American Bowl on January 4.