Ohio State blew by UNC Asheville and Sam Thompson added to his highlight reel, but the win didn't do much for the Buckeyes' team rankings.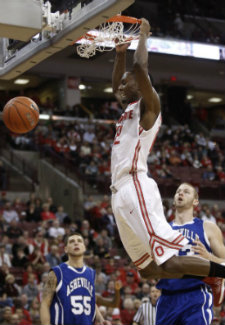 Sitting as Pomeroy's 7th-ranked team, with the 6th adjusted offense and 7th adjusted defense, the Buckeyes have clearly dialed in their cupcake-crushing abilities.
Kansas Cometh
However, the Buckeyes finally have a huge matchup this week against Winthrop Kansas!
No one told Matta that it's not good to eat dessert before the main course, but tonight's matchup against Winthrop is one of the biggest cupcakes yet: the Buckeyes are ranked 33rd in RPI compared to 236th-ranked Winthrop.  
Kansas, on the other hand, is ninth in both RPI andand Pomeroy's rankings. The Jayhawks are led by the trio of Ben McLemore, Jeff Withey, and Travis Releford, who all average over 13 points per game.
Further, Withey averages 5.6 blocks per game, while McLemore and Releford average over a steal per game. These three lead the team in almost every category, but seven players average more than five points per game. 
Unfortunately, Kansas made Athlon Sports' 5 Amazing College Basketball Stats of the Week:
32.5: Average margin of victory for Kansas in its last two games: The Jayhawks played two tournament bound teams in a seven-day period of time last week...Ben McLemore and Jeff Withey, the Jayhawks' top two scorers, have combined to shoot 52.5-percent from the floor thus far in 2012-2013. The duo was 11-of-17 in the win over the Bruins.
DESHAUN IS CRUSHING IT
It's pretty obvious that Deshaun is killing it in every way possible for the Buckeyes, leading the team in almost every conceivable offensive category.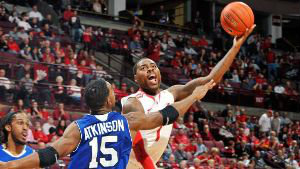 Even further, Deshaun is leading the Big Ten in points per game with 20.3, ahead of Michigan's Trey Burke and Tim Hardaway Jr., who are in the top four.
Without Sully putting up 20 points a game, Thomas is actually the only Buckeye to be in the Big Ten's top 30 players in points per game.
Thomas is eleventh in the Big Ten in rebounds, again the only Buckeye in the top 20. 
The accolades continue: seventh in field goal percentage (.429), third in three-pointers per game (2.7), and tenth in offensive rebounds (2.3) 
The Bench and Balance 
Maybe it's progress that Matta's sixth man – currently LaQuinton Ross – was up for StatSheet's B1G 6th man of the week award: 
Sophomore LaQuinton Ross, a 6-8 reserve forward, averaged 24 minutes over two games for the Buckeyes. In a lopsided 85-45 win over Savannah State, Ross added 13 points and 9 rebounds. During a 90-72 win against North Carolina-Asheville, he racked up 8 points and 2 rebounds. This is LaQuinton Ross's first StatSheet Big Ten 6th Man of the Week award this season.
However, it's not just Ross that's been turning in big performances. Matta has had multiple sacrificial lambs to fine-tune his bench and it's worked well so far, with seven players averaging six or more points per game. Thompson (11%), Ross (13%), and Scott (9%) all have come off the bench to average ~10% of the team's points per game. 
Led by Craft and Scott, the Buckeyes rank first in the Big Ten in steals, steals per game, assists, and assists to turnovers. The key has been that Craft hasn't had to do it all on his own – Scott has accounted for 32% of the team's assists (second in the Big Ten) and 35% of the team's steals (also second in the Big Ten) compared to 29% and 19% for Craft. Scott's contribution to this team cannot be understated. 
This differs somewhat from Matta's previous squads – more than just two guys are doing the scoring (though there's still time to change that during conference play). While the blowouts might not have been as great to watch, they might pay dividends during conference play.