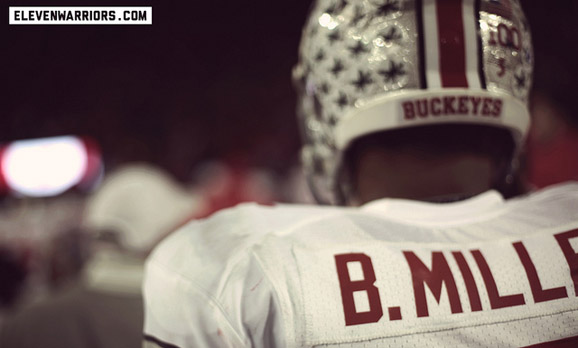 "Our quarterback fundamentally, he wasn't the best fundamental quarterback in America. But I still have no idea where his ceiling is. Pocket awareness, comfort, just the fundamentals of throwing the ball, I don't see the ceiling yet. He's got that much further to go. The sky is the limit for him.
To say that he's a finished product is not even close to reality. Tom Herman and Braxton Miller understand that they have to get better. If Braxton Miller becomes fundamentally the best quarterback in America, I think he will be the best quarterback in America." - Urban Meyer
Without question, Braxton made huge strides in his sophomore season, his first under the tutelage of competent coaches. The numbers pretty much speak for themselves. Urban's thoughts, delivered the Monday after his quarterback led the Buckeyes to an undefeated season, spoke volumes about year two of the Braxton Miller Experience but more importantly, put in the crosshairs exactly what needs to happen in the first eight months of Miller's development in year three for Ohio State to have a shot at the national title. 
Braxton Miller Season By Season Passing

| YEAR | COMP | ATT | YARDS | TD/INT | COMP% | PASS YPG | QB RATING |
| --- | --- | --- | --- | --- | --- | --- | --- |
| 2011 | 85 | 157 | 1159 | 13/4 | 54.1 | 96.6 | 138.4 |
| 2012 | 148 | 254 | 2039 | 15/6 | 58.3 | 169.9 | 140.5 |
BRAXTON MILLER SEASON BY SEASON RUSHING

| YEAR | ATT | YARDS | AVG YPC | TD | AVG YDS GAME | NATL RANK |
| --- | --- | --- | --- | --- | --- | --- |
| 2011 | 159 | 715 | 4.5 | 7 | 59.6 | 95 |
| 2012 | 227 | 1271 | 5.6 | 13 | 105.9 | 24 |
Through the air, Miller completed 63 more passes for an additional 880 yards, added four points to his completion percentage, 73 yards to his per game average and improved his overall passer rating to 140.5. No question Miller benefitted greatly from more effective coaching specific to overall throwing mechanics, and to do so in the midst of learning a new offense was a testament to not only his talents but his work ethic and maturity.  
For comparison, looking at Terrelle Pryor's sophomore season, he completed only 56.6% of his passes with a TD/INT ration of 18/11 and a passer rating of 128.9, further magnifying just how far Braxton came in year two. 
On the ground, Miller's sophomore season totals blow away the output from his rookie year. He increased his yards per carry more than a yard, rushed for 46 more yards per game to total 105.9 and improved his national ranking in rush yards per game an amazing 71 slots. 
Again, for comparison, Pryor rushed for just 59.9 yards per game in his second season with a yards per carry of 4.8. 
Bottom line, you don't need me to tell you he was a freak in large doses this past season. The kid rushed for 100+ yards in six of 12 outings, cranked out 275 yards of total offense per game (36th), generated 28 TDs and broke 2.8 ankles per game (APG). 
In fact, things look absolutely fantastic when you look at the 12 game capsule. When you look under the covers, however, you can easily see why Urban chose the words he did when recapping the season. 
Generally speaking, Miller was a beast in the first seven games but didn't fare nearly as well over the final five: 
MILLER: FIRST SEVEN GAMES VS. FINAL FIVE GAMES

| PERIOD | COMP | ATT | COMP% | TD/INT | RUSH ATT/GAME | YARDS | AVG YPC | YDS/GAME | TD |
| --- | --- | --- | --- | --- | --- | --- | --- | --- | --- |
| 1ST 7  GAMES | 96 | 159 | 60.4 | 11/4 | 18.4 | 912 | 7.1 | 130.3 | 9 |
| FINAL 5 GAMES | 52 | 95 | 54.7 | 4/2 | 19.6 | 359 | 3.7 | 71.8 | 4 |
The drop-off in production is pretty eye-popping, especially the near six percentage point drop in completion percentage, the fluctuation in the TD/INT ratio and the dramatic decline in rushing yards per carry from 7.1 all the way down to 3.7 with only four touchdowns. Looking at the individual game summaries, Miller threw for over 200 yards and rushed for over 100 yards just once each over those final five contests. 
On one hand, it's reasonable to think a portion of his troubles were the product of stiffer competition and that would be accurate as the first seven opponents averaged out to rank 65th in total defense while the final five averaged out to rank 36th nationally including Penn State at 32nd, Wisconsin 13th and Michigan 11th, respectively.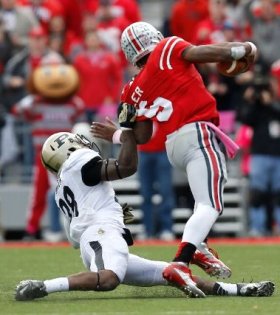 At the same time, there's no question Braxton was less consistent, becoming a little more skittish in the pocket and less aggressive on the run after being awkwardly slammed to the Ohio Stadium turf in what was already a dismal showing against Purdue (passing: 9/20, 113 yards, INT; rushing: 12/47), the first of those final five games of 2012. 
Interestingly, after being deemed concussion and injury-free just hours after the tilt against Purdue, Miller was a beast in the run game the following week, cranking out 25 carries for 134 yards with two touchdowns. Despite the heady rushing stats, he was awful through the air, connecting on only 7/19 with a touchdown and while he was only intercepted once, two more hit PSU players in the hands. 
Against the worst of the final five defenses the next week, Braxton eclipsed the 200-yard passing mark with two touchdowns against Illinois' 54th ranked total defense and rushed for another 73 and a score. After Meyer openly opined that Miller's footwork was largely to blame for the inaccurate passes the previous two weeks, Miller went out and hit 12/20 for 226 yards. If not for a handful of drops on would-be sizeable gainers, two from Stoneburner, Braxton's stat line would've read closer to 15/20 for 260+ yards.  
Despite the bounce-back performance, Braxton played arguably his worst game of the season the following week in Madison. He failed to find the end zone, was held to a season-low 97 passing yards and was one yard shy of tying his season low in rushing with 48 yards on 2.1 per tote.
He looked in a fog as he held the ball way too long in the pocket, failed to set his feet and step into throws, struggled with decision-making on zone read running plays and was flat out tentative on rushing attempts.
When the dust settled on his 10/18 passing effort, he was now completing just 49% of his throws over the last four games.
As inconsistent as his passing had been over the last month, Miller did find consistency through the air in the season finale against Michigan and their second-ranked pass defense nationally, hitting a career-best 78% of his attempts (14/18) – even with two purposeful throwaways – for 189 yards and a score. Unfortunately, he still held on to the ball way too long at times, resulting in four sacks.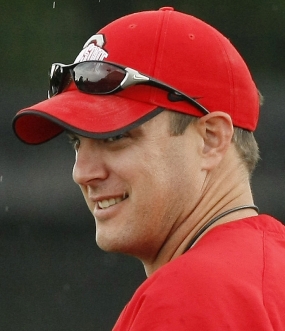 On the ground, it was a struggle once again as the Wolverines bottled him up to the tune of 20 carries for 57 yards, or 2.9 per carry. 
As I noted at the time, Braxton's late season struggles made him unworthy of a trip to New York as a Heisman finalist. That said, being on the fringe of being a Heisman finalist is still nothing to sneeze at. If anything, it illustrates just how lofty the expectations  – very fair expectations – are for a kid that simply oozes talent. 
That very fact is why Urban said what he said just two days after the season ended. 
He knows Braxton was a beast this year yet the kid is far from a finished product. Moreover, Meyer knows that the only way the Buckeyes run the table is if Miller puts forth a more consistent effort and can always be counted on to lead the charge against the tougher opponents on the slate. 
Braxton can be inconsistent and Ohio State can win the B1G because, well, the B1G is loaded with mediocre teams, but for the Buckeyes to make another run at an undefeated season Miller will have to realize growth, especially in passing fundamentals and decision-making in the run game. 
Without the benefit of bowl practices, it's up to Braxton, and when coaches Herman and Meyer are able, to shore up Braxton's areas of opportunities to maximize his ceiling, and with it, the ceiling for the 2013 Ohio State Buckeyes. 
With that, it's easy to see why Urban says he wants to see an evolution because if he does, well don't you know it's gonna be all right.