Last week the Big Ten doubled down on its election month outreach campaign by following it up with a survey asking you to choose from three realignment options.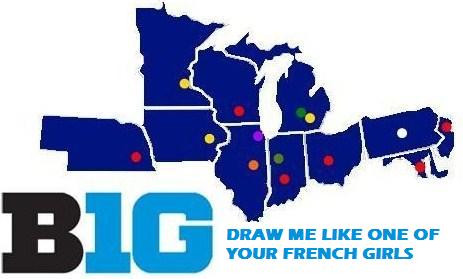 It was exciting...until you saw the "choices": 1) Leaders & Legends as we currently know it plus the two new guys; 2) East/West, which the Big Ten is not actually considering on account of limiting its ability to manufacture optimal television programming; and 3) Something called Outer/Inner which we will ridicule shortly.
And that was it. Either they're all out of idea guys in the Big Ten offices, or perhaps they're just not all that serious about involving consumers in this realignment decision. Since the Big Ten's own research shows that no really people just love Legends and Leaders this is probably another hoax designed to give us hope and generate pageviews.
It makes you wonder why the Big Ten didn't just pretend to have Morgan Freeman as a spokesperson to capture more attention for this fake initiative, since nothing galvanizes millions of people like a fabricated celebrity rant.
Regardless, Jim Delany will ultimately do what the voices in his head tell him to. But let's play along anyway.
LEADERS & LEGENDS 2.0
If the conference is going to tweak the current alignment at all it could simply add Rutgers and Maryland to the Leaders side and move one program – like Wisconsin – to the Legends to create balance. Ohio State would say thank you.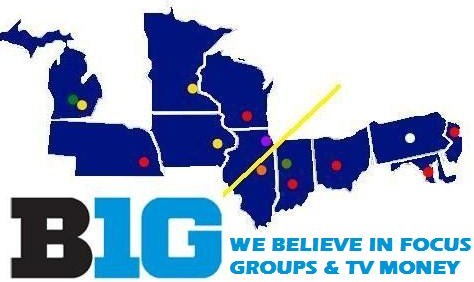 But aside from those pending moves, what you see here is another gerrymandered arrangement with the explicit hopes of a marquee December matchup in mind.
Note the state of Michigan's new location. If only this was possible.
Un-crippled Ohio State and Michigan teams are expected to hold up their end of this bargain in most years, but heading into 2013 that ratings dream still hasn't materialized. Still, the Buckeyes clinched their division in Madison with one game to spare, and once Michigan is capable of winning a challenging road game (it's coming) they should be able to do the same.
BELLYBUTTON L1NT
Since slicing the footprint East/West was very deliberately avoided the first time around, it's safe to say that a geographical split is not seriously being considered in Round Two.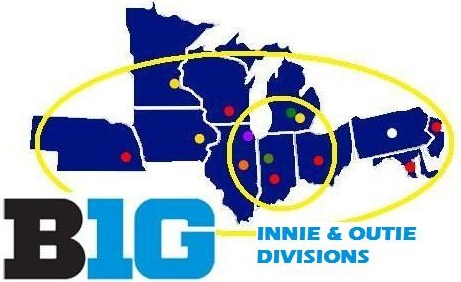 That's what makes the Inner/Outer proposition a joke to the point where it's almost offensive. This is not a legitimate proposal, yet two-thirds of the choices you're being offered are this and the East/West split that was already declined.
This cut gives half of the conference a nice advantage around limiting transportation costs and puts the furthest possible division roadie for fans at a very manageable six-hour drive.
And the downside is it does the opposite for the other half of the conference. Innie/Outie creates one nice, clean territorial division that's counterbalanced by an unnatural smattering of central time zone expanse and eastern seaboard neophytes.
It's kind of like what happens to the rest of the Rubik's Cube when you solve for only one color.
PANTS ON THE GROUND
Here's an option: Just cut to the chase.
The Wisconsin vs. Penn State regular season finale was an intriguing matchup, but it only captured about a fifth of the audience that Ohio State hosting Michigan got that same Saturday – despite neither the Buckeyes nor the Wolverines playing in the title game the following week.
Buckeyes/Wolverines is the B1G's best-seller, and second place isn't all that close.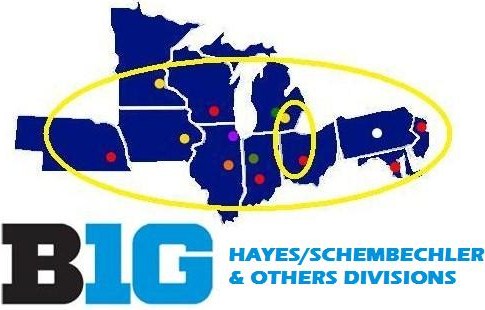 You know why ESPN is an insufferable geyser for Yankees-Red Sox chatter throughout baseball season? Because that classic matchup captures the most attention (and because ESPN hates you, but the two are mutually exclusive).
Put Ohio State and Michigan alone in one division and all of the other dozen schools in the other. Play The Game every weekend until its naturally occurring finale in November, and then have them play one more time in Indianapolis the first Saturday in December to determine the conference champion.
Nebraska could play Penn State in the undercard. The title game is held in Indiana, so maybe have some monster trucks crash into each other on the field before the football starts, or just schedule the IU basketball team to play [ANY TEAM] after the game. There's your sellout. <-- pun intended
The Game is the greatest thing in sports. It is also the catalyst responsible for a) this ruinous division alignment challenge b) the strong possibility of its departure from the regular season's final Saturday c) climate change and d) at least two of the previous things.
No, this isn't a serious proposal. But neither is Innie/Outie.
VARYING DEGREES OF SHRINKAGE
There is another way to drop a geographical split into a divisional spread while maintaining some semblance of historical competitive balance.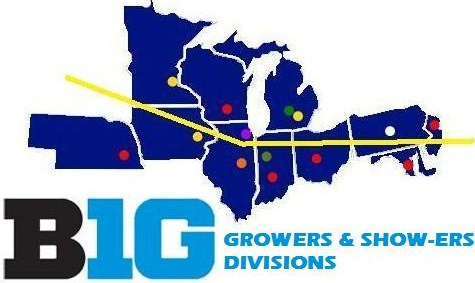 A horizontal North/South cut does the job surprisingly well while separating Ohio State and Michigan in opposing divisions, keeping hope alive for the title game ratings treat that's causing this mess.
In this Cold/Colder arrangement, an eight-game conference schedule has the Buckeyes playing all of their fellow...um, southerners while preserving cross-divisional protected rivalries with Penn State and Michigan, that latter of which is the status quo.
So that's just part of the issue with a North/South split: It forces half of the Big Ten to be in something called the South, which is only slightly worse than being called an Outie.
But it does carry the competitive, logical and equitable components of a divisional split so let's throw it in as column fodder anyway. People like having options. Everyone loves a buffet.
REDS AND ORANGES AGAINST THE REST
The method to remembering who is a Leader and who is a Legend: The I and P schools (Indiana, Illinois, Penn State, Purdue) are Leaders while the M and N schools (Michigan, MSU, Minnesota, Nebraska, Northwestern) are all Legends. 
Then all you have to remember is that the O and W schools are Leaders too. Oh, and that Iowa is the exception to the I school rule. You see? It all makes sense.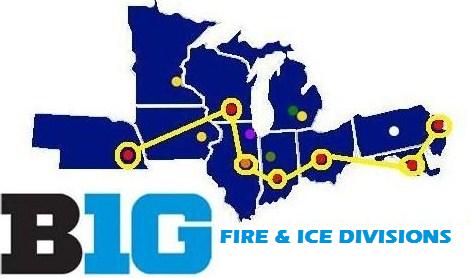 That leaves Rutgers joining the Leaders and Maryland preserving the M school rule by going to the Legends, unless they decide to give it the Iowa treatment. It's that simple.
There is a non-geographical solution to this: Have the Leaders trade Purdue and Penn State for Nebraska while taking on the two newbies. This creates a division of Reds (and remember, there are no yellow teams in the Big Ten – just gold, old gold and maize sun).
That leaves the non-reds and non-orange schools in the other division, and that's not only easy to remember, it's also a fairly equitable split where historical competitiveness is concerned.
If Minnesota's maroon is deemed more appropriate than Illinois' orange, that swap is negotiable. Anything to avoid a palette debate.
TURN YOUR HEAD AND COUGH
If you squint just right, the Big Ten map becomes a celestial body. Stop thinking of the conference as an affiliation of schools sharing academic and athletic bonds (that are being devalued with every round of expansion) but more as a collection of brightly shining stars.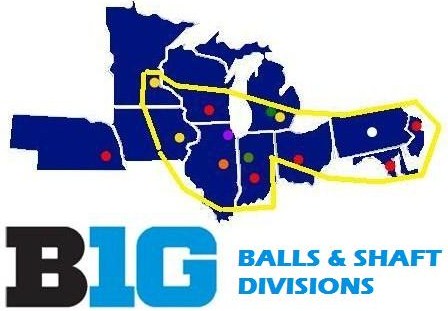 This celestial sphere is another classic arrangement, not unlike that of Orion, Leo or Scorpius.
It's a B1G Dipper, if you will, pointing rigidly toward the Atlantic as if to say, "hey, baby – if we could expand any further in your direction, we wood."
The resemblance of the Big Ten's footprint to male reproductive organs is not only uncanny, it provides the most East/West-ish split possible without actually going East-West. The Michigan schools and Ohio State firm up the girth with help from its fellow eastern helmeteers, while Indiana and the rest of the west comprise the family jewels.
But what about Nebraska you ask? Well, Nebraska taint in either division.
LET'S TRY THIS ONE MORE TIME
Slicing the B1G down the middle takes us right back to square none.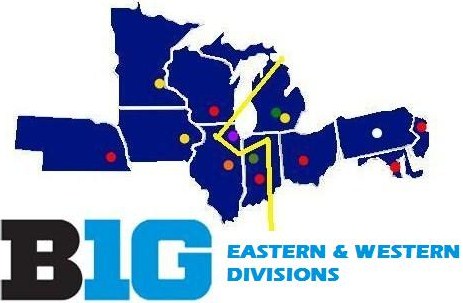 Sure it's boring and over-simplified. Sure it pits Ohio State and Michigan against each other as a virtual B1G title play-in game almost every year.
Sure it's easy to remember, creates a natural geography-based rivalry between divisions and contains transportation costs for every school. BUT OTHER THAN THAT, IT'S PERFECT.
Give it a shot, Mr. Delany. If East/West doesn't work out, you can just tweak it again the next time the conference expands, which will be in [checks watch] well, you'll know first.
But however you slice up this burgeoning money pie, you should not try to over-market the division names again. Legends and Leaders is a Harvard Business Review study in branding failure that's still being written. You can stop conducting fake research telling us this isn't the case.
Everyone makes mistakes. Just try not to make the same one twice.