After hosting a group of very talented prospects last weekend, Urban Meyer and the Ohio State coaching staff came along with their eighteenth and nineteenth commitments in the recruiting class of 2013, ATH Gareon Conley and DL Donovan Munger.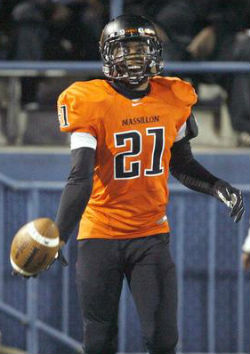 Both players are excellent pickups, as Conley can provide immediate help at either wide receiver or cornerback (and a flip from Michigan never hurts), while Munger will fight for a spot in the two deep on the defensive line next year, and could also fill a need at offensive guard down the road.
In addition to the two verbals, the Bucks also hosted Plano (TX) Prestonwood Christian Academy LB Mike Mitchell, as well as Butler Community College LB Tommy Sanders. Both players are fine talents that would fit well into the OSU program, but they are not the only prospects the staff is still pursuing.
There is a plethora of national talent, both committed and uncommitted, that the coaches are going after, setting up what should be a wild ride into National Signing Day come February. OSU already has a top-five ranked class and with the caliber of player they are still after, it's looking like a top-three finish isn't only a possibility, but a likelihood.
In this edition of the 11W Recruiting Notebook, we discuss the linebacker situation for the current class, look at what receivers may still be in play, and check in on one of the most followed prospects by Ohio State fans, S Vonn Bell.
Join us after the jump to get the latest scoop on the recruiting trail when it comes to Urban Meyer and the Buckeyes.
Linebacker Taking Shape
Linebacker is a big need for the 2013 class. With Zach Boren and Etienne Sabino graduating, two starting spots will be open on next year's defense and opportunity is there for an incoming freshman to step up and grab significant playing time. Tyquan Lewis is on board as a hybrid linebacker/defensive end, but the staff will look to add another three or four players to the group before Signing Day.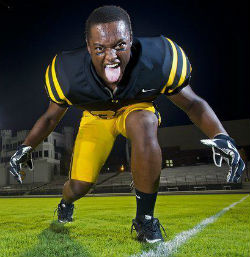 The top target is the aforementioned Mitchell, who made his first trip to Columbus last weekend. Mitchell had long said OSU was his leader and the visit only solidified that lead further. No commitment has been made yet, but we feel good about the Buckeyes landing his pledge based on info we got following the Texas native's official visit. Don't be shocked if a decision comes as early as the next few days.
The number two target the coaches are after is Trey Johnson, a former Auburn commit. Johnson decommitted from the Tigers after Gene Chizik was fired and it appears the Bucks may lead after his visit for the Michigan game. Florida and USC were other schools in the mix, but I don't think Johnson is too serious about the Trojans and it looks as if the Gators may be full at linebacker. Luke Fickell and Urban Meyer are doing work on this one and it is another situation we feel good about when it comes to Ohio State.
Tommy Sanders was brought into Columbus for an official visit last weekend, but he left campus without an offer. He was slated to make a decision between OSU, Texas A&M, and Mississippi State, but there has been a lot of buzz lately that the Bucks could offer and that interest is growing from Auburn and South Carolina. The JuCo star will likely visit one of those two SEC schools this weekend and it looks like he is pushing back his decision, good news for Ohio State who can now take more time to evaluate offering him.
Skai Moore's contact with OSU had been fading by design and the three-star linebacker out of University School in Fort Lauderdale decided to end his recruitment last night, committing to Rutgers. The Buckeyes were slow playing Moore and even pushed back his visit to buy more time, so this is not a huge loss, but it is a nice get for Rutgers. The key thing to look at in this situation is not that Ohio State will not get Moore, but rather it means they feel good about where they sit with Mitchell and Johnson.
Finally, Chris Worley is a player many fans have been waiting for to commit for quite some time. I'm not sure when the Glenville star will pull the trigger, but I am extremely confident in saying when he does it will be for Ohio State. Ted Ginn Sr. usually has his players hold off announcing to draw more coaches to the school for lesser recruited prospects, but I think in this case it may be OSU calculating when to tell Worley to go public, playing their cards with other recruits on the board.
Wide Receiver Situation Still Murky
Wide receiver is another position with holes that Urban Meyer needs to fill. Jalin Marshall and Taivon Jacobs are already on board, but the staff is looking to add at least two more bodies to the unit.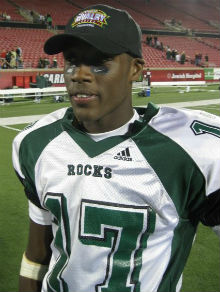 James Quick is top priority for the staff, and after his official visit for The Game, it looked like OSU was in the driver's seat. That still may be the case, but the coaches' job just got harder as Charlie Strong, who was expected to go to an SEC school, is staying at Louisville after just signing an extension.
I still feel that Quick ends up choosing the Buckeyes, but the chance to be a hero playing for the hometown team is certainly enticing now that Strong is sticking around. If the Cardinals' head coach left, it was all but certain James was coming to Columbus. Now we'll have to wait to hear what his decision is at the US Army Bowl in early January.
Corey Smith, formerly of Akron Buchtel and currently of East Mississippi, also visited for The Game and had a return trip for an official visit scheduled to Columbus for mid-January. The status of that visit is unknown, as Smith committed to Mississippi State over the weekend, potentially ending his recruitment. Smith was definitely a backup option for the staff, so this would not be a huge loss, but it will be interesting to see what the former Ohioan chooses to do if the Buckeyes press for his services.
Shelton Gibson will be a Buckeye if all is taken care of off the field, but that has not happened up until this point. It's no coincidence his official visit is scheduled for Jan. 11, as the coaches will likely want to see his first semester grades, as well as recent test scores, at that time. Word on the street is things are looking good for Gibson when it comes to the classroom, and I expect the Bucks to land a Cleveland Heights product for the second year in a row on Signing Day (Kyle Dodson last year).
Finally, sitting in the queue are Corn Elder and Ryan Timmons. Elder currently holds an offer, while Timmons is waiting for one, but it is unknown at this point if the Bucks would even take the Tennessee native.
People close to Elder say OSU is the team to beat, with UCLA trailing for now, but what is the hold up on him giving a verbal? Based upon what we know, it appears the staff is not ready to take a commitment from the Ensworth star, and would like to see how the numbers shake out. I think that situation will become more clear in the near future, but I don't expect a decision from Elder until after the new year.
Timmons is a fan favorite around these parts, but he would likely need Quick to pick Louisville and one of Smith, Gibson, or Elder not to come to Columbus for an offer to come his way. I do feel strongly that if offered he would commit on the spot, as he's made it no secret who leads for his services. Keep an eye on this one as he would certainly be a quality and welcome addition to the class.
The Curious Case of Vonn Bell
Vonn Bell is one of the best players in the nation, and the four-start safety is fittingly one of the more talked about prospects on this site.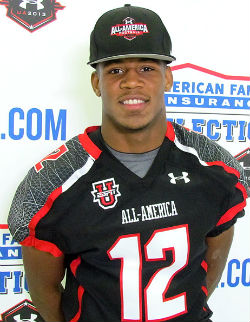 Bell's team is still competing in the high school playoffs in Georgia so he has put recruiting on the back burner, but his coach recently told Miles that he had all of the information he needed to make a decision from his three finalists of Ohio State, Alabama, and Tennessee.
While Bell hasn't said this publicly, the smart money is on the Volunteers being out of this race after Derek Dooley was fired. Even though they are the hometown team (Bell is originally from Tennessee and lives right over the border now), there is just too much ground to make up for Butch Jones when it comes to building a relationship with Vonn, the most important factor in his decision according to his coach.
That leaves Ohio State and Alabama. Bell was in Columbus this summer for a few days, participating in a senior advanced camp and checking out the campus. He was in Tuscaloosa multiple times this season to see the Crimson Tide in action, but does not have an official visit scheduled to either school at this point.
Many people believe Alabama is the school on top here, his taking the trip multiple times this year to see them play being the key sign, but I wouldn't be so quick to write off Ohio State.
All signals indicated that Bell loved his summer trip to OSU and that he has the best relationship with Urban Meyer and the Buckeye coaches. With that being the most important factor in his decision, coupled with it not hurting that Darron Lee is an old friend who has stayed in touch, Ohio State has more than a fighting chance.
I'm not saying the Scarlet and Gray definitely comes out on top, as Alabama is certainly the betting favorite here, but this is the type of pull Urban has been able to get in the past and you can't count him out until Bell pulls the trigger.