Far below the Earth's crust, sits a man in a bunker. This man is wearing a sweatervest with a kangaroo emblazoned on the left breast, and sitting in an easy chair watching events unfold before him.
"Bielema to Arkansas, huh?" he giggles, trying to restrain himself. "That's a weird career move to go from head football coach to mascot, even if he is perfect for the job." Jim Tressel, craned his neck and looked around the small concrete room, outfitted with cans of macadamia nuts and jars of pickled beets. All alone. No one had heard him. "Damn!"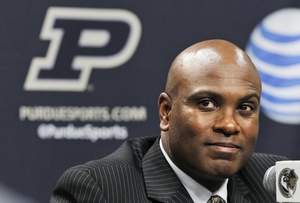 Suddenly, from the TV, the confirmation that he had been looking for: Darrell Hazell hired as Purdue head coach.
Jim grinned to himself. He was a patient man. He could hold grudges for a long time and see his machinations for revenge lay dormant until the best possible time for a strike. It was his philosophy: Slug Life.
Watching his former protege put on the Boilermaker hat, Tressel gripped the armrests of his La-Z-Boy. "Yeeessss!" he hissed into the thin air that surrounded him. "Yeeeeessssssssssssssss!"
...
The Darrell Hazell hire was easily the best move that Purdue could've made after their dismissal of Danny Hope. They're getting a smart, experienced coach who has been well liked everywhere he's been, turned around a dire Kent State program (and very nearly got them into a BCS bowl), and also has a working knowledge of the types of places that Purdue will be recruiting from. He's got all of the tools needed to make Purdue a force, kind of, in the Big Ten, and quickly.
Of course, this is an Ohio State blog, so today I want to talk about why that sucks, and how, in time, I will learn to hate a man that I used to feel was the rightful heir to the Jim Tressel throne.
He's Experienced
Darrell Hazell doesn't look like a 48-year-old man, but a 48-year-old man he is. He's had a number of coaching gigs, including stints at Army, West Virginia, and Western Michigan, but where he really made his hay was at Rutgers, where he eventually rose to the position of assistant head coach under Greg Schiano.
This is relevant because the de facto role that many of us put him in, that of the heir apparent to Jim Tressel, was in my opinion the role he was actually going to one day play. Being an upwardly mobile guy, he realized that the opportunity to one day coach Ohio State was slightly bigger than the opportunity to coach Rutgers, and so he left.
He's Driven
And really, that's the theme here. With the current state of college football, if you're given opportunities for advancement, it doesn't really help to have emotional ties to your job. Darrell Hazell left Rutgers for OSU because it was the logical choice, and I believe he left Ohio State for Kent State for the same reasons.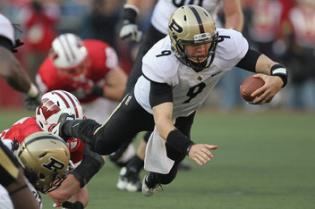 Again, the guy is 48, the same age as Urban Meyer. I feel that it has to be at least somewhat frustrating to see others in your field win national championships and get millions while you are forced to wait your turn behind a coach you'll likely never be able to live up to.
Kent State is likely as grateful as they are understanding that Hazell is making this change, because it now firmly puts him in the driver's seat of a nationally (kind of) recognized program.
He Might Be Really Good
The immediate problem for Ohio State and the rest of the Big Ten is that Purdue might've just hired a coach that can actually do something with the relatively decent talent that the Boilermakers posses, although this isn't without some reservations.
It's interesting to see how people tend to dole out recognition for the offense during the Tressel years; when the team performed well, it was thanks to Hazell. When they were average, that must mean that Tressel had taken the reins, and of course when they were flat out bad that meant Bollman was calling plays again.
I don't know what the real answer is. My guess is that all three coaches worked collaboratively on game plans, but beyond that, assigning credit is a crap shoot. Here's what I do know: in two years, Kent State more than doubled their offensive output in terms of points per game from 2011 to 2012, and Hazell has proven to be an energetic motivator and an aggressive recruiter. He could fail, but I'd be surprised if he did.
Urban Meyer has already learned the lesson that Ohio State fans are just beginning to understand; when a coach is successful, often too is their coaching tree, and so it follows that they will come back to haunt their former employers.
Darrell Hazell is now a ghost. A friendly ghost, but one that might haunt us for years to come.