It's a glorious morning, Buckeye fans – Bret Bielema no longer calls Wisconsin his home, instead preferring the, um, easier schedule and uncontested recruiting grounds of the SEC West.
Not that Buckeye fans needed to fear Bielema – he was just 16-18 against Big Ten teams not named the Gophers, Boilers, Illini, or Hoosiers.
However, when you trade Bielema for former Buckeye assistant (and long-rumored successor to Tressel) Darrell Hazell, it's a good day.
My only problem is that it was so easy to hate Bielema (and Wisconsin by extension), while we all love Hazell – how can we hate him at Purdue? We've got to hope Wisconsin hires someone equally reviling as Bielema.
 SOMEONE GETS BIELEMA. While Bielema leaving Wisconsin for a middle-of-the-pack SEC team is kind of bad for the Big Ten's perception as a conference, it seems to make sense for Bielema himself: he'd reached his ceiling at Wisconsin. 
Make no mistake, Wisconsin is a good job. But it's not one of the three best jobs in the Big Ten, and it's certainly not a place where you should be going to three straight Rose Bowls. Somehow, Bielema pulled it off. And now he's leaving for a new fan base and a new contract before he had a chance to fall short of the impossibly high standard he just set. 
While "impossibly high standard" seems a bit overblown when the school is 0-2 in BCS bowls under Bielema and has a losing conference record to teams with a pulse, it's fair to say that Wisconsin does have a certain ceiling given recruiting grounds, competition, and financial support.
I'm just not sure Arkansas's ceiling is that much higher. Especially when it might be difficult for Bielema to recruit there. To be fair though, Wisconsin and Bielema have always specialized in taking walk-ons and recruiting classes ranked in the 40s and developing them. Case in point is current Wiscy All-B1G receiver Jared Abbrederis, who began his career as a walk-on.  
Wolken argues that Wisconsin might not see another three-year Rose Bowl stretch for a long, long time – so why not leave before the locals get bored with 9-3 and 8-4 regular seasons? Besides, we know that head coaching changes are often made even when it's not in the school's best interest. 
BOWL GAME SWAG. The annual, slightly hypocritical season of bowl gift-giving is upon us, with players receiving up to $550 in gifts for playing in a bowl. So don't worry, players – the school and NCAA may be directly profiting off of the services you provide, but at least you get a Timely watch, some Oakley sunglasses, and a backpack! 
Sarcasm and cynicism aside, there is a cool trend happening with re-gifting: 
Players re-gifting their bowl gains is not new, but prior to the gift suites and shopping trips, their only options were whatever was in the gift bag presented to them. Jon Cooperstein, who helped conceive the gift suite concept at the 2008 Orange Bowl, said his company, Performance Award Center, is offering a substantially more diverse selection of products this year. That's because he and his staff have noticed that players are now just as likely to use the experience to shop for others as they are to sign up for things for themselves.
There's a certain point when your apartment doesn't need another 32-inch flat screen and you already are wearing a Meineke belt buckle and lapel pin, so it's cool that players can use this as an opportunity to Christmas "shop" for others.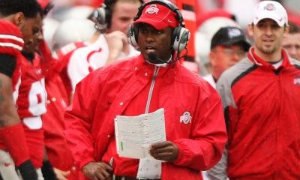 HAPPY FOR HAZELL. We can be legitimately happy for Coach Hazell who assumes the vacated post of Big Ten Mustache Master Extraordinaire. 
Kent State is certainly in a far better position than it was when he got there, with the Golden Flashes now headed to the GoDaddy.com Bowl to take on Arkansas State, who also lost a head coach yesterday: 
The Red Wolves also lost their coach on Tuesday after Auburn named Gus Malzahn -- the offensive coordinator on the Tigers' 2010 National Championship team -- as their new head coach. Needless to say the bowl game will likely be missing two of the names adding intrigue to this MAC-Sun Belt showdown.
An already cool #MACTION-#SUNBEAST matchup just got cooler, as it becomes the head coach-less throwdown. 
RANKING THE BOWLS. Because of our natural propensity to rank any and everything, now is the time of year where we rank the bowl games in between complaining about the bowl system, navigating through Twitter coaching rumors, and surviving conference expansion.
Jason Kirk has one of the best articles ranking the bowl games, with obvious candidates (Bama-ND, Oregon-KSU) as most watchable, and mostly Big Ten team games (in particular the Purdue-OK State matchup) as least watchable. 
One thing I don't get is why everyone is so excited about the Texas A&M and Oklahoma matchup in the Cotton Bowl, which Kirk has tied for most watchable. Manziel has obviously been a heck of a lot of fun to watch, but the same cannot be said about Oklahoma – they've disappointed this year even when that's a regular occurrence. 
However, the best part of the article actually refers to Ohio State: 
NIU getting to shine is nowhere near the biggest injustice this year. Three actual candidates:

(3) Unbeaten Ohio State isn't here, because players and coaches no longer associated with the school broke rules that don't matter.
Yep, Kirk gets it. 
 LINKSKYS CONNECTIONS. A Minnesota backup QB decides to transfer... Strong is staying, then going to Tenn, then staying again?... LSU hit with serious scandal, will pay for it next year... Who goes hungry in the BCS?... Because we don't have enough rumors right now, let's go back to conference expansion... Dating profiles for head coaching candidates... Numbers from around college football.