Few expected big things from the Big Ten this year, but I don't think that anyone expected the conference to be quite this bad overall. Having a poor out-of-conference record is one thing; having a poor out-of-conference record against the likes of the FCS and the MAC is another thing entirely.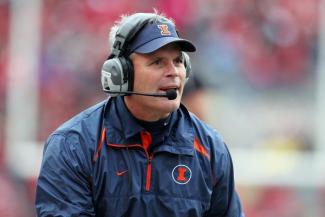 The Big Ten is obviously down. There really doesn't have to be any debate about it, but to belabor the point just a tad, it might be a good idea to look at some of the favorites in the Big Ten at the beginning of the season.
Michigan State, for instance, was considered to be one of the teams to beat in the conference, largely on the basis of their rushing game and devastating defense. Michigan was "back," Purdue had a young core of players to build around, Wisconsin had possibly the best RB in the country (and certainly the best in the conference), etc.
It goes on like this, but the real point is that we turned out to be (mostly) wrong.
Michigan State did end up with a great defense, but their offense collapsed in on itself like a dying star, Wisconsin lost an absurd amount of overtime games en route to a 4-4 conference record, Michigan never really figured out their defense and Denard was often more of a liability than an asset, Danny Hope lost all control of his team on the field, and nobody else in the B1G stepped up to take on the bowl-eligible slack.
And it all starts up top.
For years various writers and pundits have tried to come up with explanations about why the SEC is now so dominant and the Big Ten sucks so badly (population shifts, oversigning, plain ol' cheating), but the real answer is pretty simple in that most B1G head coaches are bad and in dire need of replacement. The Big Ten will never be a force as a conference until the majority of schools get serious about actually hiring real coaching talent, and the problem is that the schools that need it the most either don't think they do, or aren't willing to throw down enough ducats to hire a decent coach and staff.
Today I'm going to look at all of the B1G coaches, and we're gonna see just how expendable they really are.
Indiana
I never liked the Kevin Wilson hire, despite the fact that the dude is a former Broyles Award winner as the top assistant coach in college football. Hired from Oklahoma, where he was their offensive coordinator, I immediately began to wonder why a guy would make what is in all reality a lateral (or worse) coaching move to a third-tier Big Ten team.
The answer may be that the dude is not a great football coach. Indiana is 2-14 in conference play under him, and though their offense has at times been good to very good, their defense has been atrocious. I give Wilson another year with the Hoosiers, but losing out on Gunner Kiel (as if there were ever really a doubt that would happen) will hurt him.
IOWA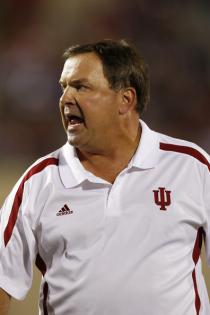 Iowa is screwed, and it's totally their own fault. By giving Kirk Ferentz a contract extension until 2020, with a buyout that is literally over $21 million, they have effectively tied their leg to the cinder block that is the Ferentz coaching staff and jumped into the Mississippi.
It's not that I think that Ferentz can't coach if he's motivated (although one would think the $3.65 million he makes a year is motivation enough) and/or interested, but keep in mind that Iowa has won 9 or more games only twice in the last 8 years. Part of it is personnel, and an angry Iowa running back hating God hasn't helped matters either. But the truth of the matter is that in 14 seasons under Ferentz, Iowa has been serious contenders in the B1G all of three times. The program is stagnant, underachieving, and in need of an overhaul. But it isn't going to happen for at least another five years.
Northwestern
Pat Fitzgerald is the perfect coach for Northwestern. He's never going to make them great, and I'll be surprised but not shocked if they contend for the Big Ten title soon, but Fitz is a young, smart coach who seems utterly devoted to his alma mater. Eight or nine wins per season wouldn't be acceptable at Ohio State, but at Northwestern it is a legitimate goal that they haven't had since the mid-90s.
Wisconsin
As much as I can't stand Bret Bielema the human being, he's a decent coach who fits well with where he's at. Barry Alvarez chose a protege who he knew would carry on the standard for the school, and Bielema has done that. 8-5 was in a lot of ways a disappointment this year, but the record books are still going to say Big Ten Champions 2012 and hang on, I just threw up in my mouth a little.
Michigan State
I like Mark Dantonio a lot, despite the massively disappointing season that Michigan State put together this year. I'm interested to see how long it takes for MSU fans to forget that their previous coach was John L. Smith and they begin to start demanding that Dantonio win championships, but it's also important to point out that even after finishing the year 6-6, Dantonio has the highest winning percentage of any Spartan coach since Clarence Munn, who coached the team from 1947-53.
Purdue
Purdue made the right call in pulling the trigger on Danny Hope. In four years under him, Purdue has one winning season, and despite some inexplicable recent success against Ohio State, has stunk out loud for much of those four years. 2012 was supposed to be different, as Purdue has been and continues to be a relatively talented team, but that talent was mismanaged and badly coached and the result was a tepid 6-6 season.
Purdue has interviewed Cincinnati's Butch Jones for their open position, which would be a great hire. The larger problem would be convincing Jones that they'd take care of the concerns that Jones has had about Cincinnati, namely upgrading facilities and university alumnus involvement. If they can beat offers from the likes of Colorado, they should be in good shape.
Illinois
It's hard to believe that Tim Beckman could come in and manage to do an even worse job than Ron Zook, but he pulled it off. The only game in which Illinois was even remotely competitive in Big Ten play was against Purdue (a game they still lost), but going 0-8 in one of the worst conferences in America wouldn't be so concerning if it didn't look like the team was actually regressing as the season went on.
Nathan Scheelhaase, who went from looking like a poor man's Terrelle Pryor as an undergrad to a poor man's poor man in 2012, should be particularly disheartened by what's been going on at Illinois. If he, and by extension the Illini, don't show marked improvement in 2013, there's a better than decent chance that Beckman could be shown the door.
Minnesota
I'll be blunt: Jerry Kill shouldn't be coaching college football. It's cold and callous, but the man has had three seizures while coaching Minnesota, has a history of cancer (thankfully in remission), and has been hospitalized for dehydration after a football game. I don't doubt his love for the sport, but I question whether he can do a job that most healthy people wouldn't even dream of being able to handle, mentally or physically.
There is talent on the team, and they've got some excellent new facilities, but Jerry Kill isn't the person to make sure that Minnesota gets back to the level they were at before Tim Brewster was the coach.
Michigan
Brady Hoke can coach. Challenges with figuring out how to use Denard Robinson aside, he's got decent talent (with more coming in), a very good defensive coordinator, and though he got completely outcoached against Ohio State, he generally knows what he's doing. He isn't and will never be Bo Schembechler. But he might just be Lloyd Carr.
Ohio State
Ahahahah! Next!
Nebraska
I still haven't been able to figure out Bo Pelini. Maybe part of it is his relationship with Taylor Martinez, and the fact that their fates have been intertwined for a while now. I certainly don't expect Bo to leave Nebraska anytime soon, because for that to happen the Cornhuskers would have to start doing much better or much worse, which probably isn't in the cards.
Still, the loss of Carl Pelini seems to have taken its effect on the defense, which is worrisome. If Nebraska wants to be a contender in the Big Ten, they'll need to start being a much more complete team. And that falls on the coach to get that done.
Penn State
Ohio State had the better season overall than Penn State did, but the job that Bill O'Brien did this past season can't be understated. Personally I think a pretty fair argument can be had that the guy was the legitimate coach of the year in the Big Ten, and the biggest worry that the Nittany Lions have (aside from their inevitable talent loss due to scholarship restrictions), is that Bill O'Brien will jump ship after another two years of dealing with NCAA sanctions.
...
Overall the Big Ten needs to take a long, hard look at their football coaching talent, and not just at the head coaching level. Until teams start being a lot more proactive in terms of their coaching hiring, the conference is going to continue to be poor.