Rarely has the hiring of a basketball coach at Ohio State elicited the type of jubilation seen when Urban Meyer was hired to lead the football program a year ago. And by rarely, think never.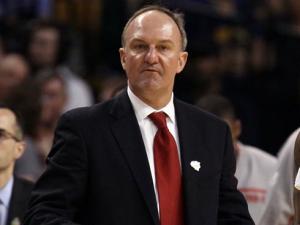 In the summer of the 2004, when Thad Matta was introduced as the head men's basketball coach at Ohio State, some fans were left asking, "Thad who?" But eight years later, Matta has turned a stepping-stone job into one of the nation's elite positions.
Just 23 years ago, Gary Williams departed Ohio State for Maryland. While Williams was a graduate of Maryland, he left behind a team that was stockpiled with talent and one that had recently signed a highly ranked recruiting class. Among those high school seniors was Jim Jackson, who would develop into the national player of the year and a two-time consensus All-American.
Instead of leaving talent like that behind, Matta has helped attract it. He's recruited three first-team All-Americans at Ohio State, including Naismith Award winner Evan Turner. Of Matta's eight draft picks in eight seasons, seven have come in the first round. Greg Oden was selected first overall, Turner second and Mike Conley Jr. fourth.
But it's not just NBA talent that Matta has on his résumé. There are plenty of wins mixed in – 226 to be exact.
"As you go into an off-season, you look and go, 'OK, what do we have? What do we think we have?'" Matta said. "Quite honestly, you go through the first three weeks of practice and say, 'OK, this is the direction we probably should head in.'"
Guard Lenzelle Smith Jr. touched on team-building before this season saying, "Will (Buford) and Jared (Sullinger), they are great guys who helped us build a tradition here. When they left, the tradition and the legacy is left behind. So we carry that on."
Coaches and players have done exactly that. Losing first-round draft picks has not impeded Ohio State's growth as a basketball program.
The high level of success has heightened expectations that haven't existed for half a century. Former head coach Jim O'Brien tried to downplay recruiting and positive results that turned into fans yearning for more.
He gave Buckeye Nation one Final Four. But Duke, North Carolina and Kentucky Ohio State was not. But that is exactly what Matta is striving for. It's the same attitude football coaches at non-traditional powers have toward adopting Ohio State's building blocks.
"When I got here, I looked at the Dukes, the North Carolinas, the Kentuckys and the one thing that was common was they weren't built in five years," Matta said. "They were built over decades."
In eight-plus seasons at Ohio State, Matta has helped engineer five Big Ten championships, three conference tournament titles and two Final Fours. Not bad for less than a decade.
But his tenure in Columbus has contradicted valuable advice received from a coaching legend. Matta said Lou Holtz once told him to never stay at a job more than seven years.
"The longer you stay, the more you fall in love with it," Holtz told Matta, "but the more they fall out of love with you."
It's a results-based business in the midst of a what-have-you-done-for-me-lately culture. For Matta, the wins and big names on the roster have kept fans happy.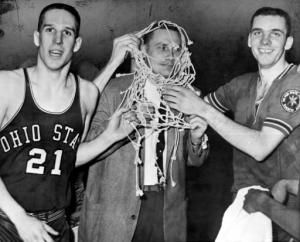 He's only one of two coaches to win 20 or more games in the first 12 seasons as a head coach. If you're keeping track at home, that's every season of his career. Matta also owns the highest win percentage of any Ohio State coach who's coached more than two seasons, and the Buckeyes' 116 wins over the past four seasons are their most over a four-year stretch in program history.
"You look at the job that Coach K (Mike Krzyzewski) has done there in building that program over time and standing the test of time, that to me is what separates their program," Matta said about Duke.
Prior to Krzyzewski's arrival, Duke was a successful program, but not nearly at the level of what he's built. The Blue Devils had been to the Final Four but never won a national title.  They've now won four and been to 11 Final Fours in Krzyzewski's 33-year run.
Matta hasn't delivered on the national championship yet, but he has produced the best sustained run of success since Ohio State's glory days in the 1960s. It was then that Ohio State went to four Final Fours and won its lone basketball title.
"I hope in 25 years our program's still at the level it is," Matta said. "That's exactly what Duke has done. They've stood the test of time. There have been a lot of great players roll through there.
"I think that is a coach's dream – to really establish a program. You're going to have ups and downs. For the longevity of what you're trying to do, I'd love to be here as long as I can and standardize Ohio State basketball as one of the best in the country."
It's the same tone Krzyzewski, Bob Knight and Dean Smith all had when they began coaching careers that would develop into the gold standard and what future coaches would be judged against.
Where Matta differs from most other highly successful coaches throughout history is he's doing it a football school. Throughout Matta's tenure in Columbus, Jim Tressel and Urban Meyer's football factories have overshadowed the product across the street at Value City Arena. The same was true during Fred Taylor's heyday, when he had to jostle Woody Hayes from the headlines.
During Ohio State's two most recent trips to the Final Four, spring football press conferences the same week had more media in attendance than Matta previewing his team's matchup in the national semifinals.
But consider Matta far from offended.
"Honestly, you'd like to just coach a basketball team in a cave and come out and play games and go back in it," he said. "Unfortunately, it doesn't work that way."
No, it doesn't. And with each win comes more attention for Matta and the Buckeyes.
During O'Brien's final season, average attendance dipped into the 14,000 per game range. It took another slide during Matta's first season, when Ohio State self-imposed a postseason ban, but has steadily risen ever since.
Ohio State has ranked in the top 20 in attendance every season Matta has been at the helm. If the Buckeyes appear in that same area of the national rankings – they have in recent seasons – the goal of building a blue blood program will have been accomplished.