With only a little over two months until National Signing Day, Urban Meyer and the Ohio State staff are still looking for playmakers on the offensive side of the ball.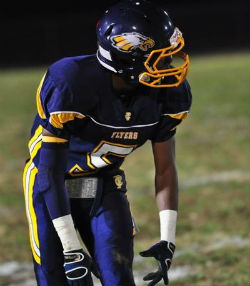 There were many playmaking targets on campus this past weekend as the Buckeyes defeated Michigan, including the likes of James Quick, Shelton Gibson, Corey Smith, and Frankfort (KY) Franklin County ATH Ryan Timmons.
Timmons boasts offers from the likes of Arkansas, Illinois, Kentucky, Purdue, West Virginia, and a few others and while the Buckeyes have yet to extend an offer, they are definitely interested and they call the speedster on the phone once a week.
Timmons reciprocates the interest and has been on campus a couple of times before, including attendance at Friday Night Lights in the summer and then at the Ohio State-Nebraska game back in October.
The 5-11/180 four-star prospect enjoyed those visits enough that he decided to return to Columbus this past Saturday for The Game, hoping to further establish his relationship with the coaching staff and lobby for an offer from the Buckeyes. Timmons definitely enjoyed the trip and plans on taking an official to OSU in the near future.
We caught up with Timmons to get the scoop on his visit to Columbus, what the staff is telling him about an offer, how colleges want to use him, and much more.
Keep reading to learn more about one of the most athletic prospects remaining on the board in the 2013 recruiting class, ATH Ryan Timmons.
Now that your team is out of the playoffs, how did your senior football season go?
It was pretty good. Our team did a lot better than we did last year, but it was still tough losing in the playoffs. I also had a better year than I did last year.
How did you like your visit to Columbus to see The Game?
It was great. The atmosphere was great. It's one of the best places to play noise-wise. It was also one of the best games I've ever been to. The rivalry is great.
Did you get to talk to any of the coaches?
I talked to the coaches for a little bit. I didn't talk to Coach Meyer long; I just said hi. I talked to Coach Hinton a lot. I didn't stay too long after the game.
What have the coaches been telling you about an offer?
They call me about once every week. I think they will start calling more because the season is over. Hopefully next time we talk it will be more about a potential offer.
Where will you be taking your official visits?
I've already taken officials to Arkansas and Kentucky. Those schools are getting new coaches and I want to see who they hire. Both of their seasons have ended so I hope to start hearing things soon.  I'm going to Illinois this weekend and will take an official to Ohio State, but I'm not sure when. I'm not sure where I'll take my fifth official.
When would you like to make a decision?
Hopefully when I see which way Ohio State goes. If they offer, it would definitely change some things. If not, I will probably decide in January.
What would an Ohio State offer mean?
It would mean a lot. I could see myself playing there. I like that school a lot. It would definitely change my leaders and stuff.
How do colleges want to use you?
All schools like me as a slot receiver and as a guy that can motion into the backfield.
What goals do you have for college?
I really just want to be the best player I can be and contribute to the team. I also want to get good grades, improve my game, and hopefully make it to the NFL.
HIGHLIGHTS:
Other recruiting coverage from this weekend: