The perfect season has come and gone. For two years, Ohio State had legions of doubters. In 2011, the dramatic win over Wisconsin served as proof the Buckeyes could play. But the entire 12-game schedule this season was Ohio State's proving ground.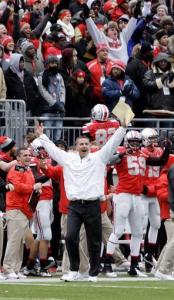 Saturday's 26-21 win over Michigan was the culmination of hard work, effort and determination. From head coach Urban Meyer to strength coach Mickey Marotti all the way down the coaching staff and to the final player of the roster, everyone in scarlet and gray helped contribute to one of the most remarkable seasons in school history.
Ohio State might not be able to play for a national championship, but this season meant so much more than that. The Buckeyes had a six-win improvement, righted the ship against Michigan and are now set on the course for future success.
Remarkably, it all starts with a meeting on Tuesday.
"The foundation's really, really strong," Meyer said. "Couldn't be stronger because of our senior class. That's all I can think about."
Meyer has won two national championships and enjoyed another undefeated season, in 2004 at Utah. But Saturday stuck out to him as one of the top days of his coaching career. The homestate kid had come home and led Ohio State to an undefeated season and win over Michigan.
"For the moment this is as good as it gets," Meyer said.
Throughout his career, Meyer has become emotional in public setting, usually during Senior Week, but on Saturday as the final seconds ticked off the clock in Ohio Stadium, the realization of everything that had occurred swept over Meyer.
"Very emotional time," he said. "Obviously, this is the state I grew up in. This is the state I made a comment on last (year), that our objective is to make the great state of Ohio proud.

"I imagine tonight there's a lot of people in this great state very proud of what their football – their football team, no one else's – this is the state of Ohio's football team.

"I kind of lost it on the sideline there. Got to keep more composure. In the coaching manual, I think it's chapter 13. It says keep it cool. I just lost it."
With the season over, Ohio State will be forced to watch the postseason from Columbus. The Buckeyes have stated their case for a national title on the field. Whether AP voters believe Ohio State is deserving will soon be discovered. Several players stated their case, but Meyer came up with the bullet points memo.
"There's a common denominator right there for the top five teams in America. The denominator was not part of our system, and that's a great defense.

"I've been blessed to be a part of a couple championship teams, and the common denominator is not rushing yardage, passing yardage, blocked punts, whatever it is, it's great defense.

"And I'd say at this point in time Ohio State could go play with anybody in America. I wouldn't say that five weeks ago. But I think you've seen the growth, what we did today and the growth of our defense – as long as you play great defense and you're very functional on special teams. I think we had four field goals, 44 net without any return yards in punt. We weren't doing that early in the year. So that's why I said we had a team with a bunch of holes."
The same senior class Meyer got teared up talking about on Friday performed well in their final Michigan game. It was that group that Ohio State dedicated the season to before fall camp even started. They succeeded in sending them out with a legacy that won't be forgotten.
"That's what this whole season has been about," junior wide receiver Corey Brown said. "It's been our motto the whole season – to win as many games as possible for the seniors. We wanted to send them out the right way because they didn't deserve this bowl ban, but they never complained about it. They came every day and worked at practice, and that's why Coach Meyer calls them the most unselfish group."
"I thank the seniors for giving us faith and working hard throughout the whole season," junior safety Christian Bryant said. "It feels great. We had to take it out for the seniors. That was our motto this season, and that's what we did."
The postseason ban made Saturday bittersweet for many, as did the absence of senior defensive end John Simon. He was injured at Wisconsin and could not play in a game that tripled as his last home game, Michigan game and career game.
"When they DQ'd him, it was like a possessed group on defense," Meyer said. "I know why, because our brother was down. We presented him the game ball, which was deserving."
"It was rough not knowing if he was going to play," sophomore linebacker Ryan Shazier said. "I thought the whole week that he was going to play. When he told us he wasn't going to play, we had to bring it in together as a team, like when (Etienne) Sabino got hurt. We had to win it for him."
"It hurt to lose him," Sabino said. "He's the heart and soul of the team. He puts it all on the line for himself and his teammates every day, so it was tough when we found out he couldn't play."
An undefeated season helped soften the blow. Players will remember the 2012 team and season for different reasons. But one thing is certain, they all believe they have a special place in OSU's storied football history.
"This team was one that would not accept anything less than 12-0," senior punter Ben Buchanan said. "I have been working on my skills and trying to improve my abilities so I can help us reach that cause.

"I think the team will be remembered as a very unselfish team that had to come together through tough circumstances. I was so proud of the way my teammates rallied and refused to lose. To be a senior on this team is an honor."
"It's a perfect season, you can't ask for anything better," quarterback Braxton Miller said. "You have to get all the wins you can, especially against The Team Up North and at home."
"It still hasn't hit me," Sabino said. "I keep thinking about it and I can't get over the fact we're 12-0. How many other teams can say that?"
Two special teams plays had a big impact on Saturday's win. First, Drew Basil booted a 52-yard field goal into the wind that sailed through the uprights as time expired in the first half. Then Buchanan dropped a punt deep inside Michigan territory late in the fourth quarter.
"I just wanted to go out there and hit a solid ball," Basil said. "It wasn't my best shot, but it went through. I secretly I had my Xbox controller out there maneuvering it."
"When it occurred to me it might be my last one, I just pointed to the sky and it felt right," Buchanan said. "I do not know many players who can walk away from the game like that, so I feel very blessed."
Running back Carlos Hyde etched his name into the Ohio State-Michigan history books with a dominating 146 yards rushing and one touchdown. For much of the day, Michigan had no answer for the bruising back.
"That's exactly why I came here – to play in big games like this against our rival in the 'Shoe," Hyde said. "Having a shot at being undefeated made it even more special."
One of the loudest ovations of the day came for former head coach Jim Tressel and the 2002 national championship team. Tressel was hoisted on the shoulders of his former players to a roaring approval from the fans.
"That was awesome," senior wide receiver Jake Stoneburner said. "I kind of teared up a little bit. That's who I came here to play for. He's a legend."
For Brady Hoke, the result meant a 1-1 record against the Buckeyes. He reversed Ohio State's seven-game win streak last season. But now Meyer and the Buckeyes took bragging rights. 
"It is hard to win when you turn the ball over four times and don't convert third-and-short opportunities," Hoke said. "We played well enough to win at times, but gave up too many four- and five-yard runs in the end."
One questionable call came early in the third quarter when Michigan went for it – and failed – on fourth down short of midfield.
"I felt good about our offense because they had just gotten two first downs in a row," Hoke said "I had confidence in our defense as well, so we went for it."
Dynamic quarterback Denard Robinson finished his career 1-3 against Ohio State. In the first half, he gave the OSU defense fits, rushing for 124 yards, including a long touchdown. But he netted minus-2 rushing yards in the second half.
"We had too many turnovers," Robinson said. "That's why we lost. In order to win this game, you have to have control of the ball. Unfortunately, we did not have much success running the ball in the second half."