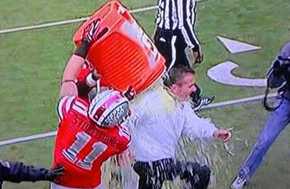 | | | | | | |
| --- | --- | --- | --- | --- | --- |
| | 10 | 10 | 3 | 3 | 26 |
| | 7 | 14 | 0 | 0 | 21 |
Undefeated seasons don't come often in college towns that drape the landscape in America. And rarely do they seem as improbable as the 12-0 record that Ohio State completed on Saturday with a 26-21 win over Michigan.
With the cloud of a postseason ban hanging over the football program since last December, Ohio State turned the other way and went about the season with the same intensity as any other year.
Winning games and sending out the seniors on a high note were the stated goals. On Saturday, the Buckeyes slammed the door with an exclamation point. Ohio State completed just its sixth perfect season in school history.
"At this point in time, Ohio State can go and play with anybody in America," head coach Urban Meyer said. "I wouldn't say that five weeks ago, but you've seen the growth, what we did today and the growth of our defense."
Running back Carlos Hyde supplied the Ohio State offense with production every time he touched the ball, finishing with 146 yards and a touchdown on 26 carries.
"I was being patient and trusting my read," Hyde said. "When I found that read I had to make sure to explode through the opening.

"That's exactly why I came here – to play in big games like this against our rival in the 'Shoe. Having a shot at being undefeated made it even more special."
Michigan's defense stifled Braxton Miller on the ground, limiting the dynamic quarterback to 57 yards on 20 carries, though two big negative yardage plays contributed to that total. Miller slipped once and fumbled another time eluding the pass rush.
But Miller did have success throwing the ball all day on the nation's No.1-ranked pass defense. He finished 14 of 18 for 189 yards with a touchdown. Junior Corey Brown was the recipient of a bulk of those throws, hauling in eight receptions and one touchdown for a career-high 95 yards. Sophomore Devin Smith added 63 yards receiving, including a 52-yarder on the fourth play of the game that helped lead to Ohio State's first touchdown.
Ohio State had 396 total yards.
In Michigan's win last season that snapped a seven-year Ohio State stranglehold on the series, quarterback Denard Robinson totaled 337 yards and five touchdowns. In the first half Saturday, Robinson looked like he was producing the sequel. He had 124 yards on six carries, including a 67-yarder when he bounced off two would-be tacklers in the final minutes of the first half.
But Robinson had just four carries for minus-two yards after the half. Michigan instead chose to use running backs Vincent Smith and Thomas Rawls more, which only combined for 14 yards on 10 carries.
Robinson, who has been limited the past three weeks after a nerve injury to his elbow, started the game at quarterback but never attempted a pass. That job belonged to former quarterback-turned-wide receiver-turned-quarterback Devin Gardner. He completed 11 of 20 passes for 171 yards with one touchdown and one interception.
During Michigan's final two possessions, Gardner was 1 of 4 for 10 yards with an interception. Junior CJ Barnett snagged the interception, and two first downs later the game was over.
Ohio State fans – mostly students – rushed the field. The rest of the 105,899 in attendance stayed for well over 30 minutes soaking in the win and the improbable season.
In a cruel twist of fate, senior defensive end John Simon, someone who poured his heart out for the Ohio State football program for four seasons, was not able to play Saturday due to a knee injury.
During, perhaps, the finest performance of his career last week at Wisconsin, Simon suffered a right knee injury. It didn't slow him down much, as he tied the school record with four sacks. But the injury got worse throughout the week.
"It hurt to lose him," senior linebacker Etienne Sabino said. "He's the heart and soul of the team. He puts it all on the line for himself and his teammates every day, so it was tough when we found out he couldn't play. We got through it, though. I'm proud of our guys."
Ten years ago, the Buckeyes won a national title by winning close games and buckling down on defense. Saturday's win and the 2012 season was a microcosm. Ohio State turned the ball over twice, but the Silver Bullets created four Michigan turnovers. They also limited Michigan to 60 second-half yards.
Passing
|   | Cmp/Att | Pct | Yds | TD | Int | Rat |
| --- | --- | --- | --- | --- | --- | --- |
| Braxton Miller | 14/18 | 77.8 | 189 | 1 | 0 | 184.3 |
Rushing
|   | Att | Yds | Avg | Lng | TD | Fum |
| --- | --- | --- | --- | --- | --- | --- |
| Carlos Hyde | 26 | 146 | 5.6 | 17 | 1 | 0 |
| Braxton Miller | 20 | 57 | 2.9 | 42 | 0 | 1 |
| Corey Brown | 1 | 21 | 21.0 | 21 | 0 | 1 |
| Rod Smith | 1 | 4 | 4.0 | 4 | 0 | 0 |
Receiving
|   | Rec | Yds | Avg | Lng | TD | Fum |
| --- | --- | --- | --- | --- | --- | --- |
| Corey Brown | 8 | 95 | 11.9 | 19 | 0 | 1 |
| Devin Smith | 2 | 63 | 31.5 | 52 | 0 | 0 |
| Evan Spencer | 1 | 9 | 9.0 | 9 | 0 | 0 |
| Jake Stoneburner | 1 | 9 | 9.0 | 9 | 0 | 0 |
| Carlos Hyde | 1 | 8 | 8.0 | 8 | 0 | 0 |
| Michael Thomas | 1 | 5 | 5.0 | 5 | 0 | 0 |
"We had too many turnovers," Robinson said. "That's why we lost."
Ohio State received the opening kick and went 75 yards in six plays to take a 7-0 lead. The drive was highlighted by Miller's 52-yard pass to Smith. Hyde scored from three yards out.
On the first play of the ensuing drive, Robinson showed his running prowess with a 30-yard sprint into Ohio State territory. But a few plays later, freshman defensive end Adolphus Washington, helping in place of the injured Simon, hit Gardner's arm as he was throwing the football, causing him to fumble. Zach Boren recovered.
But Ohio State couldn't convert the turnover into any points. Instead, Michigan got the ball back and scored quickly, with a Roy Roundtree 75-yard touchdown catch capping the drive. He caught the ball near midfield and outran Barnett and Christian Bryant to the end zone to tie the game.
Drew Basil connected from 41 yards out to end the first quarter scoring, with Ohio State holding a 10-7 advantage.
The Buckeyes would have gotten the ball back quickly, but they roughed Michigan punter Will Hagerup and Brown fumbled the punt, giving the Wolverines a first down. Ohio State had Michigan stopped again, but this time freshman defensive end Noah Spence, also a Simon replacement, hit Gardner too late after a throw. Unlike Ohio State's previous possession, Michigan made the Buckeyes pay for their mistakes. Gardner finished off the penalty-plagued drive with a two-yard quarterback sneak for a touchdown. Michigan led 14-10 with just under 11 minutes left in the first half.
Ohio State answered with another six-play scoring drive, this time for 59 yards. Hyde ran four times, gaining 40 yards on the series. But Brown scored the touchdown on a 14-yard pass and catch from Miller.
The frantic pace continued, though, as Robinson scored on a 67-yard run on the third play of the next series. Michigan then led 21-17 with 40 seconds left in the half. Not to be outdone, Ohio State quickly marched into field goal range. Basil made a low line drive, 52-yard field goal as time expired in the first half to cut the lead to 21-20.
"I just wanted to go out there and hit a solid ball," Basil said. "It wasn't my best shot, but it went through. I secretly had my Xbox controller out there maneuvering it."
The second half revolved around defense and conservative play-calling. The only second-half scores were field goals by Basil, one in the third quarter and one in the fourth quarter.
"We made adjustments in the locker room," Ohio State junior safety Christian Bryant said. "The defensive coaches told us that we needed to stop No. 16 (Robinson) because we knew he wasn't going to throw the ball because of his wrist."
Ohio State took the early momentum away from Michigan in the half. On their first possession, the Wolverines chose to go for it on 4th and 3 from their own 48. The play-call was just as baffling as the decision to go for it. Offensive coordinator Al Borges chose to run Robinson right into the meat of the Ohio State defense. He was tackled for a two-yard loss.
Complete Game Coverage
"I felt good about our offense because they had just gotten two first downs in a row," Michigan head coach Brady Hoke said. "I had confidence in our defense as well, so we went for it."
Any momentum Michigan had was completely wiped away midway through the third quarter, when Robinson fumbled and the Buckeyes recovered. The Wolverines third turnover of the half came late in the fourth quarter on a fumble by Gardner.
Boren had a team-high nine tackles, including two tackles for loss and a sack. Sophomore cornerback Bradley Roby contributed eight tackles. The Buckeyes had four sacks for 29 yards.
"Our offensive line played good at times and they played bad at times," Hoke said. "But win or lose, all games are decided in the trenches."