It's Thanksgiving Day, you're in a house filled with relatives and/or other acquaintances and yet here you are...on the Internet. T
The Situational is humbled to be your escape from all that fun family chatter.
You've been extra thankful for the better part of the day, which means you did your part as an American (or expatriate – we see you, burgeoning overseas site traffic).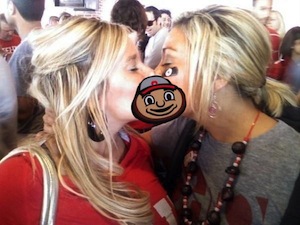 The Detroit Lions and Dallas Cowboys show up every year on this day to remind of us of how the pilgrims dropped anchor off the Atlantic Coast, made nice with some of the locals, kindly introduced their venereal diseases and ultimately evicted them from the premises.
There are varying theories about Thanksgiving, but that's basically how it originally went down. And to think that this storied meeting directly led to your consumption of 10,000 creamy calories today. You are a true patriot of gluttony.
Tomorrow you will graciously contribute to our economy with Christmas and holiday shopping for some of those relatives and acquaintances you're currently ignoring, and Saturday provides a bountiful day of college football that is without peer.
It's a Thanksgiving Edition of The Situational, you guys. Let's get to it!
THE DEAD PRESIDENT

We celebrated Michigan's only POTUS seven Situationals ago because Gerald Ford was actually born in Nebraska, and that's who the Buckeyes were playing then. So instead we're stuck, once again, recognizing yet another dead guy who hailed from the Buckeye State.
James A. Garfield had nothing to do with the passive aggressive cartoon cat who likes lasagna, but that's probably what you first thought when you learned his name. We had a president named Garfield? Like the orange cat in the funnies!
Garfield was from Cuyahoga, where the same-name-as-the-cat thing is obviously less common. He served with the Union army for a bit during the Civil War before being elected to Congress in Ohio's 19th district.
He was one of those anti-slavery Republicans who didn't like Abraham Lincoln for not being hawkish enough with the Confederacy (going to war just wasn't enough). Go ahead, digest that. Pretend it's a pan of lasagna if you must. 
How hawkish? Garfield wanted all Confederate leaders and organizers kicked out of America or executed, believing they had permanently forfeited their Constitutional rights with the act of secession.
Besides, the only way to permanently eradicate slavery – in his mind – would be to permanently eradicate the slaveholders themselves, literally. He was also vehemently opposed to the idea of paper money.
So between that and slavery, he batted a politically respectable .500. [slides dead president into soda machine] [soda machine rejects it]
Following several terms in Congress, Garfield was elected to the Senate and before we was able to serve in that capacity was elected POTUS, which means he was a Congressman, Senator-Elect and President-Elect at the same time!
But he was never a cat. And he was assassinated 200 days into his presidency by a deranged stalker. Oh, Garfield.
THE SITUATIONAL WAGERS: THE TOILET BOWL, PENDING ADOPTION, SCRAMBLED EGG, SPARTY YES, CRABCAKE ROADIE


THE TOILET BOWL: TENNESSEE VOLUNTEERS (-14) against Kentucky. Talented team with fired coach > untalented team with fired coach.

THE PENDING ADOPTION: RUTGERS SCARLET KNIGHTS  (+2) at Pittsburgh, because the Panthers are only 25-58-2 against B1G teams. Good timing, Rutgers.

THE SCRAMBLED EGG: MISSISSIPPI STATE BULLDOGS (even) against Ole Miss. Coffee is for closers, Hugh Freeze.

THE SPARTY YES: SAN JOSE STATE SPARTANS (-4.5) against Louisiana Tech, which began its decline the second it took notice of its altitude.

THE CRABCAKE ROADIE: MARYLAND TERRAPINS  (+23) against UNC. YOUR GREATNESS BEGINS NOW, TERPS! (and check your email, Tarheels)

LAST WEEK: 4-1 | SEASON: 27-33
THE NOWLEDGE

Thanksgiving is the most routine celebration of all the American holidays. Your family probably has an established, conventional protocol for how this day is supposed to go, and at its core you're putting more thought and planning into food than you do on any other day.
There's likely a turkey involved as the centerpiece. Perhaps some customary side dishes, including your personal favorite. Let's check in with our fellow citizens and see how they're doing it up today:
Thanksgiving coming up and I don't eat stuffing, cranberry, turkey, pie,cake or rice. Lol my plate literally be havin ham and chicken

— Im 50 Tyson (@CODEINEnCOCAINE) November 21, 2012
Whether you're low-carbing it, avoid gluten altogether, a vegetarian or simply a voracious carnivore – Thanksgiving allows everyone to be picky. Or not picky – some of us eat everything including the plate and napkin.
Eggs bacon champagne a Pernil ham rice kepes cheesecake wine vodka i cant wait for thanksgiving

— Alejandra (@alejandra9769) November 21, 2012
Assuming Alejandra has a firm grasp on punctuation, and that this is an awesomely flavored vodka I can't find in liquor stores anywhere. Her Thanksgiving > your Thanksgiving. Obviously.
idk bout all yall but on thanksgiving im either eating a $4 frozen pizza or some mozzarella sticks for dinner . #work

— Taritaa™ (@CorrynMiyazaki) November 21, 2012
Are you feeling bad for Taritaa™ for suffering through pizza, cheese sticks and employment on Thanksgiving? Go to a Somalian village and tell the children the tragic tale of the American with a steady paycheck who ate pizza and cheese sticks and it was a bad thing. They'll swim here. They'll show you some thankfulness.
Thawt thanksgiving was next thursday

— S L H ;* (@Loveyub19) November 21, 2012
Maybe it is next Thursday. Maybe every Thursday should be Thanksgiving. WAIT WHY ISN'T IT?
Thanksgiving im finna bang sum cramel cake

— Dese Niqas Luv Angel (@_HeartlessGurl) November 21, 2012
This seems like another American Pie sequel. Cramel cake, you nasty!
can't wait for the desert on thanksgiving!

— Peanuts All Stars (@go_steven_) November 14, 2012
Sounds...sandy.
I'm trying to find the best desert I can make this thanksgiving ....

— Francesca Salazar (@Punkrockamama) November 13, 2012
The Mojave. Bring a sweater!
We goin ham fa thanksgiving

— Lil Neechie (@tha_hole) November 21, 2012
Literally? Figuratively? Doesn't matter. Good call.
I seriously had no idea thanksgiving was this week.

— Sean Brock (@Cocaine_Life) November 19, 2012
That's the beauty of Thanksgiving: You can plan it for weeks and eat a ton of food, or you can wake up and suddenly OMG IT'S THANKSGIVING TODAY and eat a ton of food. Potato, potato. Or potahto, potahto. Regardless: Potatoes.
Next week Thanksgiving

— Swag Daddy(@Cocaine_Dreams) November 15, 2012
Okay, let's do this. Next week – Thanksgiving II: Thanksgiving Reloaded
Thanksgiving poop always smells like a combination of pumpkin pie and cranberries. Would make a nice candle.

— Joe Schinagle (@Jschinagle) November 20, 2012
Well, not always. But yes, setting it on fire would be fun. Hey, let's do that on Independence Day!
THE BOURBON

There is a bourbon for every situation. Sometimes the spirits and the events overlap, which means that where bourbon is concerned there is typically more than one worthy choice.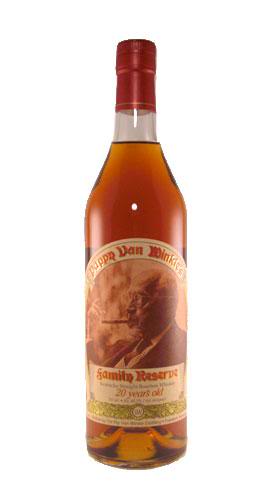 I'm often asked what my favorite bourbon is, and the answer is always the one I'm holding at that moment – because I don't want that bourbon to feel bad.
The best-tasting bourbon is subjective. Pappy Van Winkle is fairly renown on account of its scarcity, but hype aside – the entire portfolio of products is damn near perfect. 
Choosing among the Pappy varieties is an exercise you want to have. It's like deciding between denominations of currency at the cashier following a triumphant run at the craps table. A Pappy tasting is the pinnacle of the bourbon experience, and having had that glorious opportunity – my palate decided on my behalf that the 20-year is superior.
What separates the 20 from the others is how ridiculously elegant it is. You taste vanilla, honey, the barrel itself, cloves, leather, your childhood, your first kiss, your last kiss, your best kiss, an orange peel and the inside of one of those fancy boxes bros give their groomsmen to house cufflinks they'll never wear. In a single, perfect sip.
The 15-year is a little more pungent while the extra three years of solitude that go into the 23-year sacrifices a little too much to the angels. So the 20 is the baby bear's porridge, chair and bed all in one glass. It's just so right. 
If you actually find this phantom bourbon (all of the Pappys are hard to find) you have buy it. The cost difference between the 15 and the 20 is justified; the delta to purchase the 23 is harder. You want the 20.
But by all means – if you can easily afford all three, don't decide. Just share your craps mastery with the rest of us so we can all join your awesome club.
THE PLAY-OFF

When Appetite for Destruction came out I bought the cassette at Buzzard's Nest on Bethel Road and played it in my Sony Walkman on repeat. It would reach the end of the first side, auto-reverse to side B (that was a cool new Walkman feature at the time) and then repeat and repeat and repeat.
Eventually the music was siphoned off of the tape by overuse and it sounded like loud hiss. You could only faintly make out Mr. Brownstone but that was about it. A compact disc replaced the exhausted tape.
Two decades later I was in Indianapolis on business and informed that I had to go see this two-man band play at a restaurant called Agio. I arrived, sat at the bar and ordered some olives and a bourbon. Two guys dressed as accountants showed up, set up a keyboard, and then went to the bathroom to change out of their work clothes.
They emerged in leisure suits. Then they played this, exactly like this:
They also performed Kenny G's Songbird, with a kazoo solo and lyrics. No hip-hop, disco or jazz song was safe from their profanity-laden lounge upgrade. 
I started scheduling my business trips to Indianapolis to include Wednesday evenings so I could go to Agio and see the Leisure Kings do their weekly thing, from GNR to a polka version of You Shook Me All Night Long in broken German. And they always seemed to offend at least one person who would storm out in classic idonotgetthejoke.gif fashion.
I don't really make it to Indy as much as I used to, but if I did I'd still slide Wednesday nights into the trip and attend Leisure Kings shows until their sweet music faded into just hiss. And then I'd listen to the hiss, and laugh about the morons who stormed out of a free show incapable of grasping their brilliance.
Happy Thanksgiving – see you next week for The Situational Season Finale. Beat Michigan.