Maybe it's time to reevaluate this Mike Leach thing. To be fair, it's hard not to like his story about a football outsider/general weirdo who goes on to success in an unexpected place against long odds. Add in the fact that he's a schlubby lawyer who never played football, and you start to realize that he's ripe for fun articles that describe his eccentricity in glorious detail (this one in particular being one of my all time favorite pieces of sportswriting).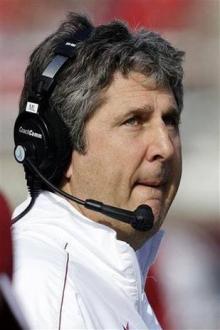 So it's not super surprising that Leach would become some kind of goofy, pirate-loving internet hero. His outward media personality is tailor-made for the internet age; whether it's giving a weather report in Lubbock (spoiler alert: you're gonna be dead in a hundred years anyway) or dispensing dating advice to a concerned young man, Leach is a dude wholly suited to giving a lot of odd non sequiturs easily replayable on YouTube.
Anyway, when Adam James, son of Craig James, accused Leach of being, in essence, a gigantic douchebag and an over-the-top disciplinarian, the internet lept to Leach's defense after he was eventually fired by Texas Tech. In our minds, he was a fun football savant who was unfairly screwed over by a moron with influence, and it was representative of some of the worst aspects of the good ol' boy network that is so prevalent in football in general.
But that was then, and now, after wide receiver Marquess Wilson left Leach's current team at Washington State claiming that Leach and his staff "preferred to belittle, intimidate and humiliate [the team]," in lieu of actual motivation, the Washington State president has called for a review of those claims. The outcome of that review might be a tough pill to swallow for a lot of us who defended the Pirate King and threw around memes like #5DEADHOOKERS, but aside from the internet potentially enabling a guy who might turn out to be an actual abusive jerk, it also throws in sharp contrast the difference between the motivational tactics of Urban Meyer and Mike Leach.
Both Meyer and Leach took over programs in disarray; Leach was coming to a perpetually bad WSU program that hadn't been competitive in the Pac-12 (or 10, or whatever) in a decade, and Meyer took over an Ohio State program with a ton of talent but no direction whatsoever.
To be fair, no one could really expect Leach to have the kind of success this year that Meyer has had at Ohio State. This is a team that was 1-11 in 2009, 2-10 in 2010, and 4-8 last year. Not exactly a full cupboard to work with. But still, most expected Leach to do better than 2-8, even in a loaded Pac-12. And to be completely honest, despite the nation's 6th-rated passing offense, most of the games haven't been close.
Leach's response to this has been sarcasm, anger, and blame. He's called out himself, his coordinators, and most pointedly, his players, calling his seniors "zombies" and "empty corpses." He spent five minutes or so in a press conference being unbelievably sarcastic with the media, which would probably be more funny and less irritating if it was coming from a coach of a successful football team and not the Washington State Cougars.
I bring all of this up because I'm starting to realize that there's a difference between Tough love and tough Love. Urban Meyer plies his trade in the latter.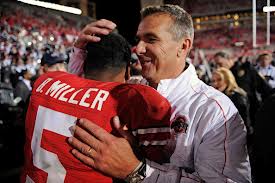 A successful football team is the most evident example of how Urban's approach has worked, but there are other points of reference.
One of the success stories Meyer likes to repeat is that of backup QB Kenny Guiton. Guiton was ready to bail when Meyer came aboard.

Here's the way the coach puts it: "He was ready to get a one-way bus ticket back to Texas when I first got here."

Then, Guiton changed. He accepted his role as Braxton Miller's backup and started applying himself. ...

"He is a coach's son and plays like it, practices like it, spends a lot of time with us on Sunday nights and Monday nights," Meyer said on Tuesday. "I can't say enough good things about him."

Meyer said he hoped to get Guiton into Saturday's game against Purdue.
I swear I didn't add that last sentence. Anyway, there's still more, of course; the way the offensive line was challenged to play to their potential, the leadership committees, black stripes on helmets for freshmen, incentivizing work both on the field and off... the list goes on. There was a fair amount of tearing the team down once he arrived, and Meyer has been nothing if not brutally frank in his assessment of players. But they've responded to this, because what Meyer knows (and Leach may not) is that you only tear someone down to build them back up and encourage them to better things.
I feel bad for Marquess Wilson, even if he's talking out of his ass about Leach, because whatever happened in Pullman didn't make him a better player. A guy with All-American ability is now out of a program that should've been tailor-made to make him a star, and to me that blame has to rest with his coach.
It's admittedly easy to say this now, when Ohio State is 10-0 with a very real possibility of going undefeated. It's also hard to deny that Urban Meyer's players love playing for him, and that they've bought in to his ideals and way of coaching. Coming off easily the gloomiest, worst football season in over a decade and entering into a season with a postseason ban hanging from their necks, their play is a testament to the work Meyer and his staff have put in to getting this team excited and ready to play football. The same can't be said for Washington State.
...
Earlier this year, Urban Meyer spoke at a coaching clinic and called Mike Leach a genius (and in an endearing way, a nutjob). And he's probably right, on both counts. Mike Leach is a deeply weird football savant. But on the other hand, maybe the real genius is the guy who has figured out how to motivate without crushing a kid and to win without making accusations.
You know, the guy with two national championship rings on his hand.