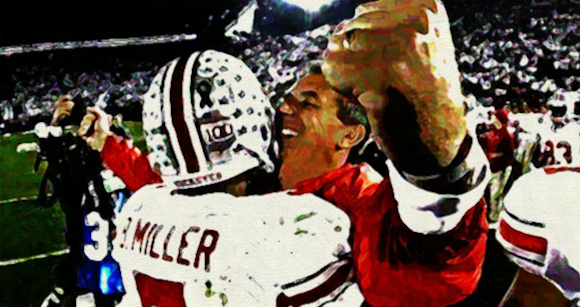 Ohio State dropped a spot in the AP poll over the weekend. That's the price of being both undefeated and inconsequential in November.
It's the third time they've dropped in the poll this season. One more slide without the benefit of an actual loss and the AP will send Urban Meyer a set of hardship steak knives. Poll descent #3 occurred following a weekend when the Buckeyes didn't even play. OUTRAAAAAAAAGE. Outrage. Outrage?
Our fan base is in peak condition for seeking out and finding bias in every corner from where it may lurk, but this one hardly qualifies. This isn't Kirk Herbstreit dropping the Bucks three spots after beating Arkansas in the Sugar Bowl and then stubbornly defending that utter stupidity while chastising fans.
This latest slide is more margin of error shifting than anything else. Besides, the AP – like the 2012 Buckeyes – has no bearing on the BCS. Ohio militia: You may stand down until next season.
Nonetheless, times are frustrating here on Disrespect Mountain. Every successive Ohio State victory elicits more and more mouth flatulence from the HURR SHOULDN'T HAVE CHEATED crowd. But skirting destiny is a double-edged sword.
That postseason purgatory might not only be saving the Buckeyes from an unkind January fate against a superior team – there are at least five of them according to the AP this week – it's probably also insulating us all from the agony of being shut out of a title bid in spite of being just 120+60 minutes away from a perfect season.
You can't exclude what's already extinguished. This pre-emptive strike may actually go down easier than being eligible and uninvited. Polls don't matter this year – this is supposed to be a one-year sabbatical from hating them anyway.
It's not literally Ohio State against the world (Braxton Miller even at his most slippery wouldn't be able to outrun seven billion people) but there is no degree of sympathy – either from the looming shutout or the ban that renders it moot. There's no emotion in either direction, really.
And that sets the table for the final roadie of the year in Madison, where you're already being told that the Buckeyes have struggled historically. Wisconsin is actually favored. Next you'll be informed that the BCS bowl-winningest program can't seem to win BCS bowls either (this is just taking the year off; it will be back in 2013).
Ohio State has won four of its last five with the Badgers and has dropped a total of three games in Madison going back to when Barry Alvarez made them a modest pain in the ass two decades ago.
Saturday the Buckeyes are trying to convert Wisconsin's fading share of the Leaders Division title into their own. It would send the Badgers to Indy beneath a cloud of shame and asterisks.
Meyer's team clinched its own share over the weekend while doing nothing except sliding down the AP poll, again. At the same time, Wisconsin clinched Leaders Division representation in the B1G title match despite trying to avoid a fourth loss this weekend, which is all you need to know about the state of the conference in 2012.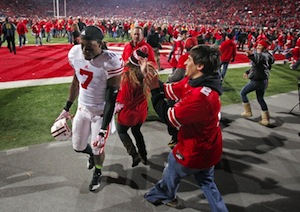 What we're left with in the absence of implications and postseason carrots is raw entertainment, which is what Wisconsin provided last season in delivering Buckeye fans the solitary Saturday of 2011 worth remembering.
It will be Senior Day in Madison, and coupled with the macabre memory from last October the Badgers will have plenty of non-paper incentives. The Buckeyes, playing the first game of their imaginary Final Four tournament, are already good to go in that department.
But it's hard to remember any time when the public at large cared less about the outcome of an Ohio State game. There hasn't been much incentive to root against the Buckeyes, either in their current 10-0 form swatting aside pedestrian competition while stuck in the NCAA stockade, or back when it limped its way to 6-7 during that implied purgatory season.
And that indifference has consequences: Mark May recently said that he doesn't consider Braxton Miller to be a Heisman candidate because Ohio State is ineligible for the postseason. Yes, the Heisman is awarded a full week before bowl games even begin, but Fat Urkel – intentionally or otherwise – actually illustrates a valid point: Right or wrong, Ohio State isn't allowed to matter this year, and it might be difficult to prevent that perception from bleeding into individual award consideration.
While this postseason ban may shelter Ohio State from either a rude New Years or the agony of title game exclusion, the real sting of the NCAA's punishment is now evident: The Buckeyes have been playing their own parallel college football season the whole time while the rest of the FBS participates in the real one. 
The Buckeyes won't get to prepare for a traditional, tension-filled season until these last two games are behind them. In the meantime Ohio State is focused exclusively on ensuring the conference issues only one Leaders Division Champions paperweight while restoring the natural order of the universe the Saturday following Thanksgiving. 
You'll be happy to learn that neither of those noble endeavors requires those unforgiving polls. Their relevance will just have to wait until next year.