Hi, hello and welcome. We're back for a special edition of the 11W RoundTable.
This week, your favorite witty wizards, know-it-alls and most of all Dubster Analysts, Ramzy, Chris and Kyle, discuss the all-important bye week for the football Buckeyes and a nice briefing of the upcoming men's basketball season, where Ohio State is looking to make back-to-back trips to the Final Four.
So we won't keep you waiting any longer.
Week 10 is in the books and the Buckeyes are 10-0. With a week off, what must OSU improve on the most heading to Madison?
Ramzy: Bye weeks are about solidifying fundamentals, so I'd go with sharpening these ones in descending order: Pursuit angles from the back seven, Ben Buchanan getting punts off in a time too quick to capture with a sundial, receivers hanging onto the ball, Rod Smith hanging onto the ball, kickoff coverage.
Chris: Since it appears the defense has stabilized in recent weeks thanks largely to Boren settling in at Mike, allowing Shazier to play the three best games of his young career, I'd have to go with the dumpster fire that can be Ohio State's special teams. Urban's special units have blocked a couple punts and ran back a punt return for a touchdown but they've also had three punts blocked and struggled to cover kickoffs thanks mostly to a ridiculous amount of injuries. At this point, an accidental bicycle kick wouldn't shock me.
Kyle: The defense has improved the past three weeks. That really isn't up for debate. But Wisconsin – especially at home – is a different animal. If there are missed tackles and breakdowns in other fundamentals on the defensive side of the ball, it could spell doom for the Buckeyes. Wisconsin is not the team you want to tackle poorly against. Montee Ball and James White will have a field day if that is the case. But if Etienne Sabino is back, and it appears that will be the case, you really have to like the Ohio State linebacking corps. It will be a run-stopping supreme team. Ryan Shazier, Zach Boren and Sabino. That is an offense's nightmare.
Fill in the blank: _______ will represent the Leaders division in the Big Ten Championship game. Why?
Ramzy: Wisconsin. Because God does not have a sense of humor. NEVERTHELESS: Go Hoosiers.
Chris: Wisconsin. Because if it's Indiana, I officially quit the B1G. I mean, can we go one year without redefining rock bottom in this conference?
Kyle: Indiana. OK, that is my heart and twisted mind speaking. It's going to be Wisconsin. The Badgers are playing better as of late, even with a loss to Michigan State. I'd peg Wisconsin's chances at being in Indianapolis at 99 percent. Nate Silver, eat your heart out. 
Buckeye basketball tips off tonight, outdoors, on an aircraft carrier in Charleston, SC, against Marquette. What are your thoughts on the 2012-2013 squad heading into the season?
Ramzy: My thoughts are that they should have the common courtesy to allow the Buckeye football team to complete its dirty dozen before they try to occupy space along my emotional spectrum. This is quite rude.
Chris: It's going to be a process. While the Buckeyes return a handful of solid contributors plus two top tier players in Craft and Deshaun, they'll need to see natural progression from guys like Smith, Thompson, Ravenel and Scott while realizing exponential growth from Amir and Ross if they really want to make a bid for the conference title and enjoy another deep run in March.
This is the year we really get to see how good this entire coaching staff can be with so many guys being counted to take on increased responsibility. My expectation is that it will take some time for everything to come together because it's unrealistic to think everyone in the probable eight-man rotation will fill their respective roles immediately or completely.
I'm also interested to see what kind of growing pains Thomas might experience as the unquestioned go-to guy on offense. He was obviously ridiculous in the tournament but in a big game where the shot isn't falling like against Kansas in the Final Four (3/14 FG), how does he respond? Does he avoid getting frustrated and find a way to get to the line and contribute in other ways? Or does he feel the pressure and try to do too much, forcing shots? I think he's going to have an outstanding year and how he responds to adversity will undoubtedly be the key factor in a tournament run.
With Craft destroying opposing point guards and doing his part to glue all the new roles together and Thomas filling it up on a consistent basis, I expect this team to have some ups and downs but generally evolve on the way to nothing short of the Elite Eight. I don't see the Final Four as the lock I did a season ago but with Thad, all things are possible.
Kyle: Chris covered it pretty darn well. There are a lot of subplots to the season and things I am waiting to see. How does Deshaun Thomas play as a No. 1 scoring threat? Can Thomas score if defenses completely collapse on him? Is Aaron Craft going to add something great to his offensive game, namely scoring? 
Parts of the season are likely going to be rough. When you lose two big pieces and replace them with youth, tough times are part of the growing process. But when the calendar flips to March, I fully expect Ohio State to be a national player. 
OSU is returning a nice core group of players including Deshaun Thomas, Aaron Craft and more, but has to replace Jared Sullinger and William Buford. Besides Deshaun Thomas, who will end up replacing the aforementioned departures in the scoring column?
Ramzy: LaQuinton Ross. Thomas won't cut back on his rapid-firing but Craft will likely replace his distributions into the post to Sullinger by feeding Ross. Lenzelle Smith's days of being a quiet scoring threat ended last season as well.
Chris: It looks like Sully and WB's points will mostly be replaced by committee unless Ross emerges into a legit scorer that Thad can trust enough on defense to let him get 25+ minutes a night. The committee approach will require Craft and Smith to each add a couple buckets per night with Ravenel also expected to get more looks inside 15 feet in addition to whatever he can convert off the glass. With Thompson potentially earning more minutes, thanks to his fairly versatile and absolutely tenacious on-ball defense combined with an allegedly improved midrange jump shot, he could add another couple buckets on most nights. If most of those guys can step up just a little and Ross is able to typically give the Buckeyes 12-14 points a night, this team will be tough to beat.
Kyle: LaQuinton Ross is the obvious answer here, and I think he will play well. But I really think Sam Thompson is about to take off and be an all-around player. I attended the Agonis Club practice a few weeks ago, and I thought he was the best player on the court. His athleticism is an asset for himself and the team. The things he can do at 6-foot-7 are outstanding. Lenzelle Smith really came into his own last season at both ends of the court. I think Thompson emerges this season, but more emphatically. 
Sophomore wing LaQuinton Ross has had plenty of hype heading into the season to be a big scorer. In your eyes, what kind of stats would meet your expectations for Ross?
Ramzy: He should flirt with a double-double every game, but I think his contribution will also largely avoid the stat sheet in the way of attracting attention away from other scorers.
Chris: I think it's very important that Ross take a huge leap forward. Beyond the needed defensive growth already noted, he needs to give the Buckeyes another scoring option that can put pressure on the defense both off the bounce and from beyond the arc.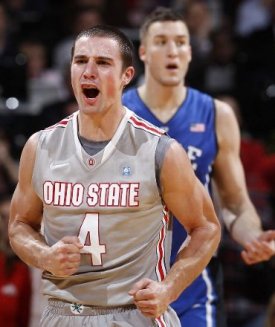 As for my expectations from a stats standpoint, I think 12-14 points a night would be nice but he's still such an unproven player that it's hard to really pin down a points per game number. My guess is that his scoring nights might tend to be a little volatile just based on his game experience at this level. I think the stats that might even be more important for him will be rebounds and 3FG%. If he's going to play, he needs to use his 6'8" frame to get on the glass and on offense, his ability to consistently threaten the defense from distance will not only help his own production but also create space for his teammates.
Kyle: At least 12 points per game. But it isn't just offense with Ross, as Chris touched on. If he is inadequate on the defensive end, it will present problems for himself and Ohio State. Much is expected from Ross, so I think the early-season games will be interesting. Will he cave to the pressure? I tend to think not. Interacting with him during the preseason, I didn't get the vibe that he is the slightest bit overwhelmed. 
The Buckeyes are preseason #4 in both the AP and Coaches Polls. If you had a vote, where would you rank them?
Ramzy: Nowhere. Preseason rankings are the devil's tools. It's like reviewing a meal that hasn't been served yet based on the menu description.
Chris: Talking preseason, I'm not exactly sure where I'd have them but probably somewhere in the 10-12 range. As I said, I think this season is going to be about gradual improvement based on the need to define roles and get guys like Amir and Ross comfortable with taking on a lot more responsibility. While I'd have them around there in November, I can see them being somewhere around 5-6 at the end of the regular season.
Kyle: If the philsophy is voting them based where I believe they should be TODAY, then No. 9. If you're doing an end-of-season prediction, I don't really think four is that far off. 
OSU is really banking on Amir Williams being a solid force in the paint. How important is his development to the Buckeyes' success?
Ramzy: It's a math problem. Shooting percentages increase the closer shots are taken to the basket. Pushing that scoring probability lower and out toward the perimeter where Ohio State has very good defensive guard play plays favorably to Ohio State's math. That means Amir Williams' defense, and to a similar degree Evan Ravenel's, is important to the Buckeyes' success – especially in what will be a merciless B1G schedule this year (I know this is true based on the B1G's menu description).
Chris: I think it's pretty huge. Deshaun and Ravenel are really the only two battle tested baseline players on Thad's roster and Deshaun will already be expending a ton of energy at the offensive end of the floor. Assuming I'm correct in thinking Trey McDonald won't be a part of the rotation against legit teams, that means Amir has to be counted on to be a defensive presence in the paint. If Amir can alter some shots and allow the perimeter guys to really pressure the basketball and aggressively play the passing lanes, the Buckeyes will again be a tough team to score against. Any points he adds off a stray jump hook, alley-oops and some putbacks will be icing on the cake if he morphs into a poor man's Ken Johnson on defense.
Kyle: I think it's crucial, especially this season. Evan Ravenel is a solid player, but he isn't an intimidating figure down low. To really battle in the Big Ten, it takes a big, stocky frame like that of Williams. His shot-blocking could be a game changer for Ohio State this season. Everyone is so focused on Sullinger and Buford's offensive production. What if Williams is a force on defense? Won't that be a huge difference-maker? They already have arguably the best defender in the entire country guarding the ball handlers. 
I also believe Trey McDonald could be a darkhorse for this team. I doubt he plays a whole lot, but if he gives five dependable minutes, that could go a long way. In the next couple seasons, I think Williams and McDonald will be a force together in the Big Ten. 
Bonus: Ohio State ranks in the top 5 in both top-tier sports (football and basketball). Is the OSU athletic department the best in the business?
Ramzy: It definitely knows where its bread is buttered. Best in the business is defined by the volume of banner-raising ceremonies and crystal footballs. It's definitely one of the most balanced.
Chris: Yep.
Kyle: Maybe. Easily one of the top three. When every aspect of an athletics department is judged, I think Ohio State, Florida and Texas are the gold standard. I understand Stanford wins the Directors' Cup year after year. But those three schools I mentioned are in a league of their own. 
---
That's all for this week. Tune in next Friday as the staff discusses the football Buckeyes' trip to Camp Randall in Madison, Wisconsin.