Urban Meyer held his weekly call-in show yesterday and there were a few worthy nuggets to pass your way. 
Most of the important bits were on the injury front where it was learned that Sabino definitely won't be back this week, Storm Klein is nursing a herniated disc that's kept him out of practice and special teams whiz Devan Bogard had his season ending knee surgery on Wednesday night. 
The Sabino news was to be expected as it's more important to have him back at full tilt for the trip to Madison ahead of The Game. However, the Buckeyes will take on the Illini knowing a tweak to RDS, Zach Boren or Nate Williams would mean a young guy like Josh Perry or Connor Crowell could be forced into extensive action. 
Though the versatile Williams is still listed as a starter at defensive end, Meyer made it clear that Noah Spence is the team's most trusted freshman and his emergence as a pass rushing specialist has paved the way for Williams to fill the void at linebacker created by Sabino. 
Considering how long Sabino has been out, what Williams can do and how Spence has come on, I'm growing increasingly interested in seeing how Meyer handles Sabino's return. Does Sabino automatically return to his spot with Williams, bumping Spence to spot duty or does Meyer keep Williams at SAM with Sabino subbing for Nate depending on down and distance, thus moving Williams to end and Spence to the pine at times? Or maybe Boren goes back to offense full time? 
They say you can't lose your job to injury but I think Williams has proven to be the more versatile player and is clearly better than Sabino at covering receivers in the slot or out of the backfield. Decisions, decisions. 
Beyond the injury updates, the most notable comments from Urban's presser centered on Braxton Miller and Meyer's overall disappointment with the passing game. He repeatedly lamented the fact teams don't respect the OSU passing attack. Expanding, he knocked Miller for poor footwork leading to errant throws in Happy Valley and discussed how the offense is not getting the WRs involved enough – particularly Devin Smith – because the group has plateaued a bit. 
With Illinois ranking last in the B1G in Pass Defense Efficiency and 9th in Pass Defense, a dry day could mean a greater attempt by Meyer and Herman to get things going through the air. With Wisconsin and Michigan both ranking in the top five in conference against the run, I would love to see the Buckeyes try to get some things ironed out in the passing game to at least make Bielema and Hoke think before they put eight in the box all day long. 
CRAP CONFERENCE EQUALS CRAP BOWL PAYOUTS. Only a delirious B1G homer could consider the conference upper tier in football over the last handful of years, and its national perception is far worse in 2012 thanks to Ohio State's bowl ineligibility, enabling the national media to pile on the rest of the programs. 
With the Buckeyes out of the BCS mix, Tom Dienhart examined the rest of the conference and clearly, the B1G squads will be taking a collective financial hit when the bowl season comes around. 
First, with Penn State joining Ohio State on the bowl sidelines, the conference might actually struggle to come up with eight bowl eligible teams to fill their eight guaranteed bowl slots. 
Second, though the league champion will appear in a lucrative BCS bowl, there won't be a 2nd team in that BCS bowl mix, meaning a big payday will be missed.
Here's Dienhart on the financials:
As a point of reference, last year, the Big Ten earned $47 million from going to 10 bowls, which meant each school earned about $2 million after expenses. More than half of those earnings ($28.4 million) came from the two BCS appearances—Wisconsin in the Rose ($22.3 million) and Michigan in the Sugar ($6.1 million).

The Big Ten earned a total of $17.7 million from the eight non-BCS bowls last season. Bottom line: Not being able to fill bowl slots in, say, the Little Caesar's Pizza and Heart of Dallas Bowls, won't really hurt the Big Ten's pocket book severely.

Assuming there's six teams (bowl eligible) and the Big Ten doesn't fill Little Caesar's Pizza and Heart of Dallas, the collective payout from the Rose ($22.3), Capital One ($4.25), Outback ($3.4), Buffalo Wild Wings ($3.3), Gator (2.5) and Meineke Car Care ($1.7) yields $37.45 million. Or about $10 million less than last season.
A loss of about $10 million might not sound like much when spread around the teams, but it's still lost revenue that the B1G has been able to count on in recent years based on their ability to put two teams in the higher-paying BCS bowls. As Dienhart notes, the B1G has placed two teams in BCS bowls each year since 2005 and 11 times in the 14-year history of the BCS. 
Don't ya just love this league?! 
BIG DADDY-WARBUCKS. Former Buckeyes Dan "Big Daddy" Wilkinson and Stanley Jackson, part of the investor group Buckeye Nation Interim, recently announced they are plunking down $4 million to buy Citizens Bank of De Graff, which operates in Logan County, Ohio. 
If you weren't aware, Big Daddy has actually carved out a nice after-football life acting as a real estate developer in the Baltimore area along with owning a Chuck E. Cheese's in Lima. 
Interestingly, Wilkinson's decision to jump into banking is based largely on his own struggles in dealing with big banks and his desire to help small business owners secure loans. 
With an eye on growth, BNI is dropping another $4 million into bank to help expand into central Ohio and provide additional products and services such as online banking and a deeper interest in mortgages. 
Good luck to these two former Buckeyes in their new venture.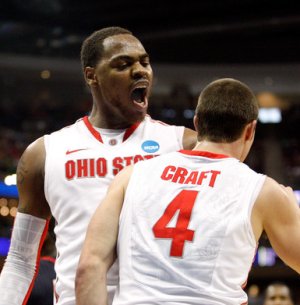 B1G HOOPS PRIMER. Dan Greene of CNNSI took a deep dive into the loaded B1G hoops conference, offering up some analysis, predictions and power rankings. 
Like everyone else, Greene has Cody Zeller as the B1G's POY with Minnesota's Andre Hollins tabbed as the league's breakout player and Sparty's Gary Harris as the top impact freshman. 
Maybe it's the blind hate I wear like a badge of honor when it comes to Tom Crean and Indiana, but I'm just not sure Zeller is such an obvious choice as POY. Trey Burke and Deshaun might also have something to say about this race and if any of the voters choose to evaluate the POY by deciding who is most valuable, Aaron Craft could make some noise. My guess is Burke poses the greatest threat because Deshaun and Craft will share the spotlight in Columbus but I look forward to Indiana – and by extension Zeller – failing to live up to the hype this season. 
Noting the depth of the conference, Greene writes that the B1G teams had a combined .788 winning percentage last season against other conferences, which was the best in the nation. 
Stacking the teams, Greene has Indiana ranked #1 with the Buckeyes holding down the 2nd spot and Michigan sitting 3rd. Sparty, Wisconsin and Minnesota round out the top half of the league. 
IT'S NOT JUST ABOUT THE JIMMYS AND THE JOES. Sticking with hoops, Michael Rosenberg took a look at how the basketball programs are poised to restore some conference pride following a football season that so far has done little but allow the rest of the country to snicker in its general direction. 
As Rosenberg accurately notes, the reason the hoops league is flourishing is because of the coaches. Not only does the B1G sport the most impressive list of head basketball coaches in the country but the majority of those coaches – and their programs as a whole – are firmly entrenched at their respective schools. Conversely, the collective B1G football coaches are not as revered on a national scale nor are they as entrenched from top to bottom. 
High profile guys like Tom Izzo, Thad Matta, Bo Ryan and Tubby Smith are leading the way in name recognition and impressive resumes while the 2nd tier of Tom Crean, Matt Painter and John Beilein gives the league seven coaches with national appeal. 
Meanwhile, the football league has just Urban Meyer as the lone guy with true national clout and lofty resume with a 2nd tier of Dantonio, Hoke, Bielema, Fitzgerald and Ferentz, which aren't exactly the sexiest names in college football. 
Schools can brag about their academics and facilities all day long but for the bulk of elite prospects, they choose a school based on the head coach. When you compare the collective hoops coaches against the footballers, it's no wonder the conference is currently so much more respected on the hardwood than on the gridiron. 
JAR JAR LINKS. Derek Doolander Center for Coaches Who Can't Coach Good... Slideshow! October's Funniest Sports Photos... Basketball Times lists OSU as 14th best program... America pulls together... Staged Kiss Cam or no?... Naked Gene Keady not pictured.