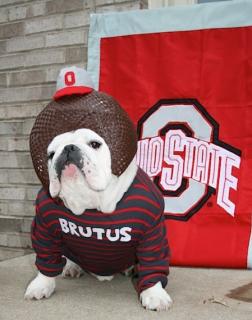 Happy Halloween everybody! There isn't anything particularly spooky about this episode, unless you're a wayward Illinois fan seeking some kind of comfort or assurance that your team won't get utterly demolished this weekend.
Because they will! Today Sarah and I break down what we believe to be Ohio State's most complete offensive/defensive performance of the year, and then kick back a little bit with our very own Ross Fulton to talk about some of the mechanics of a team that finally seems to be putting all the pieces together. Urban Meyer is beginning to assemble his very own Buckeye Voltron, and honestly it looks way, way cooler than whatever half-assed Megazord the rest of the B1G is putting out there.
Also we do a little Ask Us Anything! So many questions this week (many about fashion??) and we get to 'em all. If you'd like to write in to us about life, love, pumpkin flavoring, or football perhaps, drop us a line at elevendubcast@gmail.com.

Next is a football bye week, but take heart Dubcastateers, because b-ball is starting and we'll break 'em down as best we can; and hopefully it isn't just 45 minutes of us excitedly yelling Aaron Craft's name over and over. But it might be. Just saying.
Here's how everything shook out this week:
0:28- Sarah and I break down the Penn State game, and spoiler alert, we won and it was awesome. Ryan Damn Shazier played like the guy we've been expecting all season, and Braxton gonna Brax. Also Illinois is totally screwed.
19:26- Ross! Sarah! Johnny! WITH OUR POWERS COMBINED you can get an interesting conversation about where the team is at this point in the year from an X's and O's standpoint, and also Ross says that we do a better job at interviewing him than ESPN did. Oooo diissss!
34:03- Ask Us Anything, chrome helmets, Seven Nation Army, and everyone's favorite subject, punting.
52:17- Turn your speakers way up for this part.
Music for the Dubcast this week was "Boogie Monster" from Gnarls Barkley, "Monster" by Mr. Kanye West, and maybe a somewhat hypocritical choice of "Red Rain" by The White Stripes. See you all next week and have a safe and scary Halloween!