Urban Meyer's "Plan to Win" has proven to be effective during his 11 seasons as a head coach. But it's been tested in nearly every game this season.
One of the hallmarks of Meyer's coaching philosophy and a bullet point on the plan is winning the kicking game. On Saturday, for the third time this season, Ohio State had a punt blocked, this one returned for a touchdown. According to Meyer, a team wins 90 percent of the time when they block a kick.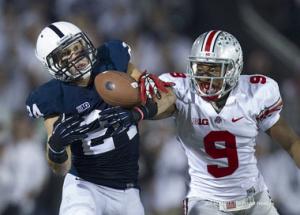 Penn State fell into the 10-percent gap.
The Buckeyes offset one special teams mistake by snuffing out a fake punt by the Nittany Lions and covering kicks with precision, a trend throughout the season. The No. 1 goal in Meyer's Plan – play great defense – contributed greatly in the Buckeyes' 35-23 win, as well. But it was all three phases of the game that swung the game into Ohio State's favor.
"Probably our best team win – not probably. (It was) our best team win we've had," Meyer said.
During the first half of the season, the defense caught warranted criticism. But they've responded the past two weeks with strong showings. Saturday's performance may have been the best the unit has had all season.
Penn State didn't score an offensive touchdown until the fourth quarter and a run game that averaged well over 100 yards per game was limited to just 32.
"Once again in a very tough situation, our defense continues to improve," Meyer said.  "Fundamentally, we're much better tackling and leveraging the ball. We blitzed more. We had more pressures.
"Our defensive staff will give you more numbers. But we played more man coverage and blitzed more than he did all year. So that's telling us something – that we need to do more of that."
Linebacker Ryan Shazier and cornerback Bradley Roby were the lone defenders to grade out as champions, and the duo were named co-players of the game on that side the ball.
Shazier, wearing the No. 48 to honor a friend who passed away over the summer, had one of the most productive games of his career, finishing with eight tackles, two sacks, a forced fumble and an interception return for a touchdown.
Roby was active in passing lanes all night. He was credited with four pass breakups, though Meyer said the coaches noticed seven when they re-watched the game. He also had five tackles, all solo.
"He had an inordinate amount of play opportunities, 30 opportunities, which is almost unheard of," Meyer said. "They were throwing a lot at him, and he had seven pass breakups. I even had one of my guys just recheck some of my records. I don't think we've ever had a guy get his hand on seven balls and 20 production points."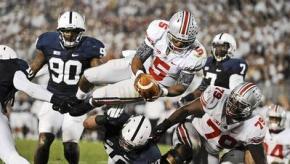 Roby leads the country in passes defended and broken up despite missing the UAB game.
Braxton Miller was named the offensive player of the game, which is surprising to no one after he accounted for all but 100 yards of the Ohio State's offensive output. He ran for 134 yards, the sixth time this season he's eclipsed the century mark. He also became the first Meyer-coached player to accumulate 1,000 yards rushing in a season.
Miller has been sensational since the season-opening win over Miami (Ohio). He leads the Big Ten in rushing yards and is 11th in the country. Miller also stayed steady in his pursuit of college football's highest honor – the Heisman Trophy.
Throughout the season, Meyer has shoved aside questions about Miller and the Heisman, saying the time will come when he becomes a legitimate candidate. That time was Monday.
"Do I believe he's a Heisman candidate? I do," Meyer said. "I didn't say that before. But I do believe Braxton is a Heisman candidate. He has to play much better. However, just from sheer production of a team that's 9 0, it puts him in that category."
The special teams was not to be left out. Four Buckeyes earned recognition for their play on the special units in State College. In his first action as the "gunner" on the punt coverage unit, wide receiver Devin Smith had a special teams game-high three tackles. He was named the special teams player of the game for his activity.
Meyer said it was an easy decision to put Smith on the unit because he's the "fastest player on the team."
"Our belief is you have 6.5 seconds (to cover a punt)," Meyer said "If you're hitting the ball 4.5 seconds hang time, and two seconds get off, that's 6.5 seconds to cover 40 yards. You put really fast people out there and force catches."
Adam Griffin was also a special teams champion, as well as taking home the "scarlet shirt," which goes to the player who gives the best effort. It's the second time Griffin has won the honor this season.
"He stopped a fourth down fake punt," Meyer said.
Ohio State is at its healthiest all season, according to the team trainers. Linebacker Etienne Sabino will need another week off and the bye week, though, to return to action. He's expected to be ready when Ohio State travels to Madison.
Said Meyer: "There is no player trying harder."