Performances likes Braxton Miller's Saturday night act in State College shouldn't come as a surprise anymore. But the jukes, creativity and crisp passes – even with several over and underthrows – still cause headshaking. Now nine games into a Heisman Trophy campaign, and only 20 into his career, Miller has evolved into one of the most dynamic and exciting players in college football.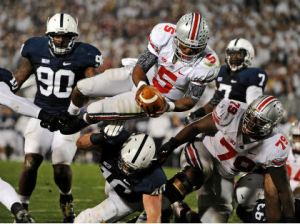 In front of 107,818 screaming Penn State fans at Beaver Stadium, Miller calmly directed the Ohio State offense one week after suffering a neck injury that prompted a trip to the OSU Medical Center. If there were any lingering problems, they weren't apparent from 5:30 to 8:30 p.m.
The Buckeyes' 35-23 win pushed their record to 9-0. In the process, Miller added to one of the best seasons in school history for an Ohio State quarterback.
One hundred thirty-four rushing yards, two rushing touchdowns and a 72-yard scoring strike to Jake Stoneburner. In all, Miller accounted for 277 of Ohio State's 377 offensive yards. He also eclipsed the 1,000-yard mark for the season, becoming the first Urban Meyer-coached player to rush for 1,000 yards. Miller joins Denard Robinson and Antwaan Randle El as the only Big Ten quarterbacks to rush for 1,000 yards in a season.
"He's not Superman, but he's a great athlete," said Penn State linebacker Gerald Hodges.
Indeed. Even when he didn't have his "A" game Miller still stifled the Penn State defense.
It was never more evident than on a 3rd-and-goal run from the one-yard line. Miller, with no room to run, went in reverse then shifted right and left before leaping into the end zone. In the process, he eluded a plethora of Nittany Lion defenders.
"That was crazy," Stoneburner said. "I've never seen a quarterback be able to do something like that, let alone most athletes. The sideline was just in awe."
Meyer said the discussion on the headset included an "Oh my God!"
Miller ran 25 times for his 134 yards. He was sacked four times. His early throws sailed long and high – Miller was 4 of 12 passing in the first half – but he settled down, finishing 7 of 19 for 143 yards with a touchdown and an interception. Penn State had a couple near pick-sixes but dropped the ball.
"I think the crowd (noise) helped a little bit," said Meyer, referencing the slow start. "It wasn't just Braxton."
As the game progressed, Miller developed more touch throwing the ball.  The touchdown came in the fourth quarter as Miller orchestrated another big third-down play, finding Stoneburner streaking up the seam near midfield. The tight end-turned-wide receiver outran the entire Penn State defense the final 50 yards en route to the end zone.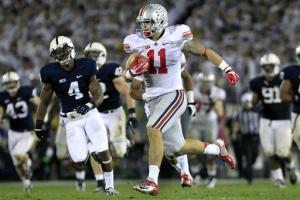 "Once I beat my guy, I had to get vertical," Stoneburner said. "I got vertical and Braxton threw a beautiful ball right over him. I was able to outrun the defense after that."
Said Miller: "I prayed to God that ball got into his hands and that he scored. That was a good play.
"I missed a lot of throws early. I was excited to come back from the injury. I didn't plant my feet and I was rushing it. But we came back in the second half. I slowed down and we got things going."
Did they ever. It was the second time this season Miller has played in a game that was considered a matchup between the quarterbacks – Nebraska and Taylor Martinez being the other.
In both games, Miller has shined. While he did toss an interception Saturday, Miller's was not of the backbreaking variety that Matt McGloin suffered, soft-tossing the ball to Ryan Shazier, who ran 17-yards to paydirt. McGloin would trade his career-high 327 passing yards to have that one throw back. The Penn State offense didn't score a touchdown until the fourth quarter.
"Their front seven was tremendous," said McGloin, about a group of Buckeyes that harassed him throughout the game. "They applied pressure all night. They were definitely prepared. We had some communication problems early on and we couldn't get it done in the end."
As Penn State's quarterback lauded the Ohio State defense, the Nittany Lion defenders were lobbing praise at Miller.
"He's a dual threat," cornerback Stephen Morris said. "You got to worry about the pass, you got to worry about the run, obviously. It's definitely hard. You got to make sure you detain. It's hard to prepare for something like that. Malik (Golden) did a really good job (on the scout team).
"We got the real thing today. Braxton Miller – he's a good player."
Penn State head coach Bill O'Brien went one step further, referring to Miller as a top-five player in college football.
Miller's head coach knew the signal-caller was in store for another hair-raising performance before the game even started. All Meyer has to do is take one look at Miller and read his body language and demeanor.
"He had that look in his eye," Meyer said. "Twice this year I have seen that look. He is just such a competitive guy. I saw it against Nebraska and I saw it in this one. They were both night games. It's the rah-rah. It's the flash. Our challenge is to get that out of him in a noon game."
Luckily for Meyer – and Miller – this week's game versus Illinois is at 3:30. The Fighting Illini defense has also been torched multiple times this season, from the pass and the run. Miller will be primed for another Heisman-esque, highlight-reel performance.
Surprise, surprise.