With Halloween two days away, 'tis the season for frights and costumes1, a description that could also apply to college football. Last week, when Braxton Miller left the game with a neck injury, Ohio State fans and even more so, Braxton himself, were immediately alarmed.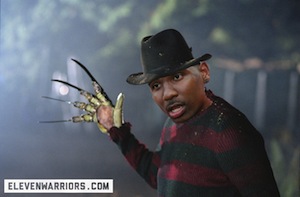 Thanks to a quality backup quarterback and a quick recovery from Miller, it ended up not being a serious threat, like the cliche of a cat jumping out during a suspenseful moment in a scary movie. 
This weekend, other teams weren't as lucky. When Denard Robinson's nerve injury forced him out of the game against Nebraska, Michigan had to rely on freshman Russell Bellomy, who proved about as useful as trying to escape a killer by running up the stairs. 
While victors over Tennessee, South Carolina lost its star running back Marcus Lattimore, who suffered a knee dislocation and damaged ligaments, an injury akin to a gruesome scene in any of the 33 Saw movies. 
After the Michigan State game a month ago, Urban Meyer made his quarterback sound like a villain in a horror film franchise, saying, "He's banged up, he's banged up, and he just kept coming back." 
To opponents, Braxton Miller is as nightmarish as Freddy Krueger. Whenever they think they have him beat, he returns to terrorize again. The QB did just that against Penn State on Saturday, rebounding from both his sore neck and a shaky start to gash the Nittany Lion defense for 277 yards and three touchdowns. He currently leads the Big Ten in rushing (121.4 yards/game) and total offense (291.1 yards/game). 
But Miller isn't the only Buckeye or member of the college football world who could fittingly pay tribute to a movie character this Halloween. 
Urban Frank Meyer as Dr. Frankenstein
Last season, Ohio State's moribund offense finished the year ranked 107th in the nation. In 13 games, they averaged 317.9 yards and scored 39 touchdowns.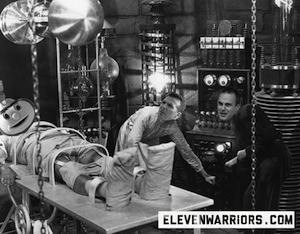 So far this season, the Buckeye offense is ranked 45th and through nine games, averages 431.78 yards and has accounted for 48 touchdowns.
In recent weeks, players other than Miller have emerged to make the offense less of a one-man wrecking crew. Carlos Hyde has become a reliable complement to his quarterback in the running game and while Philly Brown and Devin Smith are the main threats in the passing game, different guys have stepped up the past two weeks.
Against Purdue, Chris Fields and Jeff Heuerman came alive for the Buckeyes. Against Penn State, Jake Stoneburner, Evan Spencer, and Nick Vannett were the receiving targets.
Much of the credit for the improvement can be attributed to Urban Meyer and his offensive coordinator, Tom Herman. They were able to assemble the pieces to create an offense with a pulse and one that, particularly on the ground, can be a monster.
Bradley Roby as Dick Halloran
Opposing quarterbacks must think that Bradley Roby has the "shining." He leads the country in passes defended with 18, which includes 16 pass breakups and two interceptions2.
His telepathic ability appears to border on psychic given his premonition before the Nebraska game. Just as the "shining" ran in the Halloran family, both Roby and his father dreamt that he'd get a pick-six that Saturday. Afterward, he said about the win, "Tonight we saw the sun."
Because of the excellent season the Thorpe Award semifinalist has put together, some fans are worried that Roby, a redshirt sophomore, will declare early for the NFL Draft. Unfortunately, we do not have the powers to see into the future or read his mind, and The Shining itself does not give us any clues. In the book, Dick was around for the final scene; in the movie, he wasn't.
Russell Bellomy as Catherine Tramell
Although a thriller and not a horror movie, Bellomy's affinity for picks seems to rival Catherine's in Basic Instinct3. He threw as many interceptions (3) as he threw completions (3/16) versus Nebraska. The Wolverine offense after Denard left was a frightening sight for Michigan fans:
Michigan had 44 yards of offense with Bellomy at quarterback and until one drive in the fourth quarter where the Wolverines already trailed 23-9 they had one -- one -- yard of offense under Bellomy.
Luckily for them, Brady "The Blob" Hoke was optimistic about Denard's status for next Saturday. 
Nebraska Players as Children of the Corn
If you watched any of the Michigan-Nebraska game, you saw numerous images of corn and cornfields. Considering Nebraska is now in the driver's seat in the Legends Division and for a potential trip to the Rose Bowl, Taylor Martinez and company could be doing the bidding of "He Who Walks Behind the Rows", an angry, red-eyed demon also known as Bo Pelini. 
Bret Bielema as Pinhead
It's pretty much guaranteed that Bielema has referred to himself as "Hellraiser" while others have called him "Pinhead" many, many times. Even more certain is that he's attempted to pick up ladies by telling them, "I have such sights to show you!" before dropping trou.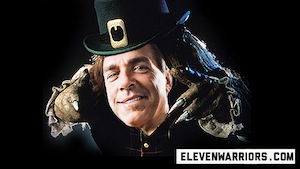 Nick Saban as Leprechaun
There have been six Leprechaun movies, nearly matching the number of head coaching jobs that Nick Saban has held. Always on the search for his gold, Saban is currently the highest-paid coach in college football.
Also, he is a wee little lad.
Will Muschamp as Norman Bates
"We all go a little mad sometimes."
Collin Klein as Leatherface
Heisman front-runner QB Collin Klein helped Kansas State, the second-ranked team in the BCS, take care of Texas Tech this past Saturday. Last month, they beat North Texas and after a matchup with Oklahoma State this weekend, the Wildcats will close out their season with three more teams from the Longhorn State: TCU, Baylor, and Texas.
So in order to take home that Heisman Trophy and lead Kansas State to a BCS title game, Klein will have to continue his Texas football massacre. 
The Fighting Irish as Father Damien Karras
Coming off a win over Oklahoma, Notre Dame is 8-0 and trying to exorcise demons of irrelevant years past. While most of college football fans projectile vomit over "Notre Dame is back!" talk, the Irish are currently ranked third in the BCS standings and fourth in the AP and Coaches polls and have a shot at a national championship if they remain unbeaten.
But even if they succeed at being considered a dangerous team again, most likely, Notre Dame's title hopes won't survive the end of this season.  
1 The Bobby Petrino costume got internet laughs, but dressing up as Jerry Sandusky? Don't do it. ↑
2 Roby sat out the UAB game with an injury, so he's put up those numbers in eight games, not nine. ↑
3 Let's not speculate on whether he wears underwear, though. ↑