The doubt finally crept in. Ohio State, in a season filled with many storylines, had been the favorite in almost every game this season. When the Buckeyes traveled to Michigan State, a smattering of people thought the Spartans could win, but Ohio State was the popular pick.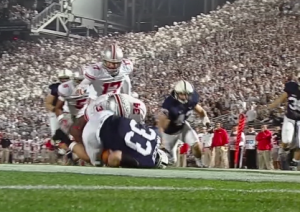 That wasn't the case last week. Penn State entered the game on a five-game winning streak and became a national media darling. The Nittany Lions would be the team to end Ohio State's dream season. But the Buckeyes came prepared.
With a defense that is rounding into the Silver Bullets of old, Penn State's run offense was irrelevant and Matt McGloin's pick-six was one of the turning points of the game. For the third consecutive time, Ohio State won at Penn State – and did so decisively.
Braxton Miller was in the midseason form, giving Buckeye Nation a giant sigh of relief. The Heisman campaign is back on, and the Urban Express continues to chug full steam ahead.
Two plays in the game stuck out: Ohio State snuffing out Penn State's fake punt and Ryan Shazier's interception return for a touchdown.
"We saw it at the last second," Meyer said of the fake. "Zach Smith did a nice job with that. That group blocks punts, they return punts, and we had a block on, and they showed it right at the last second. We saw it, but we couldn't control it. The guy had to make a play and (Adam Griffin) made a great play. I think that was the turning point of the game."
Shazier's heroics came on the first drive of the second half. The game was tied at seven, but his touchdown gave Ohio State the lead for good.
"At that point in the game, it was unbelievable," defensive coordinator Luke Fickell said. "We needed momentum and you can never account for those kind of things. Those are the things that just break the back of the other team."
"I was focusing on the calls, and the offense ran the play exactly how we practiced it," Shazier said. "The third down we ran the coverage, and he threw it right to me."
Shazier's outing – seven tackles, two sacks and a pick-six – was even more meaningful as he wore the No. 48 to honor a friend who had passed away from complications of muscular dystrophy.
"I was thinking about (Gary Curtis) the whole game," Shaizer said. "I knew I had his number on and I felt like he was playing through me and he had my back."
The defense had its best game of the season. Penn State was held to 35 rushing yards and two offensive touchdowns. McGloin had a career high passing yardage performance, but a lot of the yards came after the game had been decided.
"We're getting more comfortable together as a staff and a defensive unit," Fickell said. "Everything is starting to click."
"Luke Fickell and Mike Vrabel did a great job of getting their guys ready to go," Penn State head coach Bill O'Brien said.
"They're a good team, definitely the best team we've played so far this season," running back Zach Zwinak said. "We went into this game realizing it was going to be tough one up front. They're a great front seven."
"They were playing tough defense," running back Bill Belton said. "They weren't giving up the big plays that we usually get.

"Their front seven is very good. They're real physical with you. Upfront, that was the best front seven that we probably will see all year."
Miller's health was a topic of conversation throughout the week. Despite his Heisman-worthy numbers eight games into the season, people doubted him against Penn State because of the neck injury he suffered against Purdue. But it was clear Miller was 100 percent from the moment the game started.
"I think he's an excellent player," O'Brien said. "He's one of the top five players in the country."
"He's a dual threat," Penn State cornerback Stephen Morris said. "You got to worry about the pass, you got to worry about the run, obviously. It's definitely hard. You got to make sure you detain. It's hard to prepare for something like that. Malik (Golden) did a really good job (on the scout team). We got the real thing today. Braxton Miller – he's a good player."
"He had that look in his eye," Meyer said. "There's twice (Nebraska) this year that I've seen that look. He's such a competitive guy. Our challenge is to get that out of a noon game. I saw the same thing."
As he tends to do every game, Miller added to his highlight reel with a run that left the Penn State defense shaking its head. From the one-yard line, Miller was back to almost the 10-yard line, put it in reserve, then forward, then turned the wheel to the left and ran, and scored a touchdown.
"We have a drill," Meyer said joking. "Make seven people miss and dive across. No, I really didn't see it. But basically the conversation on the headsets was, 'Oh, my God.'"
The one change in Miller's game was the sliding and running out of bounds. The coaches finally convinced him to take care of his body, though a near run-in with a serious injury will also contribute to that line of play.
"I was taking unnecessary hits and I learned from that," Miller said. "I watched film and I was like, 'I don't know why I'm standing up, so I'll just slide.'"
He ran the ball 21 times and was sacked an additional four, but Miller was noticeably fresher and less hobbled after the game due to his avoidance of hits.
"I'm good," he said. "My body's good."
Miller's best throw of the night was a 72-yard catch-and-run to Jake Stoneburner. The senior tight end ran some 40 yards, turning the after burners on to get away from the pursuing defense.
"At first I was only thinking that I cannot get caught," Stoneburner said. "It was surreal. I have never had that long of a touchdown in this big of a game."
Complete Game Coverage
Meyer had never been to a game at Beaver Stadium. The Ohio State head coach enjoyed his first trip to Happy Valley, obviously because the Buckeyes came away with a victory, but also because he's a fan of college football in general.
"First time I experienced this stadium and their crowd," he said. "This is a big-league atmosphere."
Talk of O'Brien being national coach of the year ratcheted up the past few weeks, but the coach put the blame squarely on himself for Saturday night's loss.
"I didn't do a very good job tonight as the head football coach," O'Brien said. "I need to do a much better job for this football team."
It was Penn State's biggest game of the season – and possibly its biggest for years to come. With a five-game winning streak, the team had found newfound confidence, so a loss stung extra hard.
"Everyone is a little heartbroken right now," defensive tackle Glen Carson said.
It looked like Penn State had seized the early momentum – in fact, they did – but it was short-lived. In the second quarter, the Nittany Lions blocked a punt and landed on the ball in the end zone. Special teams loomed large all night.
"They say that special teams can make some of the most explosive plays in a game," said Michel Yancich, who scored the touchdown on the punt. "I think it really boosted us and got the crowd into it. It got our offense going, and it got our defense going as well."