An hour before the Oversigning Bowl kicks off in Baton Rouge another game of significant postseason consequence will get underway in Los Angeles.
Oregon is currently trending toward the BCS title game, with Rich Rodriguez's beautiful stuffed head as its best kill of the season. Saturday it gets USC (whom Rod just dispatched) as part of a schedule more backloaded than any other in the FBS.
If the Ducks are able to win in LA, they'll get a bit of a breather next weekend at Berkeley before hosting Stanford and finishing at home in the Civil War. Then, if they've played their cards right, the conference title game.
Four of those five opponents are highly-ranked. The odd one out – Cal – has shown flashes that were never more sparkly than when Ohio State was at its badtacklingest back in week three. If Oregon survives that gauntlet, they should be an uncontroversial invitee to the title game.
My team? My team isn't getting invited to any holiday parties. However, that little downer doesn't mean we still can't get a little Situational.
THE DEAD PRESIDENT
Three of our leaders have had Illinois designated as their home states: One of them is on next Tuesday's election ballot, one of them worked his name into Illinois' nickname, and the other is on the $50 bill.
But Barack Obama was born in Hawaii, not Illinois. Abraham Lincoln was born in Kentucky. Ulysses S. Grant was born in Clermont County just east of Cincinnati. None of these Ill n' Noisy 'uns were born in the Land of Lincoln, not even Lincoln himself.
No, only one POTUS was actually born there: The Gipper.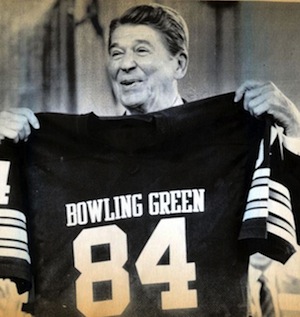 Ronald Reagan was born in Tampico, a town that had barely 600 people. He grew up in nearby Dixon, which was a relative metropolis at nearly 20 times the size.
After graduating from high school there he attended Eureka College a few miles away, and upon completing his degree Reagan and his awesome, soothing voice moved west where he became the voice of the Iowa Hawkeyes.
His work there led to the same job with the Chicago Cubs, though unconventionally: He did his play-by-play off telegraph transcripts of games in progress.
While traveling with the team on a roadie through California, Reagan took in an audition and ended up with a Warner Bros contract that gave him steady acting work which he parlayed into mainstream popularity.
He served domestically in the Army Reserves during WWII concurrently while serving as president of the Screen Actors Guild, a post he used to deliver information on suspected Hollywood communists to the FBI as he ventured from film into the new, wacky world of "television."
Reagan was eventually was hired as the host of General Electric Theater and about a decade later in 1967, the son of Tampico became the governor of California. Reagan survived a recall there and a failed presidential bid prior to winning the presidency in 1980.
And, as you can see to the right, Reagan loved him some #MACtion, which makes him a man of the people in perpetuity.
THE SITUATIONAL WAGERS: THE OVERSIGNING BOWL, DEAD CAT, TOXIC WALRUS, ASPHYXIATED BEELZEBUB, FIVE DEAD HOOKERS

THE OVERSIGNING BOWL: LSU TIGERS (+8) against Alabama, but Alabama is really good at capitalizing on undeserved second chances so it's all good.

THE DEAD CAT: KENTUCKY WILDCATS  (+9) against Vanderbilt, and STORM THE FIE-never mind it's basketball season – they can stop pretending!

THE TOXIC WALRUS: BOSTON COLLEGE EAGLES (+4) over Wake Forest. At 2-6 BC hasn't been this bad in over 30 years. Geez, what did they do to themselves in the offseason?

THE ASPHYXIATED BEELZEBUB: DUKE BLUE DEVILS (+15) against Clemson since Duke football is as adorable as Duke basketball is losing to Lehigh in the NCAA tournament.

THE  FIVE DEAD HOOKERS: SMU MUSTANGS (+10) against UCF, because screw UCF for appealing and tabling its bowl ban despite having one of the most damning rap sheets in NCAA COI history.

LAST WEEK: 2-3  | SEASON: 20-25
THE NOWLEDGE
Approximately 4% of all Twitter traffic is news. About the same amount is spam (and – this is going to suck – you're not being followed by a slew of obscure porn stars. They're not real, man.)
Then you've got the 6% of tweets that are self-promotion, 9% characterized as "pass-along value" (or motivational messages as Charles Waugh called them #buckeyebrothers) and the 38% which are conversations between two or more Twitter users.
That remaining 36% is categorized as "pointless babble" which encapsulates arbitrary song lyrics, SPARTY NO tweets on Saturdays, bungled thoughts from most politicians and college athletes and tweets about HOW TIRED PEOPLE ARE.
Twitter is many things, but perhaps most of all it's a glimpse into just how sleepy we are as a planet. This week's Nowledge is a public sampling of tired tweets, followed by amateur diagnosis and a pseudo-existential suggestion for how to address the condition.
I'm so tired I just want to sleep for a couple of days

— Za☪h ♡ (@ZACHARYDUPUIS) October 26, 2012
DIAGNOSIS: Zach, two days' worth of sleep is unhealthy. It can lead to bed sores, bed-wetting and worst of all – for the endlessly vain, Za☪h ♡ – bedhead. 
SUGGESTION: Exercise more. You're probably overweight. Don't panic – everyone is.
All I do is sleep I swear & I'm still always tired

— Hayden (@haydensgay) October 26, 2012
DIAGNOSIS: Hayden, that's like saying all I do is smoke marijuana and I'm still always high. Sleeping doesn't energize you. It merely reindexes the deep thoughts in your brain into open spaces for peak optimization. 
SUGGESTION: A doctor once told me this joke: A 103-year old man comes into the doctor's office. He says, "doc, help me, I can't pee." The doctor says, "how old are you, sir?" The guy says, "I'm 103 years old." The doctor says, "well then. You've peed enough." I can't remember what the original point was, Hayden, but maybe it's time to find a hobby. 
My beds calling my name.. I'm so tired.

— Diary Of A Brunette (@ABrunetteDiary) October 26, 2012
DIAGNOSIS: You're either hallucinating or your bed is absolutely terrifying. 
SUGGESTION: Get a new bed. It's not the boss of you, even if you are so tired. You're the boss of you.
I'm literally so tired.

— Distance Swimmers (@DistantProbz) October 26, 2012
DIAGNOSIS: You're figuratively creating the etymological version of global warming with your unnecessary word emissions.
SUGGESTION: Literally find a bed and literally lay down in it. Then literally close your eyes and literally see where it goes from there.
too tired to even sleep.

— ritawhora~ (@mafyu_) October 25, 2012
DIAGNOSIS: That's like being too hungry to eat or too thirsty to drink. I think you're lying, Ritawhora.
SUGGESTION: You're going to die. HAHAHA just kidding, we all are. It's not just you.
I've tried. I'm tired.

— A L E X :) (@Alex2ooRaww_) October 25, 2012
DIAGNOSIS: You've described the typical day for every single semi-ambitious person in the history of mankind. You have the potential to be great. 
SUGGESTION: Go to sleep. Try again tomorrow. If you see Hayden tell her to get her act together – she should be more like you.
bed is like heaven when you're tired

— tye killed a creator (@h1itstye) October 25, 2012
DIAGNOSIS: That means that bed is like Hell when you're awake, and everyone knows that just isn't true. Bed is awesome in all cognitive states. Similes just aren't your thing.
SUGGESTION: If you're following a righteous path with designs on a favorable afterlife, you're going to be sorely disappointed if it just turns out to be a bed. You'll regret not raising more hell when you were alive.
I. am so. Tired. I just. I need sleep.

— Miranda Miller (@MMCherriBomb) October 25, 2012
DIAGNOSIS: Miranda, you seem to have challenges recognizing sentence fragments, despite having a strong grasp on punctuation and capitalization. Perhaps a nap would be helpful.
SUGGESTION: Sleep more. Talk about it less.
THE BOURBON
There is a bourbon for every situation. Sometimes the spirits and the events overlap, which means that where bourbon is concerned there is typically more than one worthy choice.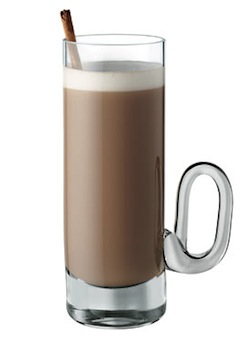 Earlier this week the latest ESPN 30 for 30 documentary Ghosts of Ole Miss debuted. If you missed it, you should definitely watch it – you should know by now that those 30 for 30 films are easily the best thing ESPN currently does.
I reviewed it as part of a larger companion piece yesterday. Feel free to catch up on that too, and consider this week's Situational Bourbon a second companion, but one you can consume with your whole face instead of just your eyes. 
The Ole Miss school chant is called Hotty Toddy. It (almost) shares the same name of one of the better warm bourbon cocktails you can make for yourself. Conventional Hot Toddy recipes call for bourbon, hot water, lemon, honey and the teabag of your choosing. 
Here's a better one that I built following several winters' worth of groundbreaking and important bourbon research: The Double-Inverted Modified Hot Toddy XL™ (consultants charge millions to create naming conventions like that – did it all by myself FOR FREE).
Make half of a traveler mug's worth of tea. Now pour in a couple shots of Woodford Reserve, which is a terrific warm cocktail bourbon. Add a single shot of Captain Morgan or the other pretentious spiced rum that you prefer instead.
If you've done this correctly you should have room to fill up the rest of the mug with heavy whipping cream. Three shakes of cinnamon and five shakes of nutmeg later, you're now ready to take your traveler for a walk. Southern chant optional and sold separately.
THE PLAY-OFF
FACT: The montage scene set to music was required of all films shot between 1980-1989. There was no rhyme or reason to this mandate, but it was followed explicitly by all working directors and producers of the decade and it makes that work of that era easily recognizable.
One of the most better montages was delivered in The Karate Kid in 1984. What separated it from the conventional 80s interlude was how it not only captured several major plot points of the movie, but how it foreshadowed Daniel LaRusso's success in the All Valley Karate Tournament:
SPOILER: It turned out that he was, indeed, the best – despite the horde of Cobra Kai bullies that unfairly seemed to line his entire bracket, kind of like Ohio State's in the 2011 NCAA Tournament draw (thanks again, Gene). 
That manly man you hear singing 80s anthem You're the Best is Joe Esposito, who has three Grammy nominations to his credit. While Daniel is kicking and chopping his way to surviving and advancing in a tournament nobody bothered to educate him on beforehand – too busy at Miyagi's painting fences, sanding floors, etc – Esposito is cheering him on in the only way the 80s knew how: OPPA MONTAGE STYLE.
Esposito also is the original supplier to the vocals of Flashdance...What a Feeling but at the last second that song was re-recorded with Irene Cara doing all of the singing, since it made more sense to come from a woman's perspective. If you've seen the movie you realize how logical this decision was.
See you next week, when Ohio State has 10 wins, no losses and a merciful Saturday off to heal its undefeated bones.