During Ohio University's dream run through the NCAA Tournament a season ago, there was no bigger Bobcat fan than Thad Matta. Coaches often root for their friends and former assistants to succeed, as was the case with Matta. John Groce, then the head coach at Ohio, previously worked with Matta for eight seasons, split between Butler, Xavier and Ohio State.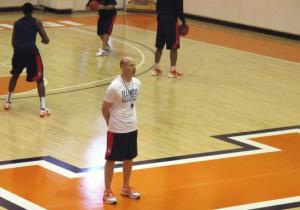 What made Matta's rooting interest different was the fact that he, too, was leading a team through March. As the Ohio State Buckeyes were triumphantly making their way to the Final Four, Matta was sneaking peeks at his buddy, who led Ohio to the Sweet 16 and nearly the Elite Eight.
In just four seasons, Groce took OU from a Mid-American Conference bottom feeder to the second weekend of the NCAA Tournament. Not surprisingly, it elicited interest from schools across the country with head-coaching openings.
When Illinois reached out after dismissing Bruce Webber, Groce decided it was too good an opportunity to let pass.
But in doing so, he lost a friend.
"I haven't talked to him since he got hired, we're competitors now," said Matta, before the laugh gave away his joke.
"I was happy for John. I want what's best for him and his family. For John, I think it's a great opportunity in his coaching career. To have this situation presented to him, I know he's excited, and I was very happy for him."
The rapid ascension of Groce up the coaching ranks has surprised some, but don't count Matta among them. He saw firsthand the level of energy Groce exhibits and the hard-working nature that led Groce to drink a handful of cups of coffee per day until the doctor nixed that plan.
Even in an interview, Groce's enthusiasm pours out of him. The hyper personality and intensity is a Groce hallmark.
"I knew that John had the ambition, had the goal to someday coach in a conference like the Big Ten," Matta said. "To his credit he did a great job at Ohio University and put himself in a great position to be at an Illinois."
Groce sprung from an ever-growing coaching tree that the 45-year-old Matta has planted. It includes Groce, Butler's Brad Stevens, Arizona's Sean Miller, Dayton's Archie Miller and Charlotte's Alan Major, among others. But Matta deflects any hint that he is responsible for unearthing supreme coaching talent.
"This is my 13th year as a head coach," he said, "and I've been very fortunate to have the staffs I've had – the guys I've had around me that have gone on to be head coaches."
It's that group and those who came before them that has led Matta and Groce to enjoy such rich coaching success. Groce, who was also an assistant at North Carolina State under Herb Sendek, said he's taken a wealth of information from each of his previous bosses. 
"I think all the people I've worked for I've taken something and applied it," he said. "The one thing I've tried to do from the very beginning when I became a head coach, I understood I'm not perfect and I've been myself. I'm not Thad, I'm not Sean Miller, I'm not Todd Lickliter. All those guys are part of our coaching family, I've learned a lot from them, they've meant a lot to me, but at the same time, I have my own convictions.
"I'd be foolish not to pull things from those guys who've been successful, and we do do some of the things those guys do, maybe take one thing here two things there. But I've tried to be myself."
Groce refers to the group of former co-workers as his advisory board. Whenever one of them has a question or needs an expert opinion on wide-ranging topics, their phone is sure to ring. 
"You always want to surround yourself with good people," Groce said. "People you trust that are sharing some of the same experiences and understand what you're going through and using them as a resource."
The resource level will have to slow down as long as Matta and Groce are coaching in the same conference, where they'll play each other as many of three times per season. They say to keep your friends close but your enemies closer. What do you do when your friend and enemy is the same person?
During his eight seasons at Ohio State, Matta has had several games against protégés and mentors. He has stated the opinion that he would prefer not to face friendly faces. But that stance seems to be changing. 
"It used to bother me a little bit," Matta said. "But now you play so many games and I'll be honest, the effect of John and I – we're not playing the game. I used to think it was a little more personal. I'll be honest, I want what's best for John Groce. Obviously, we want to beat him when we play him, but I want him to win every game after that."
In the 2007 NCAA Tournament, Ohio State and Xavier's classic game that pitted Matta and Groce against Sean Miller, the Buckeyes prevailed in overtime after a last-second shot in regulation. Groce said the satisfaction was on a level he'd never experienced. 
"That's one of the few times I've legitimately felt bad for the opposing coach," he said. "Part of being a friend is caring about that person and how they do. But, obviously, when you go head-to-head that stuff is out the window."
Ohio State plays at Illinois on Jan. 5 and hosts the Illini in the regular-season finale March 10.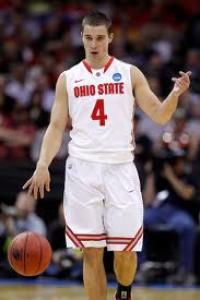 Humble Beginnings 
Point guard and defensive specialist Aaron Craft earned what is likely to be his first of many honors during the basketball season – preseason All-Big Ten. But some three hours after the announcement, Craft was still oblivious to his selection.
"I did not know that," he responded after being told by a reporter.
Craft's play has taken flight since he arrived at Ohio State three seasons ago. A de-commit from Tennessee, Craft played on the famed All-Ohio Red AAU team with a smorgasbord of Division I college players, including Jared Sullinger.
During his freshman season, Craft was the first man off the bench and led the Buckeyes in assists and steals. He set the Ohio State single-game assists record with 15 against George Mason in the second-round of that season's NCAA Tournament. Following the stellar first-year campaign, Craft was named the Big Ten's Sixth Man of the Year. He followed it up with the defensive player of the year award as a sophomore, setting a single-season school record with 98 steals.
Still, Craft is known as much for his humbleness as he is for a fiery on-court competitiveness.
"My parents did a good job teaching me it's all about the team," Craft said. "Individual stuff comes later. I experienced it in high school a little bit, and I always had more fun winning games with the team than going to a ceremony to accept an award.
I have two awards in my apartment, my distinguished academic award from last year and Elite 89 award (highest GPA among Final Four participants) from the Final Four. Other than that, they all go to my parents. They can do the bragging if they want to."
Teammate Deshaun Thomas joins Craft on the All-Big Ten team. Ohio State is the only team to have two players on the first team. But the Buckeyes were picked to finish third in the conference, behind Indiana and Michigan. In the Coaches Poll, Ohio State is ranked fourth nationally. Indiana is No. 1 and Michigan is fifth.
"That just goes to show the league is so deep," Craft said. "Every team has so many great players that have experience and know what it takes to be successful in this league. Deshaun and I have been around for a while and are trying to instill in our young guys what it takes. We're not going to be able to do it fully. They're going to have to experience it for themselves."
There is no tiptoeing into the conference schedule, either. Four of Ohio State's first five games are against Illinois, Purdue, Michigan and Michigan State – and Michigan is the only home game.
"I don't think any of us can walk up there and say, 'I looked at the schedule and I know we're going to win this game,'" Matta said. "I think that's why I don't look at it until December, because I don't want to think in terms of that."
2012-13 Big Ten Rankings
1. Indiana
2. Michigan
3. Ohio State
2012-13 Preseason All-Big Ten Team
Cody Zeller (unanimous), Indiana
Trey Burke, Michigan
Aaron Craft, Ohio State
Deshaun Thomas, Ohio State
Tim Frazier, Penn State
2012-13 Preseason Big Ten Player of the Year
Cody Zeller, Indiana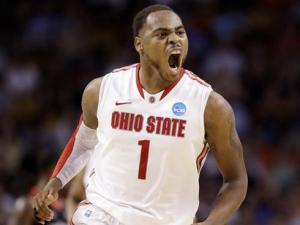 Identity Theft
With no Jared Sullinger in the offense this season, Ohio State begins the year as a team without an identity. It's still predicted to be one of the top teams in the nation. But how will the offense look?
At Big Ten media days in Chicago, Matta said he wants a fast-paced offense – or football on the hardwood. At Purdue, they call it "basketball on grass." For many years, the Ohio State football team ran an antiquated system that drove fans crazy. But with the hiring of Urban Meyer came a new up-tempo offense.
"We've got speed and athleticism," Matta said. "Hopefully we can continue to play as fast as we possibly can."
Sullinger isn't the only player missing from last season's Final Four team. William Buford, one of the top scorers in program history, is also gone. Replacing that production won't just take one superstar. It'll have to be done by committee.
"Those guys, you can't replace them," Matta said. "I think that's one of the challenges you have with your guys is saying, look, I don't need you to be Jared or William, I need you to be yourselves and the best you can be.  In terms of assessing our team, I've seen all of our guys get better individually, which obviously makes us better collectively. I think from that standpoint we're going to have more depth this year and probably more interchangeable pieces, guys that can do different things."
Matta's substitution patterns have brought on similar criticism heard by the football team's offensive coordinators. He trusts his guys, and that's who is going to play. If it's six guys, six will play and if it's eight, eight will play.
The bench grew deeper last season than previous years. Evan Ravenel, Sam Thompson and Shannon Scott all saw significant minutes at various points of the season.  
With minutes possibly split up and two starters being replaced, the basketball could be at a premium. The Buckeyes have two players on the roster who are defined as scorers – Thomas and LaQuinton Ross. The rest of the roster is stocked with capable offensive players, but not necessarily 15- to 20-point a night guys.
And Matta is more than OK with it.
"I've always said the best teams I've ever had you never knew who was going to be the leading scorer," he said. "It's kind of emerged throughout the course of the game, and I view this team as that's what is probably going to happen for us."