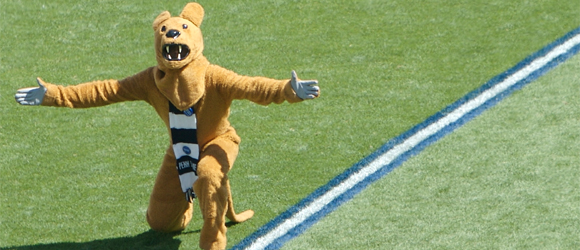 As the Buckeyes look to extend their record to 9-0, they head to State College to take on a resurgent Penn State team that has nicely recovered from their losses in weeks one and two. In what some are dubbing the IneligiBOWL, because we haven't heard that one before, these teams face off in what figures to be an important test for each.
Will Ohio State's Braxton Miller suffer a setback from his injury Saturday? Will Penn State's Matt McGloin continue to impress? Will Ohio State's defense continue to show improvement, or regress and give up big plays? Can Penn State continue shutting out their opponents in the first quarter (something highly likely against this Ohio State team)? Most importantly, which team can prove their wins weren't flukes or the result of a weak schedule? Saturday should tell us.
This week, we welcome Ben Jones of StateCollege.com to give us an inside look into the Penn State Nittany Lions and Saturday's matchup.
After struggling the first two weeks of the season, Penn State appears to have really turned things around. What has been the difference on the field most deserving of the credit for this upward trend?
I think the first two weeks of the season were really a product of two things, transition, and emotion. Penn State came out of the gates against Ohio really ready to go riding a wave of 8-9 months worth of emotion. By the second half the team was gassed and Ohio was doing exactly what it needed to win. Penn State probably would have pulled it out if not for a fluke touchdown, but you could tell the team was drained. While Penn State probably shouldn't lose to Ohio, the Bobcats aren't awful and all things considered that kind of situation with the emotion and the fans and everything is sort of a unique spot to be in.
Against UVA, Penn State was clearly the better team but couldn't execute in the redzone and Sam Ficken missed all but one field goal. If he makes two the game goes Penn State's way. That's a bad loss, but I'd put that one on coaching.
What has changed is the team's confidence level and ability to execute. We can make all the jokes we want about Matt McGloin, but at the end of the day he's really comfortable in the offense and he's hitting his throws. The defense was always going to be good, but for the first time in a while the offense has caught up. It's not complex, but it works and that's all that really matters.
There was a lot of preseason speculation, particularly after the NCAA sanctions, about how Penn State was going to be this year, and in years to come. How does this season compare to what you may have expected preseason?
I wasn't really sure what to expect to be honest. If the team stayed together and Silas Redd and Anthony Fera (Who left for Texas due in large part to the fact his mother is ill and in and out of the hospital there) don't leave, this team is probably undefeated. I don't think I would have expected that, but I thought the schedule panned out in a way the team could succeed despite everything going on. That being said, I didn't expect them to look this good.
This is the first new head coach and staff that Nittany Lion fans have seen in quite some time. How would you grade the job that Bill O'Brien has done so far, and how optimistic are you for the next few years of Penn State football?
I think it's hard to give him anything other than an A. From a "Are you going to win the national title" standpoint, obviously he isn't in that conversation, but from dealing with the community to coaching a watchable football team, it's hard to find a real fault at this point.
As far as the future, next year will probably tell a lot more about what is down the road, but I think people are optimistic that Penn State will be able to get through the 4 years of sanctions and out the other side more or less in one piece.
Christian Hackenberg, the #3 rated QB is still locked in for the 2013 class with a solid core of talent. If O'Brien can coach him like he did McGloin, there is a real chance that he can develop a quarterbacking tradition that has lacked at Penn State and really the Big Ten. Braxton Miller is a good QB, but in the traditional sense he lacks that drop back mentality. Denard Robinson is the same way, a system quarterback. If O'Brien can develop pro-style QBs 4-8 years down the road, you might see Penn State bring some quarterbacking respect back to the conference.
Offensively Penn State has done a good job playing to not make mistakes. McGloin has had a lot less "McGloin" like throws and the rest of the offense has follow suit by just playing intelligent football. As far as an actual strength, no team in the country has more tight end receptions than Penn State and about 5 different guys have gotten in on that action.
Matt McGloin has become a pretty impressive drop back passer and Michael Mauti one of the top linebackers in the country. Individual players aside, what are the biggest strengths of both the offense and defense that Ohio State should be prepared to see this weekend?
On defense Penn State is just fundamentally sound. Ted Roof has been a much better hire than I expected, bringing in a nice mix of blitz and pressure schemes that have worked well with the guys they have. I expect the defense to look different down the road as the coaches recruit guys they want to fit in their defense, but right now it's a solid mix of aggression and solid fundamentals.
Now, can you give our readers a couple players on each side of the ball that Ohio State fans should watch out for on Saturday?
On offense I'd keep an eye on Kyle Carter, a freshman Tight End who can catch the ball in traffic and really take a guy or two down with him. Allen Robinson is another obvious choice as he's McGloins go-to wideout target with 8 TD catches. Bill Belton is also back in the mix and 100% for the first time since week one. He ran the ball well against Iowa and is quicker than he looks.
On defense I'd keep an eye on, besides linebackers Michael Mauti and Gerald Hodges, defensive back Stephen Obeng-Agyapong (Penn State fans call him Stephen Obang if you want to try that out.) Ted Roof has used Obang as a blitzer and could leave Braxton Miller some holes to run in if he is well blocked. Adrian Amos is a rise star at corner who is likely to make plays on Saturday. Penn State's defense is really a core of solid players. They aren't all playing on the level of Michael Mauti, but there isn't really one guy you'll try and exploit.
Conversely, what are the weaknesses on each side of the ball that the Buckeyes are likely looking to expose in Happy Valley?
Penn State's secondary has looked weaker than the rest of the defense at times and if Miller can buy time outside the pocket he might get a few big plays that way. That's really the only glaring weakness. Penn State isn't the best team in the country by any stretch, but they're playing well in almost every aspect of the game outside of special teams.
But for the sake of answering the question offensively Penn State has had some fumble issues. Zack Zwinack has two inside the Iowa 20 and against Ohio State you aren't very likely to be up by several scores when it happens.
Should Braxton Miller be 100% on Saturday, how do you feel about Penn State's chances to contain him and this new Ohio State offense?
Penn State has done a pretty good job containing a one man show in the past but this is the first time this staff has had to stop a guy like Miller. I think Penn State is smart enough on defense to keep him mostly in check, but I think it'll be key for them to understand that he isn't the kind of player you can just stop. He's going to have a big play or two, its just about keeping him in check the rest of the time. I'm interested to see how he reacts the first few times he takes a hit. If he's a little rattled after last week, which I wouldn't blame him for, then maybe he isn't so eager to make everyone miss. That could help Penn State out.
Final prediction for the game?
I've struggled with this for a while now, but at the end of the day I think Penn State wins. They're playing the most complete football in the conference right now and I think they match up against Ohio State's defense well. I can see Ohio State winning this game, that isn't hard to do, but I'm just not convinced at this juncture that Ohio State's defense can make enough plays to win. There is a reason Vegas is avoiding this game.
---
Thanks again to Ben for sharing his Penn State insights with us. You can read more from Ben by checking out the links below: