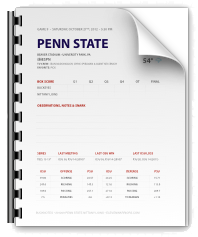 Bucknotes are your pocket guide for the game. Print them off and amaze your friends with your knowledge and insight.
Hey, it's time for the Penn State rivalry, everyone! You know, the one that's even at 13 wins according to Ohio State, but the Buckeyes actually lead 14-8 according to Penn State. That's funny sanction math at work for you.
This will be a true road test for the Buckeyes as the Nittany Lions are playing well under Bill O'Brien, winners of five-straight. Offensively, Penn State isn't explosive—their longest pass play is just 45 yards—but they're methodical and they start fast under Matt McGloin, outscoring opponents 66-0 while averaging nearly 10 minutes of possession in first quarters this season.
Punter Alex Butterworth sounds delicious and kicker Sam Fickens has connected on just four of 11 field goal attempts with a long of 34, so there's that if it comes down to the kicking game.