Ponder the scenario for a moment. Ohio State is facing an eight-point deficit to Purdue in Ohio Stadium with less than a minute to go. Miraculously, the Buckeyes tie the game with a touchdown and two-point conversion.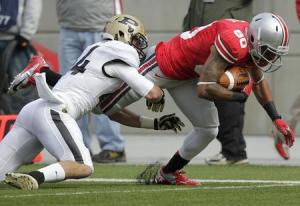 The heroes are Braxton Miller, Devin Smith and Jake Stoneburner, right?
Wrong.
Kenny Guiton at quarterback, Chris Fields at wide receiver and Jeff Heuerman at tight end. The surprise players were just as shocking as the surprise ending.
Smith and Stoneburner did have important catches, but no three players loomed larger than the replacements.
"I wouldn't call us heroes," Heuerman said. "It was a team win, literally."
Guiton and Fields were summoned after injuries to Miller and Corey Brown, while Heuerman's dose of heroism came with a dash of redemption. Earlier in the fourth quarter, it was Heuerman who was responsible for a safety after being called for a penalty in the end zone. 
The extent of Guiton's career consisted of replacing Miller in three prior games but handing the ball off to Carlos Hyde. The Buckeyes did score on those three possessions, though. And at Indiana, Guiton finally got his first touchdown pass, though it came on a shovel pass called by Shelley Meyer.
Fields had become the forgotten man. During the Jim Tressel era, Fields was considered to be a budding star that would develop into Ohio State's next big-time deep threat. But at each corner, something held Fields' production back.
"I'm always pushing myself at each practice and telling myself that my opportunity will come, my moment will come," Fields said. "It did (Saturday)."
As a redshirt freshman, he was behind the likes of Dane Sanzenbacher and DeVier Posey. Fields played eight games that season and finished with zero catches. In 2011, his sophomore season, he was a part of a receiving corps where the leader had 14 receptions. Fields had five for 88 yards, never able to emerge from a younger crop of wideouts. The highlight of his year was a punt return for a touchdown against Toledo.
When Meyer directed Ohio State for the first time in the spring, he referred to the offense as a "clown show." One of the guys running around in oversized shoes and a red nose was Fields, who was passed over on the depth chart in favor of Brown. That led Fields to contemplate quitting the team.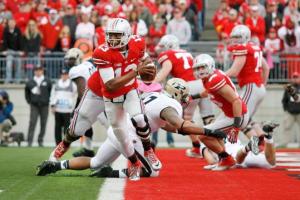 But instead of walking away after working hard for three years inside the program, Fields showed humility, dusting himself off and opting to play the role of the veteran who leads by example. 
"I would never leave this university," he said. "I just was thinking about some plans after football.
"It's been a long journey. I knew there were would be light at the end of the tunnel. I keep my faith, keep working and keep a positive attitude. That's it."
Prior to Saturday's thrilling 29-22 overtime victory, Fields had zero catches on the season. He finished with three receptions for 44 yards and a touchdown. The touchdown came with three seconds left in the fourth quarter with Fields diving to keep Ohio State's perfect season alive.
Fields also smartly picked up Purdue's punt in the final minute and gained a valuable nine yards, giving Ohio State manageable field position and not allowing extra time to run off the clock.
"Chris Fields is a product of our program," head coach Urban Meyer said. "That means three weeks ago, he wouldn't have been on the field. He just changed his whole dynamics, the way he works, his practice habits and his performance.
"You can go out there and work all you want and not make plays. But he's earned that right to be on the field. He was even playing before that, before Philly went down, he was on the field, where three, four weeks ago he wasn't on the field."
Fields' first catch of the day was also crucial, coming in the third quarter with Ohio State trailing 13-7. He was able to jet down the Purdue sideline, where Miller found him open for a career-long 35-yard gain. It would have been 37 and a touchdown had Fields not tripped over a white yard line.
"The Turf Monster got me," Fields said laughing. "I slipped."
Even his touchdown came the hard way, going to the replay booth, causing angst in the stands and on the sideline. Fields, though, was not one of the panicked souls.
"I knew I caught it," he said. "No question. They didn't have to review it.
"Thirteen years of baseball paid off for that one. I used to be a center fielder. I used to dive all over the place."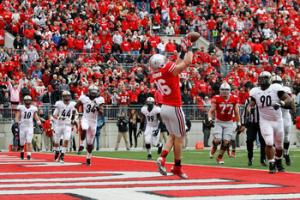 Said Meyer: "My goodness, that was a great catch."
Making the catch even more memorable was the fact that Guiton and Fields are best friends. They connect on pass plays in practice all the time. But if it happened in a game, they figured, yes, it would come in the fourth quarter, but not in a game-tying situation. If they were going to be a part of touchdown passes, surely it would occur with a comfortable lead in hand for the Buckeyes.
"After that catch, I think I told him 'thank you' a million times," Guiton said of his buddy. "Once I saw his hands under the ball, I knew he had it."
The guy who caught the ensuing two-point conversion – Heuerman – didn't become a bona fide receiving threat until the Nebraska game. But with Zach Boren's move to linebacker, it looked like Heuerman's days ahead would include a lot of blocking.
"That move could not have been made if you didn't have Heuerman and (Nick) Vannett," Meyer said last week. "Heuerman has been coming on. He has been playing 10 or 15 plays a game, and now he played 50 (at Indiana)."
It was Heuerman's turn to shine after Fields' few minutes in the limelight. This time Guiton found his wide-open receiver with a pass right in the hands. There was no need for Heuerman to dive. 
"Jeff Heuerman played his best game as a Buckeye," Meyer said after the Indiana game. "I'm proud to say that. He will play more."
It proved to be a prophetic statement from the head coach.
"It was a play we practiced over and over this week for our two-point conversion scenario, and it worked just like we thought it would," Heuerman said. "It's hard for the defense to recognize. It works almost every time in practice. Thankfully, it also worked (Saturday)."
This coming Saturday, Ohio State travels to State College, Pa., to take on a rejuvenated Penn State team. Some think it could be the biggest roadblock to an undefeated season for the Buckeyes. And should the game come down the final minutes, Kenny Guiton and Chris Fields in all likelihood will find themselves cheering from the sideline, hoping for a Miller-to-Brown game-winning touchdown pass.
"You just have to have patience," Guiton said.