On Saturday, after Caleb TerBush's fourth-down pass in overtime sailed out of the end zone, Ohio State's undefeated season remained intact. For the first time in five years, the Buckeyes started the season at 8-0. Up until the last few seconds, though, that eighth win looked like it might have to wait.
By now, everyone knows about the legendary—as Urban Meyer referred to it—comeback and how backup quarterback Kenny Guiton led the team to a game-tying touchdown and two-point conversion that forced OT. Immediately, fans began to compare the drive to "Holy Buckeye", a season-saving touchdown against Purdue ten years prior that was similarly magical and almost as unbelievable.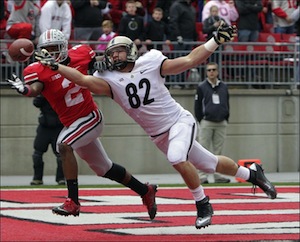 This year's Ohio State team has gutted out wins and made plays when they've needed to, just like the 2002 Buckeyes often did. But the 2012 version will not be crowned national champions or even Big Ten champions, and their offense would not be described as "vanilla" nor their defense as "stout."
Many thought the 2002 squad was living on borrowed time, yet an "L" never materialized.
The current team has also been met with criticisms about how they're "overdue for a loss", albeit for different reasons such as mounting injuries and a defense susceptible to giving up big plays. It's difficult for any team to make it through a season unscathed, let alone one with glaring weaknesses.
If one or more losses mar Ohio State's record, it will be disappointing for fans, but it won't necessarily be surprising either. Before the season began, few imagined 12-0 as anything more than a pipe dream.
However, with one-third of the season left, it's not an impossible feat, and we'll soon find out whether this team can continue to win or if they fall along the way.
In 2007, Ohio State wouldn't taste defeat until the penultimate weekend of the season, when Illinois—the original Purdue in terms of peskiness against the Buckeyes—came into the Horseshoe and Juice1 Williams played the game of his life.
Although it was expected that Ohio State would lose at some point, it looked less likely as the season progressed. Still, finishing the regular season at 11-1 and then competing for a national title was a better outcome than most had predicted for them.
Right now, Ohio State is an imperfect team with a perfect record. Four games remain, and it's not hard to envision them winning or losing any of them (even against 2-5 Illinois, because of the aforementioned peskiness).
In the two weeks before facing the Buckeyes, Purdue allowed more than 700 rushing yards total to Michigan and Wisconsin, two of Ohio State's four upcoming opponents. Entering the game, the Ohio State rushing offense was on a roll and ranked eighth in the nation. 
So when Braxton Miller and company couldn't muster much on the ground versus the Boilermakers, panic set in about what that meant for later in the season. If Ohio State has their hands full with a team that Wisconsin and Michigan pounded, how will they beat them come November?
Memories can be short in college football; last week doesn't always foreshadow this week2. As poorly as Purdue had played the previous couple weeks, they hadn't looked that way the entire season. Another currently undefeated squad, Notre Dame, squeaked by them last month. Purdue was certainly capable of giving a superior team a game, especially one they have performed maddeningly well against in recent years. 
For most of the afternoon, the game appeared to be following the same script as those previous Ohio State vs. Purdue matchups, except this one didn't take place in the hellfire of West Lafayette. The offense was having problems putting anything together, thanks to a struggling quarterback who turned the ball over multiple times3. Purdue took advantage of mistakes by the Buckeye defense and special teams. Calls were not going Ohio State's way. In short, everything was coming up Boilermaker.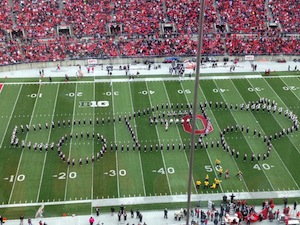 Just when Miller finally seemed to have hit the on switch, he went down with an injury and the chances for a victory diminished. But unlike 2004, 2009, or 2011, Ohio State was able to overcome their miscues while forcing Purdue to make some costly ones of their own.
Guiton rebounded from an interception, Chris Fields made the most of his first significant playing time this year, and the embattled defense, still faulty as it might be (see: Storm Klein in coverage, bubble screens), assembled a much more respectable effort than the past two weeks.
Whatever immeasurable quality this team has—grit, heart, confidence, spunk, a "never give up; never surrender" mentality—they've shown it time and again. 
But the Buckeyes proved to themselves something new on Saturday: they can win with their backs against the wall and minus their best player. There's a valuable lesson in that, one that defies the cliched notion that a team won't learn until they've lost4.  
That doesn't mean a loss isn't coming. If it happens, the warning signs have been present all along. This is an inconsistent, depleted team who has yet to produce a complete game. If Miller is healthy enough to play, there's the risk that he'll be tentative and not quite the same playmaker he was before he had to take a trip to the hospital.
An opponent could shut down the running game or stretch the defense out. The ups and downs of the special teams could trend mostly toward the latter. The other team could play out of their minds, or Ohio State could go through an entire game as if it's the first quarter.
And visiting Happy Valley to face the red-hot Nittany Lions means that getting to 9-0 will be even tougher.
So far, though, Ohio State has managed to arrive at 8-0. Flawed as some of those wins may be, there's a certain beauty that should be appreciated in any unblemished record. 
It's unrealistic to expect perfection from this team; that's not what got them to this point. But even more than as the resolute team who willed themselves to their eighth victory, these last four games will determine how this year's Buckeyes are remembered.  
For now, their shot at 12-0 glory is still alive. Maybe Ohio State keeps digging deep or maybe their deficiencies will catch up to them. From what we've seen on the field, either is possible with this team.