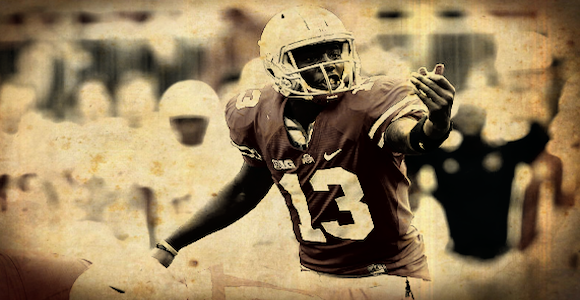 Ten seasons ago, Ohio State's most popular player wore the number 13.
Maurice Clarett wasn't the 2002 Buckeyes' most valuable player (Craig Krenzel) or their best athlete (Chris Gamble) but he was an enigmatic and conspicuous difference maker who garnered the most boisterous cheers every single time he trotted out onto the field.
And besides, Ohio State had a lot trouble winning without him. It's only been ten years; you probably still remember how that went.
Last Saturday with the Buckeyes foundering badly, another number 13 was unexpectedly thrust into the game. He had 15 minutes left to right the ship, and he used all but three seconds of it to tie the game and force overtime.
Nine plays into the extra period Ohio State was still undefeated, and Kenny Guiton was their hero. It took a full decade for number 13 to recapture Ohio Stadium's most boisterous cheers.
The kind words for Guiton have not stopped since Urban Meyer took over the program. Number 13 is one of the most popular players on the team, despite having spent his entire career behind every single other scholarship quarterback Ohio State has had from Miller to Terrelle Pryor and both of the players - Joe Bauserman (!), Taylor Graham (!!) - in between.
The backup quarterback regularly becomes the most popular guy on a team whenever the starter isn't performing to an acceptable standard. Ohio State's starter is the current favorite for the Silver Football and should be headed to New York City in December as a Heisman finalist, so that isn't a contributing factor.
This love affair with Guiton - which began long before his heroics on Saturday - is among the strangest phenomena that has ever been seen at Ohio State, let alone in football.
Every player seems to be rooting for Guiton's personal success, despite Miller's perch atop the depth chart. His fan club includes the most notorious number 13 in Ohio Stadium history.
"I had more fun watching number 13 playing today than you could possibly imagine," said Clarett on Saturday night via text message, following the Buckeyes' come-from-behind overtime victory over Purdue. "I was just so happy for him."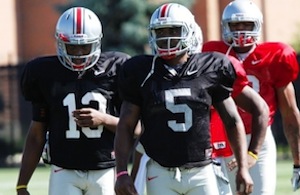 There shouldn't ever be a quarterback controversy between Miller and Guiton either: Number 13's future with a healthy number five available is limited to being a coach in pads or mop-up time custodian.
That would normally leave very little reason to get energized about his involvement in a live game. But as strange phenomena go, there is very little normal about Guiton's position within the current Buckeye football culture.
"You guys don't see him at practice," said John Simon to the media following the Purdue game. "(Guiton) gets every mental rep possible. He's coaching people all the time. Every time he gets in the game the team gets excited."
Remember: That last statement is about an unheralded backup. That last statement requires a Heisman Trophy frontrunner to exit the game. That last statement is breathtaking.
"You never want a starter to go down," said Simon, "but anytime you get to see Kenny go out there and perform and get everything he deserves, it is awesome to see."
Ohio State is always going to get everybody's best game regardless of whether Miller or Guiton is under center. They got Purdue's best shot on Saturday, and they can expect Penn State's finest performance to date this weekend. 
But unlike past seasons or in conventional situations, there is no fear in the backup replacing the prolific starter. Should Miller be unavailable or even just limited for the Nittany Lions - or in any game thereafter - there will be no downshifting in the confidence placed on Guiton. 
Conversely, it was alarming back when Bauserman was brought in to spell Miller by the previous coaching staff (if you're painfully recalling Nebraska's comeback last year with Guiton relegated to the bench, you're not alone). It was also always frightening to think about what might happen if Pryor ever went down.
And as you still remember from that undefeated season a decade ago, it was invariably scary whenever Clarett was unavailable to carry the ball. But losing Miller, while definitely not optimal, isn't terribly scary either. At least not with the kid who gets the team excited every time he gets into a game.
Opponents already fear what the Buckeyes' number five can do to them, and for good reason: Miller is a serious scoring threat every single time he touches the ball, which is just about every play that he's on the field. But that fear of the number 13 hasn't flared up for ten years.
It's still way too soon to call Guiton scary, but one thing is already certain: Ohio State isn't scared of him at all.