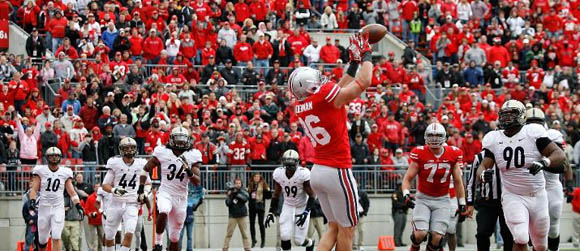 It looked bad, then it looked really bad, that's when it looked better, and then it looked great. Come on in, it's cold out there. This is your Purdue Debriefing.
Water Cooler Prep (Everything you need to know…in (more than) one paragraph)
On the First. Play. Of. The. Game. Caleb TerBush trotted out and hit RB Akeem Shavers for an 83-yard wheel route TD. (Spoiler alert: this is foreshadowing.) The extra point was blocked, making it 6-0 Boilermakers. On the following possession, Braxton Miller fumbled and everyone in Columbus wished this Buckeye team could skip the first quarter in all of their remaining games. 
The two teams traded possessions until Braxton put together a 67-yard drive capped by an untouched scamper for an 8-yard TD.
The Bucks were up 7-6 but the lead was short-lived as sophomore RB Akeem Hunt took the ensuing kickoff back 100 yards for a score. It was 13-7 and Akeem was the most unpopular name in Columbus.
Later the Boilermakers grinded out a clock-killing ten-and-a-half-minute drive, but the time of possession was all for naught as TerBush was intercepted in the end zone by C.J. Barnett.
Some punts, a missed field goal and an interception rounded out the end of the half, and Purdue went into the locker room leading 13-7.
Early in the third, the Scarlet and Gray put together an 80-yard drive to go up 14-13 and things looked back on track. That's when Danny Hope and his lip spinach decided to bubble screen the defense into oblivion, ultimately ending in a pass to Gary Bush for a TD (so many Akeems, so many Bushes). 20-14 Purdue.
On the second play of the ensuing drive, Braxton fumbled and the Fighting Big Drums recovered. A blocked FG by Johnathan Hankins gave the Buckeyes the ball back and all seemed well. That's when the sky fell.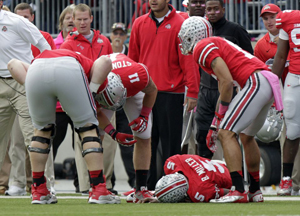 At the end of a 37-yard rush by Braxton Miller, Purdue CB Josh Johnson grabbed the back of Miller's jersey and drove him to the turf. Braxton appeared to hit his head and shoulder, and was down on the turf for quite some time. He was helped off the field and later taken to a hospital via ambulance with concerns of a concussion. Luckily, he passed all tests! Get well, Braxton.
Needless to say, the situation looked bleak. A (questionable) block in the back in the end zone by Jeff Heuerman for a safety made things even worse. Suddenly the Buckeyes found themselves down 22-14 without the engine of their offense.
A Kenny Guiton interception with 3 minutes left on the clock had fans working their way toward the exits. But, a three and out forced by the Buckeye D gave the Buckeyes one last gasp. The situation: 47 seconds left at their own 39 with no timeouts remaining. 
That's when Kenny became a G. 
A nice pass to Devin Smith for 39 yards opened things up. The Bucks opted not to spike it, instead firing an 8-yard pass to Evan Spencer followed by a spike. Carlos Hyde picked up the first down, and a pass interference call in the back of the end zone followed, placing the ball at the Purdue 2.
On the next play, Kenny rolled to his left and fired a ball to Chris Fields who made a nice diving grab. Still needing a two-point conversion to tie it, Kenny floated a beautiful melodic jazz tone in the form of a football to TE Jeff Heuerman to make it 22-22!
In overtime, the Buckeyes marched right down the field and punched it in on a Carlos Hyde run. Four plays later, the good guys held and the Scarlet and Gray were 8-0! You screamed "Kenny GUITON!!!!" at the top of your lungs and then your attention immediately turned to Braxton Miller.
Heard at the Tailgate (The Talk Before the Game)
"We haven't lost to Purdue twice in a row since the 60s. It ain't gonna happen again today."
"The defense will be fired up; they were embarrassed last week."
"Will Braxton hit 1,000 yards rushing today?"
Heard at the Afterparty (The Deets at the End of the Game)
"KENNY GUITON KILLED A BEAR WITH ONE HAND, EATS A FIVE-POUND SACK OF POTATOES FOR BREAKFAST AND RUNS A 2.4 FORTY!!"
"Seriously, is Braxton Miller ok?"
Give That Man a Buckeye Leaf (Player of the Game)
Kenneth Guiton. End of story. His stat line won't show it (6-11 for 77 yards 1 TD and 1 INT), but Kenny G just became a legend in Columbus.
Something tells me when Kenny suited up this morning he didn't think his name would be trending on Twitter.
Showing poise in a worst-case scenario, Guiton told everyone to "chill", played a few notes on his saxophone, threw on some shades, lit a cigarette and then threw a game-tying TD.
You're the player of the game, kid – enjoy it.
Weekly Snot Knocker
Please be OK.
Did You See That?! (Play(s) of the Game)
Guiton rolls left and fires a TD to Chris Fields, then hits Jeff Heuerman for a two-point conversion.
On the ensuing possession, Hyde pounds it in for the winning score. Still can't believe this happened.
 
When You Sank Into Your Chair (The Moment Buckeye Football Disgraced Your Family)
You guys ready to play football? No? Ok.
Jim Tressel's Least Favorite Moment of the Game
While painting his Union General Joseph Hooker figurine to complete his (to scale) Battle of Antietam diorama, Jim Tressel looked up to see this on his basement Panasonic.

He spit out his Charleston Chew in disgust and threw his prized general against the wall, leaving a red, white and blue stain that Ellen will surely find around Thanksgiving.
Complete Game Coverage
What You Texted Your Friend at the End of Each Quarter
First Quarter: REALLY?
Second Quarter: The mustache is just too much right now. OSU is the most unpredictable team in the nation.
Third Quarter: Worst. Case. Scenario.
Fourth Quarter: GUITON YOU RASCAL!
OT: What's going on with Braxton? What have you heard?
It Was Over When
Caleb TerBush's fourth-down pass, intended for Crosby Wright, sailed through the back of the end zone. The Buckeyes celebrated and so did you. Enjoy this ride, folks – it's why they play the games!
This has been your Purdue Debriefing…end transmission.