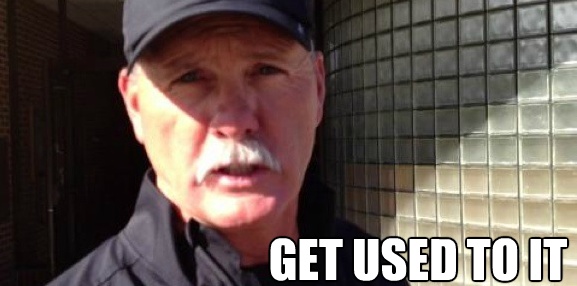 We're all painfully aware of it, but the casual college football fan would probably be surprised to find out that Ohio State is 3-3—well, 2-3 officially, thanks to rigged raffles and all—against Purdue in the last six meetings between the teams.
Never mind the fact that the Boilermakers are just 35-39 in those six seasons, while the Buckeyes went 58-19, on the field at least.
The teams have traded home wins in the last four years, with Ohio State taking care of business in the Horseshoe, while Purdue routinely pulled off upsets in front of a half-packed Ross-Ade Stadium. Most painful of these upsets was the 28-16 win over the #7 Buckeyes in 2009, thanks to four Terrelle Pryor turnovers (Purdue Harbor, never forget).
With the exception of the 49-0 Ohio State blowout in 2010, which doesn't count now, all of the games have been relatively close affairs, with the average margin at nine points.
Danny Hope, for all of his flaws in the 11 other games on Purdue's schedule, seemed to be the perfect foil for Jim Tressel and later, Luke Fickell.
Hopefully, that ends today.
Purdue wobbles in with the nation's 97th-ranked rushing defense, fresh off allowing 304 yards on the ground to Michigan two weeks ago, only give up 467 rushing yards to Wisconsin last week. Indeed, 176 of Montee Ball's 247 rushing yards came after contact.
We see you, Carlos Hyde.
---
Columbus radio personality Scott Torgerson, affectionately known as Torg by his minions, has not appeared on the air since tweeting that he wished Desmond Howard would die, leading to a stern smackdown from Kirk Herbstreit.
At this point, you have to wonder if the hiatus is a permanent thing. If it is, Torgerson will become the second high profile departure for the station in the last 18 months, following Bruce Hooley's ouster for trolling the hell out of Buckeye fans when Tressel stepped down.
If he goes, he won't go without the support of his fans. @SaveTheTorg is a actually a thing on Twitter, and there's an associated Facebook page that already has more "Likes" than this magnificent six-year old website you're presently reading. I give up.
---
Here's your full slate of relevant games today. Relevant meaning I was obligated to include some pretty awful-looking Big Ten matchups. Oh, and Boston College, because, Bollman Watch.
| Time | GAME | TV | INTERNET | FAVORITE |
| --- | --- | --- | --- | --- |
| 12:00pm | Iowa State at Oklahoma State | FX |   | OKST (-14) |
| 12:00pm | #6 LSU at #20 Texas A&M | ESPN | WatchESPN | LSU (-3) |
| 12:00pm | Minnesota at Wisconsin | ESPNU | WatchESPN | WIS (-17) |
| 12:00pm | Purdue at #10 Ohio State | ABC/ESPN2 (Map) | WatchESPN | OSU (-18½) |
| 12:00pm | Virginia Tech at #16 Clemson | ABC/ESPN2 (Map) |   | CLEM (-7½) |
| 3:00pm | Boston College at Georgia Tech | FSN Affiliates | ESPN3 | GT (-14) |
| 3:00pm | #22 Stanford at Cal | FOX |   | STAN (-2½) |
| 3:30pm | BYU at #5 Notre Dame | NBC | nbcsports.com | ND (-13) |
| 3:30pm | Indiana at Navy | CBSSN |   | NAVY (-2½) |
| 3:30pm | Michigan State at #25 Michigan | BTN | BTN2GO | UM (-9½) |
| 3:30pm | Nebraska at Northwestern | ABC/ESPN2 (Map) |   | NEB (-6½) |
| 3:30pm | #7 South Carolina at #3 Florida | CBS | cbssports.com | UF (-3½) |
| 3:30pm | #18 Texas Tech at #24 TCU | ABC/ESPN2 (Map) |   | TTU (-1½) |
| 7:00pm | #1 Alabama at Tennessee | ESPN | WatchESPN | BAMA (-20) |
| 7:00pm | #4 Kansas State at #17 West Virginia | FOX |   | WVU (-2½) |
| 8:00pm | #11 Florida State at Miami | ABC (Map) | ESPN3 | FSU (-21) |
| 8:00pm | Penn State at Iowa | BTN | BTN2GO | IOWA (-2½) |
| 8:00pm | #21 Cincinnati at Toledo |   | ESPN3 | UC (-5) |