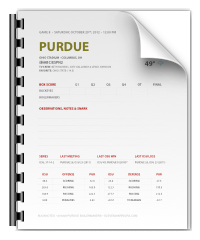 Bucknotes are your pocket guide for the game. Print them off and amaze your friends with your knowledge and insight.
Two years ago, a one-win Purdue squad took advantage of four Terrelle Pryor turnovers to upset #7 Ohio State in West Lafayette, leading first year coach Danny Hope to tell us all to "get used to it."
We were furious at the time, but thanks to a forfeited win in 2010 and another collapse in Ross-Ade stadium last year, Danny Hope, embattled as he may be, is officially undefeated at 2-0 against the Buckeyes.
Aside from trying to hand Hope a Buckeye loss that will pass a [citation needed] check on Wikipedia, tomorrow will also be a battle of Devin Smiths.
Purdue's Devin Smith is a juco-transfer holding down the right guard spot on the offensive line. Ohio State's Devin Smith is a burner that drops a sure touchdown every now and then, but always seems to redeem himself. Advantage: Devin Smith.