The Ohio State coaching staff has already secured verbal commitments from Middletown (OH) ATH Jalin Marshall, St. Louis (MO) RB Ezekiel Elliott, District Heights (MD) ATH Taivon Jacobs, and Riverside (CA) TE Marcus Baugh, but Coach Urban Meyer and the Buckeyes are still in search of additional playmakers to add to the offensive side of the ball in the recruiting class of 2013.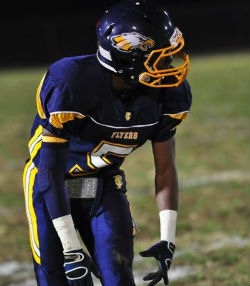 Frankfort (KY) Franklin County ATH Ryan Timmons could be just the guy they are looking for to complete the group.
At 5-11/180, Timmons is one of the top senior players in the state of Kentucky. The speedster has already accumulated 33 touchdowns in just 7 games so far this season, after scoring a total of 38 times all of last year.
Timmons boasts offers from the likes of Arkansas, Illinois, Kentucky, Purdue, West Virginia, and a couple of other schools. Despite not offering yet, The Buckeyes are expressing a high level of interest in the super athlete and sit right in the thick of things when it comes to landing his services.
In addition to success on the football field, Timmons won the Class 2A state championship in the 100-meter dash this past spring, showing one of the reasons why the Buckeye coaches remain in constant contact.
Timmons decided to take an unofficial visit to Columbus this past weekend to check out the Ohio State-Nebraska game. We caught up with the Kentucky native to find out how he liked his time in Columbus, what's going on with his recruitment, what will factor into his decision, and more.
Keep reading to learn more about one of the most explosive athletes remaining on Ohio State's big board, Ryan Timmons.
You took a trip to Columbus this past weekend. How did it go?
It went well. I walked around the campus a lot and talked to a few of the coaches, mainly the ones I talked to at camp. It was overall a good visit.
What did the coaches tell you?
They were telling me to stay patient and they were talking about me in every meeting. They said an offer could be close and not to forget about them.
Did you enjoy the game?
It was great. I definitely enjoyed it. The fans were really into it and the team is a lot better this year.
What was your favorite part of the visit?
Probably just talking to Coach Hinton and Coach Meyer and getting a better feel for what the team's like.
What did Coach Meyer tell you Saturday?
I only talked to him in his office for a little bit before the game Saturday. We didn't talk long and we didn't talk about an offer, just how things were going.
Who is your primary recruiter at Ohio State?
Coach Hinton is my primary recruiter, but I talk to other coaches as well.
Did you talk to any other recruits while at the game?
The only one I talked to was Drew Barker. He's also from Kentucky and we played against his team last year. I've known him since the summer.
Which schools are standing out right now?
Arkansas, Kentucky, Purdue, West Virginia, Illinois, and Ohio State.
Do you have a timetable for a decision?
Right now I plan on deciding at the end of my football season.
What would it mean to you if you were to receive an OSU offer?
It would help a lot. Coach Meyer is a great coach and has done great things at Florida and at other schools.
How's your football season going?
It's going well. We're 8-0 right now, playing for the division championship Friday. I have 33 touchdowns this year, most of them are rushing and receiving.
Do you have any upcoming visits planned?
No, I don't. I would like to go to Illinois and Purdue soon though.
Do you plan on enrolling early?
Whatever the school wants me to do. I should be able to graduate in the winter so I will just do whatever the school I commit to would like me to do.
What will be the biggest factors in your decision?
How comfortable I am with the school and type of offense they run. I like hurry up/spread offenses and want to be able to run and catch the ball.
What are your goals to close out the football season?
Mostly going undefeated with the playoff games included and winning the school's first football state championship.