Ohio State passed its first test on Saturday with high marks. Braxton Miller's three turnovers and the season's worst tackling display that led to a Michigan State touchdown could not damper the mood.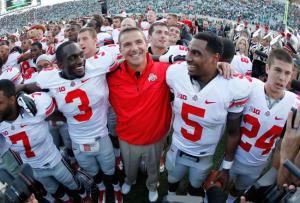 Urban Meyer's first foray into the Big Ten came on the road and in a stadium where the opponent had won 16 of its past 17 games. Still, the Buckeyes won, 17-16. It sets up another showdown next weekend, when Ohio State takes on Nebraska, who also came from behind in beating Wisconsin.
The Ohio State defense – aside from Keith Mumphrey's touchdown – looked nothing like the unit that was gashed the first four games. The nation's third-leading rusher, Le'Veon Bell, was held to 45 yards on 17 carries. This is the same player who has already had two games of 200 or more yards. On Saturday, his longest rush of the day was eight yards.
First-year starting quarterback Andrew Maxwell could never get comfortable throwing the ball against the Buckeyes. He was sacked twice, both coming in the fourth quarter with the Spartans trying to rally. He was also hurried six times in the game.
Due to Wisconsin's early-season struggles, the Michigan State game represented arguably the toughest road challenge for Ohio State all season. A win means an undefeated season becomes that much easier.
Meyer was as happy as I have ever seen a coach after a game. There was a long embrace with Zach Boren on the field and the jumping high-five he gave to Ohio State fans as he walked into the tunnel to the locker room. Following his postgame press conference, Meyer stood with his wife, Shelley, and son, Nate, soaking up the victorious atmosphere. It didn't even look like words were being spoken between the three. Instead, it was just a universal language – smiles.
"That was a great game," Meyer said. "This ranks as one of the great ones. I've been very lucky to be around great players and great teams. This ranks as one of the top wins. This was fantastic."
There was much interest in Saturday's game, being Meyer's first on the road and his first conference game. But his Buckeyes delivered when they were asked to take hold of the situation.
"A great team win," said Meyer, describing what had happened in Spartan Stadium. "We found out something about our team today, to go on the road in a hostile environment against a quality, quality football team and find a way to win. We answered every drive with another drive. When it was time to go make a play we did."
The game featured several hard hits, including defensive end William Gholston taking a hit to the head by his own teammate. Orhian Johnson and Christian Bryant were two of the Buckeyes that delivered some of the best "wood," as they say. For portions of the game, you would have thought it was two NFL teams.
"This was a war," Meyer said. "This was two sledgehammers going at each other. The Big Ten has taken some heat but that was a great game, a great atmosphere and a bunch of great players on the field who will play at the next level. That was good for the conference and good for the Big Ten."
Wide receiver Corey Brown caught 12 passes in the game, fourth-most all-time for a Buckeye. He was very aware of just how hard-hitting it was on the field.
"It was definitely a dog fight out there," he said. "We played against a really good team. Whenever you play in a dog fight you are going to feel a little roughed up after the game."
Miller was the recipient of some of those hard hits. One came when he was hit late out of bounds. He crashed into the Ohio State bench and missed playing time after the injury. It was one of many hard hits the quarterback took. Again, later in the game, he was down and missed a play.
"(It came) close to stopping," Meyer said about his heart when Miller was down. "I saw his knee jam right in front of me. I love Braxton, Braxton is my guy. I have a great relationship with him. He's family now. When something like that happens, I guess it's no different than John Simon. We're family now."
Miller elaborated – somewhat – on his knee injury after the game.
"It was aching at the time, but I'm going to get it secure. It's no big deal."
Corey Linsley, the guy who snaps the ball to Miller, has seen his toughness before, so it was no shock to him to see Miller in the game battling an injury.
"We already knew he was tough," Linsley said. "He was in the locker room showing emotion after the game. I saw the look on his face and went to cheer him up. He was hurting. To see him play through that pain and to now know how much he was hurting, that's awesome. That's a heck of a player right there."
Improvement isn't much to ask for. But the level of play the Ohio State defense exhibited for 60 minutes against the Spartans was probably more than could have been asked for prior to kickoff. They had nary a problem shutting down the high-powered Bell.
"I thought our defense was good enough to play better in the first four games," Meyer said. "That's how much confidence I have in our players and coaches. I think we have really, really good players. Do we have great players? I think a few of them. But I did have confidence in them."
He may have known the defense could play better, but to hold Bell not under 200 yards, or 150 or 100 – but to less than 50 yards? That was not expected.
"If I knew that, then why practice?" Meyer said. "We're good, we'll win the game. You know, not to pump his tires, but that's a good back. I'll venture to say that won't happen again to that guy. He's a good player."
Cornerback Travis Howard laid out the Buckeyes' defense game plan after it was executed almost flawlessly.
"We knew that Michigan State was a big run team," he said. "We knew they had a good back in Le'Veon Bell.  We knew they were going to give it to him as much as possible. Our whole scheme was to put nine in the box and just press on the outside, which was very effective."
In turn, it made Maxwell throw the ball, another part of the game plan.
"We knew that they wanted to run the ball, so that is what we were focused on. So we had to make them one-dimensional and shut down the run and make the quarterback beat us by throwing the ball."
Ohio State had an opportunity to end the suspense late in the game by running out the clock. In doing so, they would have to go right at one of the best defenses in the country. Despite the obvious play calls, Miller and running back Carlos Hyde had no problem rattling off yards and ending the ballgame.
"Against that front when they knew it was coming to just take the ball and end the game like that, that tells you a little bit about us," Meyer said. "I didn't know if we could do that. Did I think we could line up and just make holes and guys run through tackles like Carlos did? I thought – to say that I knew we could do that, if I knew we could do that we would have done that earlier in the game, too. That was a hell of an effort."
The offensive line, always the least appreciated group on a football team, took pride in that final series.
"Offensive linemen don't show up on the stat sheet," Linsley said. "So when you can do something like that, everyone knows it was on the O-Line and we responded and we reacted. We won the game. It is just a really good feeling. Obviously, we really appreciated everybody else. It wasn't solely us winning the game, but in the end we really mattered and we had to step up, it felt good to go out there and do it."
Meyer still reveled in the postgame glory, but he had two points to make – one comedicly.
"The one thing, if I remember right, (Miller's turnovers) were all in plus territory, though," he said. "If I remember, Braxton, Braxton and Braxton. I gotta go visit with Braxton. Remember that family member? He's not in the family anymore."
And…
"Our plan to win is play great defense. We have to score more points on offense, but that's a good defense. I'd like 70 every once in a while, but right now, we're happy to be 5-0 with a chance to be 6-0."
The celebration wasn't just limited to the Meyer family; the players also joined on the excitement. It went from the sideline to the field to the locker room.
"To see (Meyer) in the locker room after that win almost brings tears to your eyes," Reid Fragel said. "He was so joyful. It just felt like he was one of the guys. It was a really cool atmosphere."
In the first half, Bradley Roby, a member of the Buckeyes' "Freak Show" punt unit saw a weakness in Michigan State's protection. At his urging, Meyer called for the block. But when you are that adamant with the head coach, you better deliver. Roby did.
"I was saying, 'Coach, call black, call black!" (code for a block) Roby said. "I was yelling at him. I had that much confidence in myself that I was going to do that."
Complete Game Coverage
Ohio State's game-winning touchdown pass, a 63-yarder from Miller to Devin Smith, may have taken place in the third quarter. But the beginnings of it took place in the locker room at halftime.
"I kept telling Braxton that we've got to run the go route, they can't guard us," Smith said.

"Braxton was telling me we're about to go take a shot," Smith said. "At the line of scrimmage, he told me to run a go route. I made a little move at the line and just ran downfield. Braxton threw the ball on the money and I ran to the end zone."
Said Miller: "He's one of my favorite receivers so I'm going to always throw to him."
Ohio State was 4-0 entering the game, but it wasn't exactly bursting with flair and hype. The first four games saw flashes on both sides of the ball, but also sustained underwhelming play. That may have all changed against Michigan State, simply from outmuscling the Spartans.
"It's a real confidence booster, definitely," Brown said. "This is a real good team. I love this team. They know how to come out and win, especially the job the offensive line did at the end of the game to run the ball and have Carlos Hyde run the ball as well as he did. It was a confidence booster."
When you're a quarterback and you turn the ball over, short-term memory is key. Miller took that approach Saturday and came up big when the Buckeyes trailed late in the third quarter.
"You've got to forget about it," Miller said. "It's football, things happen."
Praise for Miller wasn't limited to the Ohio State locker room. Michigan State head coach Mark Dantonio and several of his players also gave the Ohio State quarterback high marks. 
"Braxton Miller is a very exciting player as we knew coming into the game," Dantonio said. "He took a lot of bad plays and made them good ones. He got out of trouble quite often."
Defensive Coordinator Pat Narduzzi: "I think we said earlier in the week he's a great quarterback. He can run the ball, and we just didn't make enough plays on him. He is their offense. He made plays and we didn't make plays at times. We had him in the back field a few times and he scrambled. Coach Dantonio talks about loose plays and he had some loose plays. We didn't make enough. Number five changed the game."
Linebacker Chris Norman: "He's very elusive. Braxton Miller is a dynamic talent. It was a really hard offense to defend. The guy can make plays. It was really frustrating at times, but you've got to roll with the punches. You've got to still try to make the plays you can. That's what we tried to do, but we came up short."
Maxwell and Bell elaborated on how the Ohio State defense was so effective in taking away Michigan State's rushing attack.
"They packed the box a little bit," Maxwell said. "When we were in power formations they would roll a safety down and pack it pretty good. They just played physical and did a good job stopping the run."
Bell: "They made us pass the ball. The safety wasn't actually on the line of scrimmage, but they brought him down to where the linebacker would. They played man on the outside and made sure to stop the run."