There isn't a more dangerous position in the country than Ohio State running back. On the day that Jordan Hall and Carlos Hyde finally got in the backfield together, it lasted all of two quarters in Ohio State's 17-16 win over Michigan State on Saturday.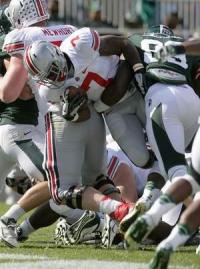 Hall went down late in the first half with a knee injury and did not return. Before his early exit, he was having a fine day, reaching the end zone and rushing for 32 yards on six carries. The mishap comes just two games after Hall returned from a foot injury and one week after a career-high 105 yards.
The Buckeyes were excited about having their top two running backs in the lineup together. The intrigue of putting them on the field at the same time drew suspense, but it never came to fruition against Michigan State. The two alternated the first few possessions until Hall's injury.
In Hall's absence, Hyde rushed for 49 yards in 11 carries. Modest stats, but the real game-changing runs came in the fourth quarter when Ohio State was attempting to run out the clock. On 3rd-and-4, Hyde busted through the line into the teeth of the Michigan State defense. They didn't drag him down until he gained the all-important first down.
"I came to Ohio State for plays like that," Hyde said. "Coach called my number and told me if I got the first down the game was over, so I was determined to get that first down."
Hyde had 18 yards on the final possession.
"That was a hell of an effort," head coach Urban Meyer said.
Meyer did not have specifics on Hall's injury or the severity, only that it was his knee. 
More Coaching Turmoil
In the months after Urban Meyer's hiring in November, he drew the ire of some fellow Big Ten coaches. Wisconsin's Bret Bielema threw barbs about the de-commitment of Kyle Dodson, going as far to accuse Meyer of recruiting improprieties. Michigan State head coach Mark Dantonio also was upset with Meyer's recruiting practices. Se'Von Pittman, a one-time Spartan commit, changed his mind and pledged his allegiance to the Buckeyes once Meyer came onboard.
It was all ironed out, though, with a little help from Big Ten commissioner Jim Delany. At Big Ten media day in July, Meyer and Bielema spoke of each other as if they were best friends. Then, during the lead up to Saturday's game, Meyer and Dantonio praised one another.
The back-patting came to an end almost the second after Meyer and Dantonio shook hands at midfield following the Buckeyes' win. Michigan State defensive coordinator Pat Narduzzi told the Detroit Free Press that Ohio State altered the required game film that teams send opponents.
The accusations center around Ohio State allegedly cutting out pre-snap motions and shifts.
"We had tape cut off all week, where they changed the tape, I'm not gonna lie to you," Narduzzi told the Free Press after the game. "They send you tape and they've got it all cut off and you don't get to see shifts or motions or anything else.
The full tapes finally arrived on Thursday, but by then all the game-planning was over.
"It doesn't help you," Narduzzi said.
Michigan State conveyed its complaint to the Big Ten office, but reports are that Michigan State athletics director Mark Hollis and Ohio State AD Gene Smith squashed the issue.
When asked about it outside the Ohio State locker room, Meyer said, "I don't know anything about that. I don't handle the video. What are they saying?"
Silver Bullets Regain Their Shine
After California gained more than 500 yards on the Ohio State defense, alarm bells went off. When Alabama-Birmingham put up 400-plus, panic was nearing, especially with Le'Veon Bell on tap.
Not to worry. The bend-but-don't-break defense didn't even bend on Saturday. Bell, the nation's third-leading rusher before Saturday was limited to just 45 yards on 17 carries, well below his average of more than five yards per carry. It's safe to assume Ohio State will no longer be last in total defense in the Big Ten.
"On defense, are you kidding, if you had to say who was the MVP, it's that defensive line and the linebackers," Meyer said. "They did a very, very nice job stopping a very good rushing attack."
Bell, a native of Columbus, was averaging 152 yard per game. Twice this season he's rushed for more than 200 yards in a game. 
"That's a good back," Meyer said. "I'm venturing to say that won't happen again to that guy."
Complete Game Coverage
Ohio State limited Michigan State to 303 total yards and 34 rushing yards. Bell actually gained more yards receiving than rushing, hauling in eight passes for 58 yards.
"They made us pass the ball," he said. "The safety wasn't actually on the line of scrimmage, but they brought him down to where the linebacker would. They played man on the outside and made sure to stop the run."
The biggest miscue the Ohio State defense had all day was in the third quarter when no less than five Buckeye defenders made contact with wide receiver Keith Mumphrey, only to allow him to reach the end zone. On the final 10 yards of the 29-yard catch-and-run, Mumphrey had a number of Buckeyes on his back, some trying to strip the ball from his grip.