Ohio State and Michigan State have high hopes for 2012.
The Spartans are coming off successive 11-win seasons. They won a share of the conference championship in 2010, and then lost in the inaugural Big Ten championship game a year ago. Gone, though, is three-year starting quarterback Kirk Cousins. In his place is Andrew Maxwell, who has struggled in the first four games. The Spartan offense goes as Le'Veon Bell goes, the nation's third-best rusher.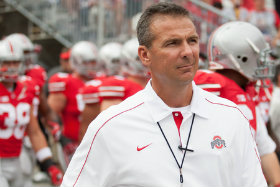 For the Buckeyes, it's all about redemption. Last season was a low point for the historic program, both in terms of on-field performance and off-field actions. But with Urban Meyer's arrival came a calming sense of relief and belief.
Buckeye Nation immediately ratcheted up the expectations. When you've won at Bowling Green and Utah, and defeated Ohio State 41-14 to win a national title, Columbusites expect instant results.
So far, they've gotten them. The Buckeyes are 4-0 and ranked 14th in the AP poll. But the offense and defense have been far from perfect. This weekend, for the first time all season, both units will be fully healthy and give Michigan State looks it has not yet seen on film.  
Meyer said he is very excited about Saturday. He said he's loved road games since he was a graduate assistant at Ohio State in the 80s.
That was Meyer's first experience at Spartan Stadium. He became much more familiar with East Lansing when he was an assistant at Notre Dame.
Meyer said it's a hostile environment with the fans right on you. But in a play to his crowd, he said the MSU fans aren't as loud as Ohio State or Notre Dame fans.
With the first road game comes the first travel roster. Meyer said it's obvious who will be on it.
Four Buckeyes that will travel to East Lansing: Carlos Hyde, Michael Bennett, Bradley Roby and CJ Barnett.
Hyde is ready to go and WILL play. Meyer said he's looked good in practice this week.
The full backfield should be a huge boost to the offense. Meyer lauded running backs coach Stan Drayton for the job he's done with the backfield and preparing them each week.
Meyer said Jordan Hall is getting closer to being 100 percent.
Bennett's status is still uncertain. No word of if he will play or not.
In the secondary, Roby is looking good, but Barnett's situation is more murky. Meyer said he could possibly miss the game.
In practice this week, all facets of the game – offense, defense and special teams – have been emphasized. The Buckeyes need to improve at everything, Meyer said.
Meyer said offensive lineman Marcus Hall is getting better, but he is still nowhere near where he can be. Hall has a lot of potential, Meyer added.
Ohio State has been practicing with crowd noise all week. Today the Michigan State fight song could be heard loud and clear in the media waiting area.
Wednesday was a good day of practice, according to Meyer. He said there was a lot of energy. The team is getting excited for playing a conference rival.
Rod Smith and Bri'onte Dunn have acted as Le'Veon Bell on the scout team. Meyer said they've been running hard right into the defense all week.
Meyer knows Mark Dantonio well. When Dantonio took over at Cincinnati, one of the first phone calls he made was to UC grad Urban Meyer. Meyer described him as a "quality guy."
Meyer said Ben Buchanan is getting punts off in enough time. That was not the problem on Saturday, according to Meyer. He said Buchanan had no chance.
Last week, Braxton Miller gained more responsibility, being able to call audibles at the line of scrimmage. Meyer called it a normal progression and said by next season he hopes Miller can have the full playbook in his mind and go to the line with options to run any play.
The freshmen have to step up this weekend, Meyer said. They aren't freshmen anymore. "It's not Week 1," Meyer said.
Miller said last season's Michigan State game is a blur. The Spartans had nine sacks.
After watching film, Miller couldn't believe how skinny he looked. He said he's much more developed this year physically and as a QB.
The Michigan State defense uses a lot of disguised coverages, Miller said. They also use a lot of man converages on the wide receivers.
As a quarterback, Miller said it makes him excited. He said he has confidence in himself and his wide receivers to beat the MSU corners.
On offense, Miller said he feel like a leader now, especially since he gets the ball on every play.
Miller said he enjoys silencing the road stadiums.
Corey "Philly" Brown said he and Miller have specific signals to use when they see something at the line of scrimmage. Miller has signals with all the wideouts.
Brown enjoys running the ball and said the coaches do a good job getting him in space, one of Brown's strengths.
Doran Grant's dad was an All-Big Ten wide receiver at Michigan State. Grant said his dad would definitely be wearing Green and White on Saturday. Asked whom his dad would be rooting for, Grant laughed and said he didn't know.
Grant has been taking reps with the first-team defense since fall camp. The number has not increased this week.
Jake Stoneburner called himself a tight end that's split out wide.
Stoneburner said the Michigan State defense is "incredible."
Last season, Michigan State's defense dominated Ohio State, but this is a new offense, Stoneburner said. He said Ohio State runs a unique version of the spread offense not seen in the Big Ten.
Miller is a completely different player from last year's game, Stoneburner added.
"They have a lot of preparing to do." – Stoneburner on the MSU defense.
Johnathan Hankins said Bell is a good runner, powerful and strong.
The Buckeyes will have to do a lot of gang tackling on Saturday, according to Hankins.
Old-fashioned, Big Ten slugfests are the type of games Hankins prefers.
Ohio State has the worst total defense in the league, but Hankins said as long as they keep winning, that means they did their job.
Hankins said he and high school teammate William Gholston talk every week.