When most people look back at the Ohio State 2002 National Championship team, they think of the lockdown defense and clock-eating running game led by star freshman running back, Maurice Clarett.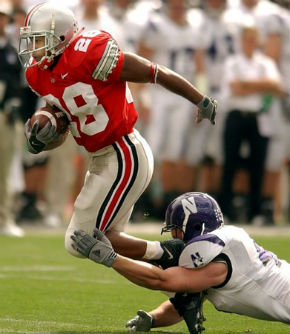 On offense, if it wasn't Clarett, many would think of QB Craig Krenzel, WR Michael Jenkins, WR/CB Chris Gamble, any of the stellar offensive linemen up front, and so on.
The point is, most Buckeye fans who followed the team closely at that time wouldn't immediately think of the unsung heroes of that 2002 championship team that played integral roles in that season's magical run.
One of those "unsung heroes" was sophomore running back Maurice Hall, who split time in the backfield that year with Clarett and Lydell Ross, yet had a tremendous impact on the success of the team.
After coming to Ohio State in 2001 as Ohio's top running back, Hall was expecting to start in his second season in Columbus. Obviously another top Ohio running back from Youngstown changed that plan a bit, but Hall still went on to carry the ball 78 times for 370 yards and 4 TDs in the 2002 season (while also returning 19 kicks for 434 yards), including back-to-back game-winning scores against Illinois and Michigan late in the season to seal the team's undefeated regular season mark.
While Hall never had the overall success that both he and fans hoped for during his time in Columbus, his contributions to the 2002 team will never be forgotten. He gave everything he had to Ohio State during his four years with the football program and his impact on that special season cannot be questioned.
We caught up with Maurice to see what he is currently up to and look back on his playing days in Columbus. Join us after the jump to hear more from one of the championship team's unsung heroes of 2002 and true Buckeye for life, Maurice Hall.
You spent four good years at Ohio State from 2001-2004. Can you walks us through your time leaving Ohio State up until where you are today?
When I left Ohio State, I had a quick stint with the San Diego Chargers. I got cut in 2005 and I knew football wasn't in my future, so I decided to go back to school to get my Master's degree in Sport Management.
During my time getting my Master's, I interned with athletic director Gene Smith to learn the business of athletics. I enjoyed my time there and felt there was a future somewhere in the sports field for me and shortly after getting my Master's degree, I started working as a sports analyst on television.
I started with ABC in Columbus and then moved to NBC the next year. I spent my time on-air with NBC until 2009, covering both Ohio State football and Football Friday Nights for High School. It was on Fridays that I started doing some skits and really feeling comfortable in front of the camera.
That led me to be interested in doing television in different capacities, so I talked to a friend who was currently doing some commercials in Columbus. He put me in touch with his agent, who wanted to sign me as a client.
She had me start taking acting classes, and while I was skeptical at first, I started to get back that passion I had for football and channeled it to acting. I started to book some independent films and plays, but after a little while I knew that if I wanted to pursue an acting career that I couldn't do it in Columbus.
I was working for Target at the time in Columbus and it just so turned out I was fortunate to get promoted within the company and relocated to Los Angeles. It was the perfect storm as I was able to stay employed by the same company, while also allowing me to move somewhere I needed to be in order to develop my new career.
So you moved to Los Angeles where you currently still live. What are you doing now?
I have been in Los Angeles since 2009 and I am just going at it hard to try and make it in film. I am working at an Equinox (gym) to pay the bills, but doing acting full-time mostly. I have had some small stuff here and have written and directed my first web series as well. It is called "Shadow Love" and we premiered the first season and are currently in the process of fundraising and editing the second season.
What struggles come with the industry you are in and how does it compare to the difficulties you faced as a football player?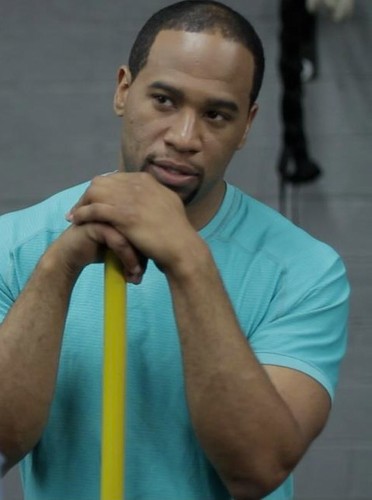 There are definitely many struggles that come with this industry. I didn't realize how crazy it was out here before I arrived, but now I do. Everyone out here is trying to do something in the business, but the biggest challenge I've probably faced is just trying to get in front of the right people and going through the process of networking. As I said, everyone is out here to make it in this business so finding out how to separate myself from the next person is something I am still learning.
Also, the costs of living out here and investing in the career is extremely high. I'm living paycheck to paycheck so that's definitely hard. The only reason I am able to make it happen is because my job is so flexible that I can make my schedule around when I have auditions. When I was working for Target there were many times I had to sacrifice auditions because I was supposed to work and needed the money to pay the bills.
As things compare to football, I think they are both mental things. I have to keep myself up when things don't go my way and keep myself motivated. It's also a competition and my background in football helps with those aspects.
What lessons did you learn at Ohio State that have helped you with your current career?
I think having a plan and measuring progress have helped me the most. Coach Tressel always used to have us plan out our goals for our career and individual years and after each year we would look back at those goals and see how we were progressing. Being able to learn how to do that then is helping me now.
Also, overcoming obstacles is something I learned at OSU that is helping me now. In 2002, our team was always in close games and we had to overcome many obstacles in order to achieve what we did. The lessons I learned on that team will help me for the rest of my life.
Anything outside of your current job that you want us to know about?
Yes, I actually got engaged in March and will be getting married this upcoming April.
The 2002 team is being honored at the Michigan game this year. Are you planning on attending?
Yeah, I definitely plan on attending if I can afford to get out there. It will be a special occasion.
You mentioned Coach Tressel before. Do you think he'll be there?
I know there has been a lot of talk about Tress and if he should be there or not, but in my opinion if the national championship team is being honored, there is no way you can do that without Jim Tressel. I don't know if I will go if he doesn't.
Who do you still talk to from the 2002 team?
Antonio Smith, Dustin Fox, Mike Jenkins, Chris Gamble, and Drew Carter are the guys I talk to the most. Drew is actually out here in Los Angeles trying to get into acting as well.
Looking back on that special season, is there one play that stands out to you? Is there an individual play you made that stands out?
Overall, I'd have to say Maurice Clarett's strip of Sean Taylor in the national championship game is what stands out to me. That was the most pivotal moment of that game.
As for individual play, I would have to say it was the game against Michigan. Maurice [Clarett] catches an out and up to set us up for the score and then the coaches call a run option that we hadn't run all year. We had practiced the play all year, but never run it in a game. When they called it I couldn't believe it and was just like "wow", but was ready for it. I saw the Michigan linebackers slide over before the snap and once I saw that, I knew all I had to do was catch the pitch and it would be a touchdown. Cato June came over and hit me pretty hard late, but I didn't even care, I was so happy.
You mention Clarett. What was he like as a teammate that season? Did you ever feel overshadowed by him that season?
When talking about Clarett, you couldn't question his passion and work ethic. Just being with him every day, you see why he was so successful and it's because of all the things he did in the weight room and the film room. That guy worked so hard.
As a teammate, he was a good one. Things were rocky between us at first as we were both running backs who were competing and wanted to play more, but once game time came along, there was no better teammate than Maurice Clarett. He was so zoned in on helping the team win the game and was so selfless during games. He would do whatever he needed to in order to help us win and whatever was best for the team.
Initially I did feel overshadowed. I had been told by many people that I would be the starting running back that year and so I was expecting it. I wanted to play more and felt I should play more back then, but everything happens for a reason and things worked out for the best.
Going into the national championship game, what was the mindset of the team?
We all just felt like there was no way we were going to lose the game. We certainly heard the hype around Miami – I mean look at the NFL right now and half that team is still playing in the league. I guess the team just took it as a business trip when we went to Arizona and our mentality was we couldn't settle for anything less then a win.
There was great senior leadership on that team and we relied on that. The biggest thing that sold me that we could win that game and fulfill our destiny as national champions was Mike Doss. The year before we were 7-5 and Mike could have went to the NFL and been a first round pick. He decided to come back to school because he said he wanted to win a championship. I felt that if he truly believed we could win a championship after going 7-5 the year before, then I believed we could really win one. I was too immature then and there's no way I would have turned down the NFL and the money after a mediocre year in 2001, so seeing him come back really made me believe.
Overall, I will tell you though that while we were all business, the experience in Arizona was unimaginable. Everything you wished and hoped it would be, it was, and it was a great time.
Who is the best player you ever saw live?
There are so many great player that it's hard to pinpoint just one. While I was in San Diego I got to play with Drew Brees and LaDainian Tomlinson. Both of those guys are Hall of Famers and are really good. At Ohio State I would say the two best I saw were Chris Gamble and Maurice Clarett. Also, Ted Ginn Jr. was by far the most exciting player I have ever seen and Troy Smith was really good too. Just seeing what Troy overcame and became makes me have a lot of respect for him.
What is one thing you want to say to Buckeye Nation?
I would just say, stay like you are. Buckeye Nation is so passionate about our team and we are always striving for greatness and we cannot change that. We must support our guys and root for their success and also forgive them when they make mistakes. Just continue the passion you have for this team and The Ohio State University and continue to strive for greatness and nothing less.
Special thanks to Maurice Hall for his time. You can follow him on Twitter @ReeceHall28. Also, check out his budding acting career as well as the site for his web series "Shadow Love" at shadowlovetv.com.