After writing on Friday that I fully expected the UAB tilt to be the confidence builder the Buckeyes needed ahead of their trip to East Lansing, instead Ohio State played to the level of their competition on the way to an uninspired 29-15 win over the Blazers.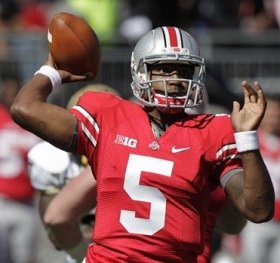 The Buckeyes struggled with consistency in all three phases by getting a punt blocked and giving up 403 yards of offense to the nation's 108th-ish most prolific scoring offense while poorly executing their own offense save a five-minute stretch in both the 2nd and 4th quarters. 
Clearly, this team is doing its best to remind us it only won six games a year ago and that adding a sprinkle of contributing freshmen and some new coaches simply isn't enough to turn things around on a dime. It's a process. And that process will sometimes prove unnerving. 
Still, the good news is that the team gets to try and work out the kinks following a win versus learning from a loss. 
Plus, while going on the road is always a challenge, the Spartans don't appear to be as slightly-above-average as they looked to be on paper before the season began. Added bonus: you'll have more time to get your mind right as the Buckeyes avoid the noon TV time slot for the first time this year. 
Disclaimer: Out of respect for my retinas, I didn't re-watch this one. Out of respect for you, I'm going to keep today's Five Things as short as possible. 
"A Win is a Win"
Except when it isn't.
I hate when I hear fans utter that lazy phrase after a closer-than-expected game that is more the product of the highly favored team stinking up the joint than it is the underdog playing out of their collective minds. 
When I hear/read fans say it, I can only assume they are disgustingly willing to accept mediocrity simply becaue their team played a little less awful than the awful opponent. That type of mindset seems to be more regional so maybe it's the just the years of B1G football causing mental wear and tear. 
That said, it's basic math that with so many fans, how wins/losses are viewed will always be fluid. With coaches though, that's when I hope for a little more consistency.
Typically, Urban's postgame presser will include a positive remark about the fact a win was accomplished and the players should feel good about it. That's fine. They should. They work harder than we do all for the purpose of collecting wins. At the same time, Urban won't hide behind a win and refuse to acknowledge mistakes and deficiencies that need corrected.
With that, I was mildly surprised at what co-defensive coordinator Everett Withers had to say following yesterday's effort put forth by the Bullets:
"I think we gave up 15 points. That's all I give a sh-- about."
I hope that's just frustration talking. The defense really only gave up nine points but I'd be shocked if that's truly what Withers is taking away from yesterday.
Don't get me wrong, the D made some plays as UAB crept to the OSU side of the field but it still surrendered over 400 yards again, generated just one sack against a team that was ranked 115th in sacks allowed, missed another dozen tackles and racked up a few more ridiculously undisciplined penalties while basically being dictated to for much of the afternoon. 
Let's hope Withers and his fellow defensive staffers have higher goals than only giving up nine points to the Blazers and 915 combined yards the last two weeks. 
1st Things 1st
While the defense has taken its share of hits the last few weeks, one key factor I don't think is being discussed enough is how opponents are faring on first down. 
A week after Cal picked up 22 first downs on the way to 512 yards of offense, UAB picked up another 22 first downs, as part of a 403-yard outburst.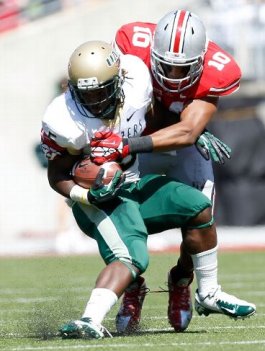 Too often, the Buckeye defense is settling for being dictated to on first down, often giving huge cushions on the corners leading to way too many 2nd and medium/short situations, which is just one of many factors causing Ohio State to consistently lose the time of possession battle. UAB held the ball for eight more minutes than OSU yesterday, though that is a slight improvement in the 10-minute edge Cal had last week.
Yesterday, the Blazers ran 31 plays on first down. Exactly one went for negative yardage (-8) via a Doran Grant sack late in the 3rd quarter of the drive in which UAB cut OSU's lead to 21-15 with a 34-yard field goal. The coaches can't be pleased that only 3% of UAB's first down snaps went for negative yardage. 
Another nine first down snaps went for no gain - all incomplete passes - meaning the Buckeyes never stopped UAB for negative rushing yardage on first down (11 att) save for one sack. 
Meanwhile, 13 plays went for at least four yards (42%) and nine went for at least seven yards (29%). 
Putting the opposing offense in favorable 2nd down distance is compounding the defense's woes of being unable to dictate anything as offenses have a lot of plays to choose from on 2nd and favorable. 
No matter what Withers says, I have to believe the issues on first down have to be troublesome especially when they come against a Conference USA foe. 
Sluggish Start Returns
After scoring two TDs in the 1st quarter against a serviceable Cal team, the Buckeye offense sputtered out of the gate against UAB. 
Not only were the Buckeyes held scoreless in the opening quarter, they didn't put points on the board until just over six and half minutes remained in the first half.
Ohio State has survived two listless starts in four outings thanks largely to the fact they came against Miami and UAB, but even though the B1G looks to be decidedly mediocre, falling behind early in conference road games can often prove burdensome to overcome.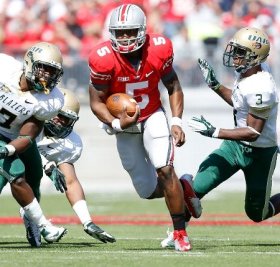 Looking at yesterday, I want to give Herman and Meyer a pass because their plan was obviously to use Braxton in the run game as little as possible, thinking he'll have to carry it a minimum of 20 times next week for the Buckeyes to have any shot of winning in East Lansing because clearly, this offense is stuck in the mud if Miller's not taking things into his own hands feet. 
For his part, Braxton was a dismal 1/5 passing in yesterday's opening quarter but the zero designed runs for him were just as big a factor in the zero point, 42-yard output. 
On cue, Braxton carried it just three times in the 2nd quarter but the results were impactful. His first tote came on Ohio State's fourth possession and 18th play from scrimmage, resulting in a 14-yard gain on what became a 10-play, 75-yard TD drive that cut the Blazers' lead to 9-7 with 6:31 left in the half. 
His second carry came on the ensuing possession, culminating a five-play, 75-yard TD drive with a 12-yard run to paydirt making it 14-12 good guys with 1:50 before intermission. 
Following a Doran Grant fumble recovery at the UAB 32, Miller's third and final carry of the opening half went for 19 yards to the Blazer 13-yard line and Ohio State cashed in two plays later, taking a 21-12 lead into the locker room. 
No question, Herman and Meyer were hoping Jordan Hall or Philly Brown would make a big play early, allowing them to keep the safety shackles on Miller but that just wasn't the case. Hall was decent in the first 15 minutes with five carries for 24 yards and a catch for seven more while Philly rushed one time for four yards and was only targeted once by Miller through the air. 
Of course, as Miller's accuracy improved in the 2nd quarter, Philly was a benefactor, hauling in three passes - all during TD drives - for 11, 20 and 25 yards respectively. 
The Buckeyes expect Carlos Hyde back next week but even with another offensive skill player returning, it's clear the playmaker shortage is putting great onus on Miller and added stress on the staff when it comes to balancing Miller's touches (i.e. health) with the need to move the ball and put up points especially while trying to avoid falling into a hole early. 
Isn't That Special
I was really looking forward to seeing how the Buckeyes would operate on special teams this year knowing Urban was the man in charge of Florida Gator units that blocked 21 punts, eight field goals and a handful of extra points during his six years in Gainesville.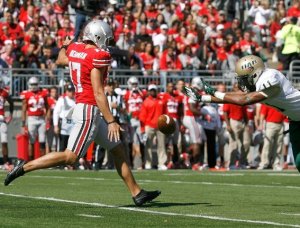 In fall camp, the Buckeyes even went so far as to name their punt block unit "The Freak Show". 
Through four games, there's no doubt the special units have been a bit freaky. Just not in the way many of us expected. 
Yesterday's train wreck saw the Buckeyes get a punt blocked – at least I assume that's still what you call it even when the punter doesn't have time to even get foot to leather – in addition to extending a UAB drive after running into the punter and finally, allowing the Blazers to recover an onside kick to start the 2nd half.  
The punt block was the most egregious as UAB loaded up one side and sent two guys through the A gap completely untouched, forcing Boren to pick his poison. Outnumbered in the back line, it really didn't matter what he did because as long as the UAB rushers had spacing, the play was doomed. Urban noted the unit was playing without Barnett and Roby but I have to believe there are 10 guys on the roster, even without those two, capable of ensuring Buchanan has enough time to punt. 
As for the onside kick, it looked like UAB took advantage of the Buckeyes playing just a couple guys close to the required 10-yard mark a kick must travel for the kicking team to successfully recover. Good recognition and execution on their part but the Buckeyes just can't allow that to happen. 
Hankering for Positives
Though the game left a bad taste in everyone's mouth, there were still some positives, improving to 4-0 chief among them. 
Other than the W, the most positive thing for me was watching Johnathan Hankins. A week after setting his career high with 10 tackles against Cal, the easy-going, 6'3", 322 lb. junior racked up another ten stops against UAB including a .5 TFL. 
The defensive line has taken a bit of heat for failing to generate their own pressure on the opposing QB but Hankins has done his part. 
Through four games, Hank is tied for 3rd on the team in tackles (25), and is tied for the team lead in TFL (2.0) and sacks (1.0). Those last two numbers are far from jaw-dropping but the spread offenses have had a hand in limited productivity in those areas. 
Doran Grant was also outstanding in his first career start recording seven tackles, a fumble recovery, an interception and a sack in place of the injured Roby. Obviously, the two turnovers were the most easily noticed but I was impressed with how aggressive the 5'11", 188 lb. sophomore approached tackles. He looked steady and aimed low when bringing down ball carriers. 
Finally, congrats to Jordan Hall on the first 100-yard game of his career. He's not yet shown a big-time playmaking ability but he is averaging 5.6 yards per carry coming off a significant foot injury.