Ohio State is 2-0 and welcomes the California Golden Bears to Ohio Stadium this week. The record isn't all roses, however. Head coach Urban Meyer wasn't pleased with Saturday's performance against Central Florida immediately following the game, and watching the film didn't cause a 180 on his thoughts.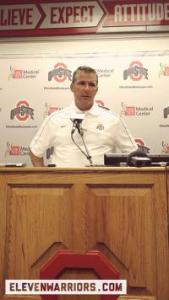 There are still plenty of areas that need improvement. For the Buckeyes, the fix-up period began on Sunday in an hour-long practice session.
Meyer said Central Florida will win a lot of games this season and that they have a number of players who will play beyond college football.
The Buckeyes did not execute Meyer's "Plan to Win" very well Saturday, despite the win. Meyer said the defense did not play great defense and the team did not win the turnover margin.
"We get paid to score touchdowns, not kick field goals." –Meyer on himself and his coaching staff.
Champions on defense from UCF game: John Simon and Johnathan Hankins (defensive player of game).
Champions on offense: Andrew Norwell, Evan Spencer, Devin Smith and Philly Brown (offensive player of game). Brown graded out 95 percent.
Meyer said Brown is clearly the No. 1 playmaker at this point.
Jamal Marcus was the special teams player of the game.
Jordan Hall will run today. Meyer doesn't know if he'll be able to play Saturday. His performance in practice this week will determine that.
"Whoever has the best Tuesday and Wednesday is going to lineup at tailback." –Meyer
He said Bri'onte Dunn is not the defacto starter. He has to prove it in practice. Meyer said he is not against having Zach Boren be the primary ball carrier.
The big plays against the defense have to stop, Meyer said. Identifying the pass rushers is a must. Meyer said that is a direct correlation to big plays.
The defense may start blitzing if they don't have enough winnable 1-on-1 matchups. Simon has been battling double teams in both games. That is why Bennett's absence is so big.
Meyer started a new Sunday night tradition called "Victory Dinner." Attendance is mandatory.
Meyer said it was a personnel error, not a problem with the scheme on OSU's failed 4th-and-1 attempt against UCF.
Nathan Williams will likely by week-by-week all season. Meyer said he hopes he is available this week, but he doesn't know.
There were several broken plays Saturday because players did not do the correct responsibility, Meyer said. Linemen, wide receivers and running backs all did incorrect things.
Confirmed by Meyer: Carlos Hyde has MCL sprain, will miss this week. Michael Bennett is questionable.
Meyer said the 10 minutes he spends with the special teams unit are his favorite of the day.
Meyer said he never lost trust in Jake Stoneburner, but he was very upset and disappointed in the senior after his arrest.
Bob Knight will be inducted into the Ohio State Athletics Hall of Fame this week. Meyer said he had Knight speak to his team at Florida. The two are close friends and speak every so often.
Meyer calls Knight a master motivator and says he does it the right way, no cheating.
When the subject turned to Braxton Miller, Meyer absolutely raved about him. He referred to him almost a dozen times as "a hell of a football player." Meyer said Miller is much better than the rest of the country realizes.
Meyer's non-conference scheduling philosophy: play one good national team, one decent team and two "other" teams. That last note was him just being politically correct. Other = bad.
In his talk with John Cooper this week, Meyer said he learned that Cal has several draftable players. Some are fringe first-round picks.
Unlike the first two opponents, Meyer says Cal will dare Ohio State to beat them with the pass.
Meyer also had good things to say about Adolphus Washington, Noah Spence and Tommy Schutt. He said Buckeye fans will be happy with them for the next few years.
Cornerbacks coach Kerry Coombs said Travis Howard has worked hard since Day 1. He said he worked on his footwork all off-season and it has contributed to his three interceptions.
Coombs referred to Howard as one of the most gifted athletes he's ever coached.
The big pass plays against Ohio State have been communication breakdowns, Coombs, said, not necessarily bad schemes or defensive sets.
Coombs said he doesn't think you ever feel good about depth, regardless of how many guys you have and how good they are.
The secondary has three No. 1s, according to Coombs: Howard, Bradley Roby and Doran Grant. Adam Griffin is the next guy in line with true freshmen Armani Reeves and Najee Murray next.
Ohio State is third in the country is intercepting passes. Coombs said that is by design, not accident.
The objective for the secondary is to cause offensive breakdowns based on using multiple coverages.