Urban Meyer took the head coaching job at Ohio State because it was his dream job. They exist for everyone in every profession, but few of us are able to attain that perfect vision. 
At Saint John High School in Ashtabula, when it came time for the football team to pick jerseys, there was only one number Meyer had in mind: 45. It was the same number that adorned his favorite player's back and chest a couple hours down the road in Columbus, Archie Griffin. 
Adam Griffin came to Ohio State because, almost literally since birth, he couldn't imagine going any place else. Growing up in the shadow of Ohio Stadium with a surname that causes double-takes in Columbus, Griffin was the kid who played for Ohio State in his front yard among brown and orange leaves under gray skies. 
The son of Archie, college football's only two-time Heisman Trophy winner, Adam learned at a young age what it's like to follow in the footsteps of a legend. But the inevitable comparisons to his famous father have never bothered the quiet and reserved younger Griffin.
"I don't really think about it that much," Adam said. "I guess it's kind of the way I've always been. Even back in little league, I never thought about it.
"I don't hear it as much as you guys might think I hear it."
And even when he does, Griffin tries to tune it out. Not until his sophomore year of high school did he fully grasp how important his dad was to others and that it made even himself stick out to people.
In a football game – of course, where else would it be? – Jamar Butler, who would go on to be a part of Ohio State 2006-07 national runner-up basketball team, recognized Griffin through his facemask.
"That's probably the first time it ever hit me," Adam said. "He said, 'You're Archie Griffin's son.'"
Despite Archie's prominence in Columbus, affiliation with the university and name and number displayed prominently on the north façade at Ohio Stadium, he never made a big deal out of his status or accomplishments. Archie isn't one to draw attention to himself, but ask him for an autograph or a moment to talk about the glory days and he's your guy.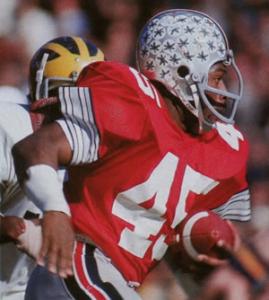 Adam has seen his dad's dark side, though, or whatever exists of it. Every teenager has his days, and Adam was no different, going on know-it-all spells that related to football one day and life the next.
"He's definitely lost it a couple of times," said Adam, laughing, referring to Archie yelling at him. "(There were) just stupid little things I did in high school."
Adam's nonchalant attitude is why following his senior season at DeSales, where he competed in football, basketball and track, he sat down with then-OSU head coach Jim Tressel to discuss the idea of walking on to the football team. Navy, Air Force, Army and Eastern Illinois were the only schools that offered him an opportunity to play.
On a cold day in February 2010, another school was added to the mix. Griffin and Tressel's conversation quickly went in another direction, with the walk-on discussion ending abruptly. Tressel offered Griffin a scholarship, and Adam accepted on the spot.
"I feel like I earned it," Griffin said. "Once he offered me a scholarship, that just validated that I was good enough to play here. When I got here, I just wanted to go out there and prove that."
His teammates immediately embraced him. While the number, 9, didn't stick out, the name – Griffin – did.
"We call him 'Young Arch,'" safety Christian Bryant said. "He came in our freshman year and we didn't really know what to expect. We just knew his dad was Archie Griffin. Arch (Adam) has made great strides to become a better player. He made a lot of plays this offseason and in fall camp. He's been moving forward."
The first two years, however, did not go as planned. The undersized 5-foot-8, 180-pound Griffin redshirted his true freshman season and saw the field sparingly in 2011, though he did record a special teams tackle against Penn State.
His father's career wasn't all gravy, either. Archie fumbled away his first career carry in the 1972 season opener versus Iowa. Woody Hayes sat him the rest of the game. The next week, Archie set a then-school record with 239 rushing yards against North Carolina. As the popular cliché goes, the rest is history.
"I didn't come here to just sit around and do nothing the whole time," Adam said. "It was extremely frustrating. I just remember going home at night and being mad at the world almost every day after practice."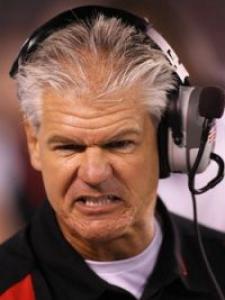 January 3 not only signaled the dawn of a new season but also acted as a starting off point for a new coaching staff. For Griffin, it presented an opportunity to start fresh. He identified with the new staff, especially cornerbacks coach Kerry Coombs, with whom he has a close relationship.
"It was definitely a reset button for me," Griffin said. "New coaches, a new set of eyes watching you play and they don't have any past thoughts about you. I just came in and tried to make a name."
Starting anew, a window opened for Griffin, and he conquered the opportunity. He plays on nearly every Buckeye special teams unit and is a backup cornerback to Bradley Roby.
"It's coming along," Griffin said. "I still have work to do. I'm not a starter right now. One day I fully plan to start."
His emergence has been unexpected due to his size and how much was expected out a crop of talented freshmen. Major schools throughout the country coveted Najee Murray, Tyvis Powell and Armani Reeves. But Griffin was undaunted and took the challenge head on.
"They came in and were ballyhooed out of high school," Griffin said. "I just said, 'I'm already here now.' I've already proven I can play here, so I need to keep doing what I'm doing and keep on improving. If I keep playing hard, it'll end up taking care of itself."
Not being in the starting lineup hasn't hampered Griffin's ability to make an impact. In the Buckeyes season-opening win over Miami (Ohio), he was named the team's special teams player of the game after finishing with two tackles on kickoff returns, including one inside the 20.
"Adam Griffin, who was involved in every special teams, is kind of an unsung hero for us," Meyer said. "I love the guy. He goes really hard and tries really hard."
Griffin will do whatever it takes to help his team win, but the ultimate goal remains starting and making an impact on defense. 
"It means a lot," Griffin said of his special teams award. "Obviously, if you're any player of the week, that means you played a pretty good game. I thought I played pretty well.
"Obviously, I can always improve each and every week."