On January 1st, 1980, Ohio State played USC in the Rose Bowl with a chance at a national title at stake. The Buckeyes lost 17-16 and the title went to Alabama, but first-year coach Earle Bruce had proved his mettle, leading his team to an 11-1 season and right to the brink of college football's biggest prize. Shortly after the game, Ohio Governor James Rhodes would praise the new coach and plead with recruits to come and help Ohio State get over that final hump and deliver a championship.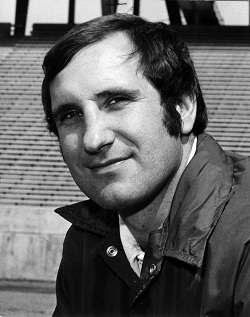 Nine days later, a small private plane carrying a pilot and one passenger on his way to Baton Rouge, LA suddenly veered off-course, climbed to an altitude of 40,000 feet, and traveled over 1,000 miles east of its intended destination. The plane would ultimately run out of gas and crash in the Atlantic Ocean, leaving no survivors. Lost in the aftermath of an almost-championship on the football field was a tragic loss off of it.
It has been said, "once a Buckeye, always a Buckeye", and that has never been more true than in the case of former Ohio State football and baseball player Bo Rein (pronounced like "Ryan"). Every year, the OSU football staff hands out the Bo Rein Most Inspirational Player Award along with the MVP and other team awards at the team's annual banquet. And this honor is given despite the fact that Rein was never an All-American in football, won no major awards, and was not part of any championship teams in football. 
Robert Edward "Bo" Rein was born and raised in Niles, Ohio, the birthplace of former U.S. president William McKinley. At Niles McKinley High School, he played three sports, but excelled in football and baseball especially. As a senior, he was named All-Ohio in both, and when he arrived at Ohio State in the fall of 1963 he fully intended to play both sports as a Buckeye. 
As a baseball player, Rein was built in the mold of Pete Rose, playing multiple positions and leading the team in such "hustle" stats as doubles, stolen bases, and runs scored. Rein's 49 career stolen bases set a school record that was not broken until the 90's. Ohio State played in the College World Series in 1965 and 1966, Rein's junior and senior years, and they won it all in 1966. As a result of these exploits, Rein was drafted by the Cleveland Indians that same year.
On the gridiron, Rein became eligible to play football for the first time as a sophomore in 1964. He immediately impressed coach Woody Hayes and won a starting position at halfback. Hayes preferred to hand to the fullback in those days, and as a result, FB Will Sander led the team in rushing. Rein did not see many carries, but he did manage to lead the team in receiving with 22 receptions for 320 yards. His versatility and willingness to do whatever it took to help the team was much appreciated by fans and teammates alike.
Rein and the entire offensive backfield returned for the 1965 season, and expectations were high as the previous season had ended with a 7-2 record and 2nd place in the Big Ten. One of the more experienced members of the offense was senior end Greg Lashutka, who would go on to become color commentator for Ohio State's radio broadcasts and eventually be elected as Mayor of Columbus. The 1965 team would start slow, but eventually finished 6-1 in the Big Ten and 7-2 overall, good enough for another 2nd place finish. 
Times were changing, not only in the country at large but at Ohio State as well. In particular, two new traditions were born during the 1965 season. Brutus Buckeye, a now-famous costumed mascot featuring a large Buckeye-shaped head, made his debut along the sidelines to cheer the team on and represent the school's nickname to the fans. Also, the marching band performed the McCoys' chart-topping pop song "Hang On Sloopy" for the first time, as the song hit #1 in October of that year. 
Through all of the changes, the constants for the OSU football team were their relentlessly old-school coach and his young "coach on the field", Bo Rein. Rein again led the team in receiving in 1965 with 29 catches for 328 yards, while fellow halfback Tom Barrington led the team in rushing. Always working harder than most others, always staying positive through difficult times, and always willing to do what it took to help the team win, Rein reflected his coach's attitudes on the field and off of it.
In 1966, Rein would finally get his chance to be the featured runner in Hayes' ground-oriented offense, due to the departure of Barrington and Sander. Unfortunately, they also lost starting QB Don Unverferth and several other key players. The revamped Buckeye offense struggled in a lackluster 14-7 win over TCU in the opener, and then continued to struggle as OSU dropped their next three games. They rebounded for a win in week 4 in the homecoming game against Wisconsin, led by Rein's 109 yards rushing. But it was clear that it was going to be a long season.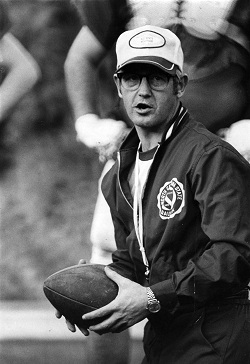 Ohio State finished 4-5 that season, Rein's last, good enough for only 6th place in the conference. To add insult to injury, they were defeated by a weak Michigan squad 17-3 at home to close the season. Rein led the team in rushing with 456 yards on 139 carries to finish his OSU career. Later that year he was drafted by the Baltimore Colts, and so he faced a decision about his future in sports: would he play football or baseball?
He decided to try baseball first, and so he was assigned to the Indians' AAA team in Portland, OR. While there, he suffered multiple leg injuries and eventually had to give up the game. Since the same injuries would also prevent him from playing football, Rein decided to get into coaching. The first coach to give him a chance as an assistant was former OSU assistant Lou Holtz.
Holtz hired Rein to his staff at William and Mary in 1969. Three years later, Holtz would be named the head football coach at North Carolina State (see picture at left). Rein followed him there and stayed until he was offered the offensive coordinator position at Arkansas. He stayed there only one year before Holtz left N.C. State to coach in the NFL. At only 31 years of age, Rein was named the new head coach of the Wolfpack in 1976, replacing Holtz. 
Rein's first year was difficult, and he won only 3 games. But his next two teams won 8 and 9 games respectively, and both teams went to bowl games. In his 4th season at the helm, Rein's Wolfpack finished 1st in the ACC with a 7-4 record. The sparkling 3-year run led to an offer from LSU to come and be their head coach, an offer that Rein readily accepted. Unfortunately, he would never return from that recruiting trip in January and would never coach a game for the Tigers.
In addition to the "Most Inspirational Player" award at Ohio State, there is now an award at N.C. State called the "Bo Rein Memorial Award" to honor the player who excels in an "unsung role". Niles McKinley High School also named their football stadium Bo Rein Memorial Stadium. At the schools where he meant the most, he is still remembered fondly. And he serves as an inspiration to all athletes who aspire to excel in both football and baseball, and especially to those who wish to excel in life outside of sports.