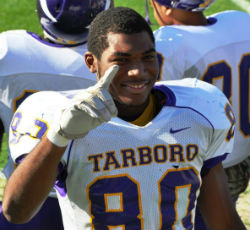 Most of Buckeye Nation's focus is on the upcoming game against Miami in just three days, but with the season coming back in full swing, it's about that time to bring back the 11W Recruiting Notebook.
Each week I'll be bringing you some form of recruiting update, whether it be via the Notebook, the Mailbag, or even our newest platform the Recruiting Staff Roundtable.
In addition to that, Derek, Miles, Dave, and I will be bringing you the goods as they come when it relates to the latest buzz on the recruiting trail. Be sure to check out the main stories, blogs, and forum on the site for the latest from our outstanding staff who plans to take another step up this season in bringing you all the recruiting info you can wish for.
Things have been quiet the last few weeks since Friday Night Lights, but it's now time to take a look at the latest news in the recruiting world, how Buckeye prospects performed in week one of the high school season, what's going on around the B1G, who will be in town this weekend, and more.
Join us after the jump for the latest edition of the 11W Recruiting Notebook to get your fix on Ohio State recruiting.
The Buzz
As mentioned above, the last month or so has been a quiet one when it comes to recruiting, but there are definitely some valuable nuggets floating around to share.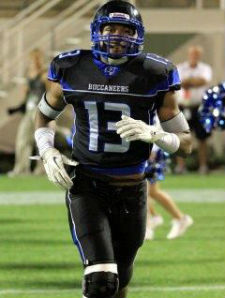 If you haven't heard by now, Detroit (MI) Cass Tech OL Dennis Finley committed to Michigan State this past weekend over his other two finalists which included Ohio State and Wisconsin. We actually heard a few weeks ago that the 6-6/275 tackle silently verballed on his unofficial visit to East Lansing, but were forced to sit on the info. Turns out that info was good and Mark Dantonio got himself a very nice prospect to anchor his offensive line for the next few years.
While Finley was certainly a highly wanted target by OSU, the Buckeye staff hadn't talked to him since his trip to Columbus for Friday Night Lights, perhaps a telling sign they weren't sure if they had room for a third offensive lineman just yet after accepting the commitment of Timothy Gardner right after FNL. Of course, it's hard to say what really happened, but save for Dorian Johnson or a last minute flip, it looks like the Bucks will roll with just Evan Lisle and Gardner as their two offensive linemen in the class of 2013.
Another prospect whose name has been thrown around a bit lately is Jacksonville (FL) First Coast LB Daniel McMillian. McMillian committed to Florida back in February, but has said lately that he wants to take a look around, with the Buckeyes being one of the programs he has mentioned.
We checked in with a source who has his ear to the ground on this one and he said that while the Gators feel good about McMillian sticking, he feels Florida State and maybe even Alabama could be serious players in stealing this one. He wasn't sure where Ohio State stands, but we're thinking the fact that he is an Urban Meyer fan, has mentioned OSU numerous times, and has a good relationship with new Buckeye staffer and former Gator linebacker, Ryan Stamper (who also went to First Coast), means that this is one for you all to keep an eye on.
Finally, the question we've been getting a lot surrounds three star prospects on the radar in DE/LB Tyquan Lewis, LB Mike Mitchell, and DB Vonn Bell.
There were rumblings last week that Lewis committed to the school of his choice, but was not ready to release it publicly just yet. We checked in and the story is that the Tarboro (NC) star has been indeed discussing his intentions with the coaches of the school he is choosing to attend. He is going to be an early enrollee so plans need to be made in the somewhat near future and an announcement should be made before the month of September is out. We are patiently waiting that announcement, but have a really good feeling that if you're reading this site you are going to be happy with Lewis's choice.
As for Mitchell, many have gone to negative town on this situation as a visit was supposed to happen in July but never did. Not so fast my friend, as sources tell 11W that Mitchell still favors the Buckeyes and is working out his schedule to set up an official visit. The word going around is that a commitment still likely will come after that visit happens, so wait and feel this one out. I feel good about this one until I hear something to change my mind.
Bell cut his list down to seven schools back at the end of June and a cut to three should come any day now. The seven schools still alive are Ohio State, Tennessee, Georgia, Alabama, Clemson, Vanderbilt, and Texas, with early word being that the Buckeyes and Volunteers are safe to make the final cut. I think Georgia will be the third school, but we should hear from Bell himself shortly to confirm who the final competition will be.
The Vols will be tough to beat as Bell, who goes to school at Rossville (GA) Ridgeland, is actually from Tennessee, but the program's poor performance on the field and Bell's high opinion of Urban Meyer and Ohio State may just give the Bucks the edge in this one. 
High School Football Recap
The first week of high school football kicked off last weekend for many prospects across the nation and we have the latest on how Buckeye commits and targets performed in their opening games.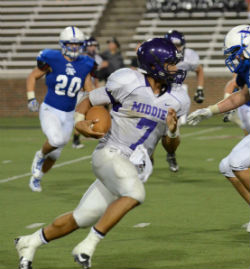 The star of the week was Middletown's Jalin Marshall for his performance against state power Cincinnati St. Xavier. The Middies fell to the Bombers 43-39, but it was not Marshall's fault as he gave a valiant effort, ultimately playing 1 on 11 when on the field.
Lining up at quarterback, Jalin finished the game completing 6 of 13 passes for 87 yards and a score, but contributing 23 carries for 322 yards and 3 touchdowns on the ground. He led his team all evening up and down the field, including the last drive where Middletown was inside the 10-yard line with a chance to win the game, but couldn't convert a pass as time expired, giving the team an 0-1 start to their season.
The highlights are, um, yeah, borderline absurd:
Middletown takes on Springfield next week and 11W's Derek will be there to bring you the coverage, as well as talk to top prospects in Marshall and Springfield's Thaddeus Snodgrass and Davonte James following that showdown.
Tracy Sprinkle and Elyria had a successful opening weekend, demolishing Amherst Steele 63-28. The future Buckeye defensive lineman dominated all night, tallying 11 tackles (4 for loss), 2 sacks, and 2 forced fumbles in the victory.
Cameron Burrows and Trotwood-Madison wanted to play with the big boys, as they took on Fort Lauderdale (FL) University School in a nationally televised game, but fell on their face a bit in a 33-14 loss. Putting his team's outcome aside, Burrows played well at cornerback, locking up four-star WR Jordan Cunningham for most of the day and finishing the contest with 6 tackles on defense and 2 punt returns for 42 yards and 2 kick returns for 28 yards on special teams.
Stats weren't readily available, but two Buckeye defensive line recruits in Billy Price and Michael Hill reportedly played very well in their team wins last weekend. Price had the game winning tackle and forced a fumble to seal the deal in Austintown Fitch's win, while Hill notched at least one sack in Pendleton's victory.
Darron Lee and New Alabany weren't as lucky as some of his future teammates, with the Eagles falling to Reynoldsburg 10-9. Lee was just 2 of 8 passing with 52 yards and an interception at quarterback and took hits all day long, running 10 times for -16 yards. It was a rough first weekend for Lee, but both the team and the hybrid athlete should bounce back strong in week two.
Jayme Thompson and Toledo Central Catholic rolled over Springfield Holland 66-12 in their first game. Thompson racked up 5 tackles and a sack in limited action due to the lopsided score.
Buckeye wide receiver target Shelton Gibson continued the momentum he started to build at Friday Night Lights, catching two touchdown passes in Cleveland Heights' win over Toledo St. John's. Gibson remains a heavy Buckeye lean and continues to perform well on the field while he makes sure everything in the classroom is taken care of.
WR Devon Allen of Phoenix (AZ) Brophy Prep got some TV time this past weekend, losing a close game to Santa Margarita (CA) by a score of 27-14. Allen was a bit underwhleming in the receiving game, but did run for a short touchdown during the contest.
ATH Corn Elder of Ensworth (TN) also played in a nationally televised game, taking down Lexington (KY) Catholic 62-14. The speedy Elder was the star of the match-up, tallying 199 yards and 4 touchdowns out of his running back position.
James Quick and Louisville (KY) Trinity moved to 2-0 on the season as they beat Montgomery (TN) Bell Academy 27-23 in a comeback thriller. Quick had a monster game, catching 10 passes for 246 yards and two touchdowns of 77 and 78 yards. The four star prospect is certainly living up to the hype in the early going this season and his recruitment is still unchanged with Louisville and Ohio State on top.
Finally, Buckeye commit RB Ezekiel Elliott had some game of his own. In Burroughs 43-14 win over Cape Girardeau Central, Elliott carried the ball 15 times for 112 yards and 2 touchdowns, caught 2 passes for 68 yards and a score, and returned a punt 60 yards for his fourth touchdown of the evening. If that didn't do the performance justice, check out highlights here:
Week Two games to take note of include:
Middletown at Springfield (Jalin Marshall, Thaddeus Snodgrass, Davonte James)
Springboro at Centerville (Sean Welsh, Evan Lisle)
Elyria Catholic at Elyria (Tracy Sprinkle)
Austin Town Fitch at Akron Hoban (Billy Price)
Westerville Central at New Albany (Nick Richardson, Darron Lee)
Cleveland Glenville at Solon (Christopher Worley, Darian Hicks)
Walsh Jesuit at St. Vincent-St. Mary (Dante Booker Jr.)
Massillon Washington at Canton Glen Oak (Marcus Whitfield, Gareon Conley, Nathaniel Devers)
Canton McKinley at Huber Heights Wayne (Eric Glover-Williams, Lovell Peterson)
Bedford (MI) Temperance at Toledo Central Catholic
Warren (MI) De La Salle at Cleveland St. Ignatius (Shane Morris)
Miami (FL) Columbus vs Fort Lauderdale (FL) St. Thomas Aquinas at Sun Life Stadium (Joey Bosa)
Around The Big Ten
We've given you the latest on Ohio State recruiting, but each week we'll also keep an eye on the enemy and let you know how the other Big Ten schools are doing on the recruiting trail.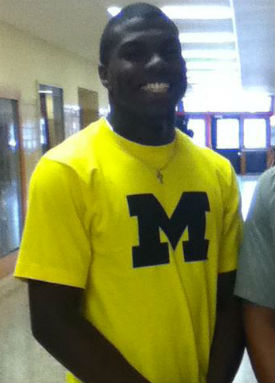 Michigan is currently standing strong with 23 commits, and likely has just one or two spots left in the class of 2013. Top recruits include QB Shane Morris, DB Dymonte Thomas, OL Patrick Kugler, OL David Dawson, and DT Henry Poggi, while the latest to pull the trigger was CB Ross Douglas at the end of July. Remaining top targets include WR Laquon Treadwell and RB Derrick Green.
Illinois is doing a nice job under new head coach Tim Beckman, currently holding 19 commits. Topping that list is QB Aaron Bailey, and he is joined by DT Kenton Gibbs, ATH Caleb Day, DB Reon Dawson, and CB Darius Mosely. August was a good month for the Illini, as they brought in LB Reggie Spearman, WR Martize Barr, RB Miguel Hermosillo, and S Darwyn Kelly. 
Iowa sits right behind Illinois at 17 commits, but if running backs keep going down, the Hawkeyes will have to stock up quickly. The top prospects in the bag for Kirk Ferentz are DE David Kenney, S Delano Hill, OL Colin Goebel (Garrett's cousin), and TE Jon Wisnieski. The only commit snagged in August was WR Matthew VandeBerg of Brandon Valley in Brandon, South Dakota.
Northwestern also has 17 commits and Pat Fitzgerald continues to do an outstanding job keeping that program competitive. QB Matt Alviti is the prize of the class thus far, and is complemented by ATH Godwin Igwebuike, OL Sam Coverdale, OL Blake King, and ATH Kyle Queiro. August commits include two Ohioans in Igwebuike of Pickerington North and RB Keith Watkins of Cincinnati Moeller. 
Nebraska has gone quality over quantity so far this recruiting season, but isn't sitting too bad at 14 commits. The Cornhuskers' top prospects are S Marcus McWilson, LB Courtney Love, LB Josh Banderas, LB Marcus Newby, and QB Johnny Stanton. August commits include CB Jonathon Cook and OT Zach Hannon, while TE Devon Edwards and RB Terrell Newby are remaining players on the board who both report offers and hold high interest in Bo Pelini's program.
Michigan State is right on Nebraska's heels with 13 commits and have made some waves recently. This past weekend Sparty picked up DE Demetrius Cooper and OL Dennis Finley after almost a month of inactivity, giving them two of the Midwest's best to add to a stellar group of LB Jon Reschke, LB Shane Jones, QB Damion Terry, CB Darian Hicks, and S Jalyn Powell. With another good season in 2012, you can expect MSU to build upon their success on the recruiting trail as a number of highly talented prospects are looking at the program.
It seems Wisconsin and Michigan State go hand in hand these days, as the Badgers too have 13 commits in their 2013 class as of today. DT Darius Latham, DE Chikwe Obasih, CB Keelon Brooks, WR Rob Wheelwright, and ATH Austin Ramseh make up the core of the class, with more talent on the way. The lone August addition to the class was DE Alec James of East High School in Brookfield, Wisconsin.
Purdue currently comes in with 11 commits and is another program that can gather some momentum with a successful season. Danny Hope's best prospects include QB Danny Etling, RB Keyante Green, JuCo DE Randy Gregory, and S Austin Logan, but the rest of the class is below average. The Boilermakers had one commit this month in the form of Bellaire (TX) OT Dwayne Johnson.
Penn State was crippled by the sanctions handed down following the Jerry Sandusky scandal, but is still holding somewhat strong with 10 commits. For now some star players have stuck with PSU, including QB Christian Hackenberg, TE Adam Breneman, DE Garrett Sickels, OL Brendan Mahon, and LB Zayd Issah, but many have departed the program including OT Dorian Johnson, ATh Zach Bradshaw, and others. The Nittany Lions did get their first post-sanctions commit in CB Jordan Smith this month, but he is not of the caliber they were previously bringing in prior the NCAA ruling.
Kevin Wilson and Indiana started off the recruiting season very slow, but have picked things up of late. The Hoosiers are up to eight commits in their 2013 class, led by Ole Miss flip S Antonio Allen, TE Danny Friend, and S Chase Dutra. The offense should be functional under Wilson's lead, so it will be important for IU to continue to build up their defense. August commits include Dutra of Brownsburg (IN) High School, Allen of Indianapolis (IN) Ben Davis, and RB Myles Graham of Hollywood (FL) Chaminade-Madonna.
Sitting in the cellar with just six commits is Jerry Kill and Minnesota. Kill is a great guy and very likeable, but you have to think his seat continues to get hotter, especially as he struggles on the recruiting trail, something that won't help him stay competitive in the conference. It almost makes you wonder why the school canned Glenn Mason, as it least his teams were competitive. Anyway, the Gophers top prospects are OL Alex Mayes and DE Owen Salzwedel, but it's not hard to stand out in such a small group. CB Jalen Myrick of Savannah Christian Prep in Georgia was the only verbal pledge in August and for Kill's sake I hope September is better.
Visiting This Weekend
Last, but certainly not least, we'll take a look each week at who the weekend's visitors are. Be sure to continue to check in with the Official Season Visitor Thread in our forum to get the latest updates on who is coming in to the Horseshoe to check on the Buckeyes.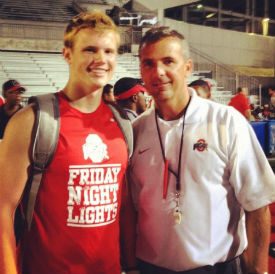 Right now the list is small, as it's early in the season and we're still gathering info on visitors, but is certainly not short of talent. Expected to be at the game against Miami on Saturday are 2013 commits Cam Burrows, Jalin Marshall, and Darron Lee, as well as 2014 prospects in Hebron (KY) Conner QB Drew Barker and Detroit (MI) linebackers William White and Gary Hosey.
Having three 2013 commits in the 'Shoe is great for the staff, especially Burrows and Marshall, as they were the first to give pledges to the Bucks and have been class leaders ever since.
All three players have been talking to prospects in both the 2013 and 2014 classes throughout the year, so they will ultimately serve as an extension of the coaching staff while players are on recruiting trips.
Barker is no stranger to the program either and has taken multiple visits up I-71 this spring and summer to check out the Buckeyes. The star signal caller in the class of 2014 is one of a handful of players vying for an OSU offer, and one could certainly come once the staff reviews film of his first few games this season.
Barker is sure to like his first real game experience inside the Horseshoe (he attended the spring game and FNL) and I have a good feeling that the Bucks will sit at the top of his list for now while he waits word on an offer.
White and Hosey are both big time prospects and will be playing high level Division I football, most likely somewhere in the Big Ten, come fall of 2014. The question standing though, is will either of them be playing at Ohio State?
Right now neither player has an offer, but both are high on OSU's big board and are prospects that the staff is keeping close tabs on. Raekwon McMillan, Clifton Garrett, and Dante Booker are the first three in the pecking order, but after them be sure to keep an eye on White and Hosey as options to join the Bucks' 2014 linebacking corps.