The Ohio State defense is expected to be the strength of the team headed into the 2012 season. A big part of the reason for that is the amount of returning talent on that side of the ball, including the likes of John Simon and Johnathan Hankins anchoring the defensive line, Etienne Sabino and Ryan Shazier heading up the linebacking corps, and CJ Barnett, Christian Bryant, Bradley Roby, and Travis Howard forming one of the conference's best secondary groups.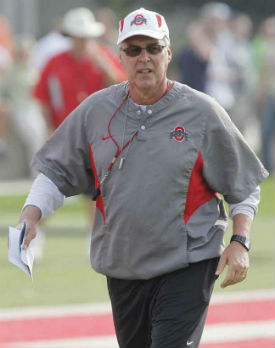 While expectations are high for the returning defensive stars, one prominent piece of the success Ohio State has had defensively over the last decade is gone: Jim Heacock.
Heacock came to Ohio State in 1996 as defensive line coach on John Cooper's staff. After being one of only three coaches retained by Jim Tressel, he served in that role through 2004, before keeping those duties and also getting promoted to defensive coordinator in 2005 upon Mark Snyder's departure to Marshall.
From the get-go, Heacock flourished in his role as the man who made the Silver Bullets go. In his first season at the helm, Ohio State ranked first in the country in run defense, as well as fifth in the nation for both points against and total defense.
That was a trend that was set to continue as Heacock's teams continually finished ranked amongst the best in the country in all defensive categories, with his accomplishments being significantly recognized in 2007 when he went on to win the Frank Broyles National Assistant Coach of the Year Award after that team's defense led the country in scoring defense, total defense, and pass defense.
When Urban Meyer was hired in November of last year, many thought the man who gave the new Buckeye head coach his first real crack at coaching at the college level would be back for at least one year to make a full circle in his career. That was not the case, as Jim Heacock decided to hang up the whistle after 41 years in the profession and 16 at Ohio State, leaving many to wonder how the Silver Bullets would move on without the man who served as the operator for such a well-oiled machine.
Despite his strong desire to hire coaches who can sustain the daily grind of giving all of their effort on the recruiting trail, Urban Meyer came to Ohio State knowing that his model of the defense being the staple of his two championships teams at Florida would hold true in Columbus as well. 
With that in mind, it was important as one of Meyer's first acts as head coach to find someone to head up his defensive unit. It turns out he didn't have just one man in mind for the job, but rather two, as Luke Fickell and Everett Withers will step into Heacock's old role in calling the defense.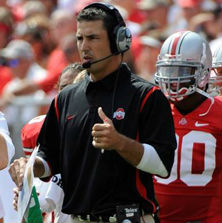 Meyer didn't have to look far to find the first part of the tandem, as Luke Fickell was fresh off an up-and-down stint as Ohio State's interim head coach after Jim Tressel's resignation from the program. Fickell had some experience when it came to game planning a defense for battle each week. He was technically Heacock's co-defensive coordinator in addition to serving as linebackers coach from 2005-2010, but he really was just a coordinator in training, with little experience actually calling the shots on gameday.
After growing up fast the hard way during last year's 6-7 campaign, Fickell will finally get his shot to run the show on defense, as Meyer named him the primary play caller for the unit. His past experience as a star Buckeye defensive lineman, coupled with over a decade in the coaching profession, should have him well prepared for the challenge ahead, and his aggressive style of play calling fits in well with how Meyer has traditionally liked his defenses to play.
Joining Fickell each week in devising the defensive game plan, while also serving as safeties coach, will be Everett Withers. Withers took an eerily similar path to Fickell in getting to Ohio State, as he served as North Carolina's interim head coach, following Butch Davis's dismissal, during their 7-6 season last year. Unlike Fickell though, he did have more experience calling defenses, serving as the Tar Heels' lone defensive coordinator from 2008-2010, while also holding the same role at Minnesota in 2007, at Louisville from 2005-2007, and at Austin Peay to get his career going in 1988-1989.
Withers' lengthy experience in the profession and extensive knowledge gathered both by having been a coordinator in the college game, as well as a defensive coach in the NFL, should bring a nice compliment to the younger Fickell's energy when it comes to helping the defense live up to lofty expectations this coming season.
Catch up on everything you need to know ahead of the season kickoff.
As for the players post-Heacock, while all of them have said that they respect him greatly, it should be business as usual for the Silver Bullets. History has shown that whether it's Mark Dantonio, Mark Snyder, Jim Heacock, or now Luke Fickell calling the plays, Ohio State continues to recruit and produce star talent on the defensive side of the ball.
This year will be no different as the Urban Meyer Era begins in Columbus.
John Simon and John Hankins appear to be primed for All-American type years, while Nathan Williams' return, as well as the addition of many highly touted freshmen to go with a solid foundation of Michael Bennett, Garrett Goebel, Joel Hale, Steve Miller, and others make up an outstanding defensive line.
Curtis Grant has emerged as a budding star at middle linebacker and is paired with fan favorite Ryan Shazier and savvy veteran Etienne Sabino to lead a linebacking corps that could be the most improved unit on the team from last year.
The aforementioned Barnett, Bryant, Roby, and Howard will be joined by veteran Orhian Johnson, as well as rising stars Doran Grant, Devan Bogard, Najee Murray, Armani Reeves, and others to form one of the conference's best secondary units.
The straw that stirs the drink may be changing when it comes to this year's Ohio State defense, but the mantra that has embodied Buckeye football will stay the same. With or without Jim Heacock, defense will always be the key to success in Columbus and when the Bucks take the field on September 1, expect the Silver Bullets to once again be flying. Business as usual.